an end to his reign of terror
andre3000 ceases to be cooler than 'ice cold' and officially becomes a 'dorkus morklus'
. playing an gop event? didn't you get the memo about it not being hip to support republicans until you're in your 50s? its like sam's dad said on,
'freaks & geeks,'
"everyone's a democrat until they get a little money. then they come to their senses!"
the delightful, if rarely updated
light up the sky
directed me to this interview done by the 'hustler' of indie porn,
burning angel
with diego, the lead singer of
elefant
. read for
yourself
and tell me that diego does not come off as combonation of
borat
and some second tier thug from
"miami vice"
.
currently, well not right now, by like last night, my frustration level was at 11, and it usually stops at 10. i received my copy of
old boy
on monday afternoon. i eagerly ripped it out and put into my dvd player, but no luck. so i figure out its a dvd-r and my old dvd player can't handle them. so i go to my old g4 and it works. so flash forward to last night, i'm watching the film, enjoying the heck of it, then right when this revenage film becomes a revenage film, it fucking freezes. i re boot my computer and try again and yes, wouldn't you know, it freezes. so i stomp over to my laptop to only find out that it won't work there, either. so i have no idea of where the rest of this film comes. what i saw, i liked and would say its a weird blend of
jeunet
and
tarantino
. hopefully, it'll get a domestic release or at least a better region 0 dvd release in the near future.
the life aquatic with steve zissou
in decent quicktime. dudes,
"knock out ned"
is in and well, even though this appeared in an old issue of
ew
, i will not spoil the suprise, but its definately cool.
the vice big book of 'dos & don'ts'
coming soon to a hipster toliet near you, and if you go to my house on a regular basis, then yeah, the next time, you poop, you can read it after it comes out, of course.
since, the cone zone has been dark this week due to borlympics, i've been watching the cleverly titled, "countdown to obscurity" on the late, late show with craig kilborn. it's a good thing, he's leaving because he's a horrible interviewer and its just unbearabley painful to watch. everything has to be about him and his impending alcoholism. i've heard a couple of names as potential replacements such as: conan,
amy sedaris
,
jeffrey ross
, and,
jillian barberie
. the idea of jillian barberie is just beyond awful and the only buzz, she'll generate is for her lesbo encounter with
jenna jameson
; jeffrey ross is a good choice, but isn't he a writer on jimmy kimmel? and amy sedaris's brand of comedy doesn't translate that well into a talk show format. i have three brilliant choices as a replacement host:
-
jimmy fallon
; he has proven a keen ability to stumble through and mangle jokes about current events.
-
david spade
; his movie and tv career ain't really that happening any more, so i assume that this is the next step.
-
napoleon dynamite
; its as simple as this, the audience they want is young college kids and who do the college kids love the fuck out of? napoleon dynamite.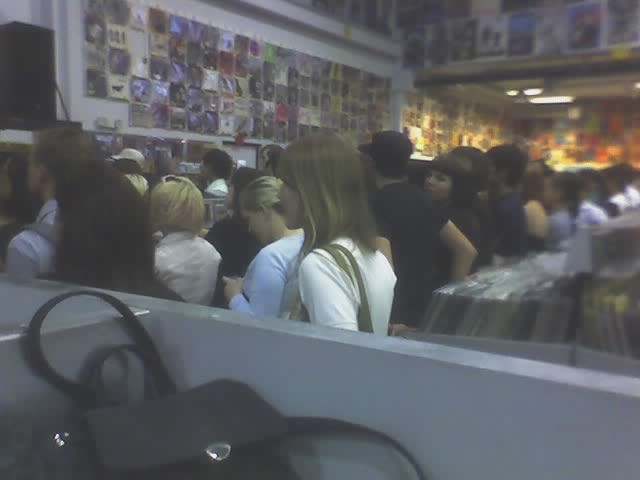 and finally in pretty good show news,
the like
featuring the girl in the stalkerish, grainy phone cam photo above on drums will be heading out on their first big tour with
phantom planet
. i've seen this show a couple of times and it was throughly entertaining, but that was back when jason schwartzman was behind the skins for phantom planet, but still check out the like, they're hot; dates
here