the number of the beast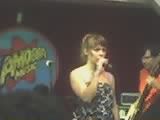 after receiving some major buzz from two of the blogsphere's top writers (
whatevs
&
stereogum
), rilo kiley took the stage tuesday night at an amoeba. the set list mostly pulled from their excellent new album,
"more adventurous"
; for those purtists and fans of technicalties, here's the list, but not in order:
-"it's a hit"
-"does he love you?"
-"portions for foxes"
-"i never"
-"more adventurous"
-"love & war (11/11/46)
-"a man/me/then jim"
-"it just is"
the in store marked my third rilo show of the year; while i'll say that their acoustic show in
january
had to have been my favorite show by them; but it just seems with each performance and with a great record behind them, they felt so much more confident on the stage. as sad as its going to be for us, southern california kids, we're gonna have to share rilo kiley with the rest of the world, but its okay because rilo kiley are the nicest people in the whole wide world.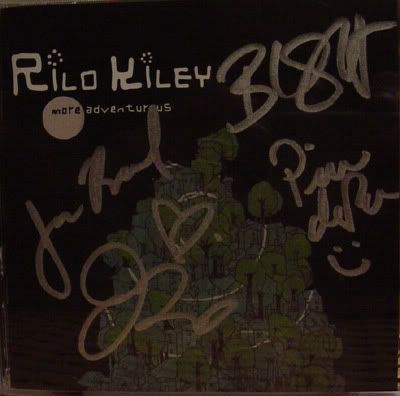 they signed autographs after their set. while getting my cd signed, me and blake just started talking about the line and the fans and the akwardness in conversation between musician and super fans. i mean, what do you say, "hey, that song, "it just is," yeah, i had it in my head the whole time i rushing in and out of the vet when my dog almost died, so it means alot to me and i'm really gland that you wrote it." sure, they would want to hear thanks, but it just seems weird.
if you haven't had the pleasure of a rilo kiley concert, then i highly suggest you head down to ticketmaster to pick up for rilo kiley's return home on october 30th at the glasshouse and on halloween at the mayan (which is a great venue, i saw dj shadow there and supposedley, i'm on his
dvd
, i'm the dude wearing the green trucker hat and an afro and it was 2002, so it was still
cool
to wear trucker hats).
wes anderson brilliance! wes anderson brilliance! wes anderson brilliance! the trailer for his latest opus,
the life aquatic with steve zissou
. december can not come soon enough;
robert yeoman
's cinematography looks amazing, he's going after
vittorio storaro
on this one.
speaking of great directors,
david o russell
's latest film,
i <3 huckabees
has a trailer on line now; it can be viewed
here
. great cast and i really do believe that russell made one of the best and underapperciated films of the 90s with
three kings
and addittionaly speaking about great films, the much desired
martin scorsese collection box set
can not be found at all in the lovely southern california area. i went to dvd planet, no luck and it couldn't even find it at amoeba. i was at target and i saw a small child crying because they didn't have it either. apparently, it has something to do with missing booklets.
this is a personal shout right now, to the babasoraus i saw last night at the rilo kiley in store. i saw her at the rilo kiley john anson ford ampithearte show as well. she has be the hottest girl since the infamous
history of rock girl
. so if you're reading this or if you know this babe, then you should leave a message or something. there was sort of a 'stalkerish' moment where i was flipping through the air cds and you were sort of floating around the dance/electronic music section. you wore a blue shirt and diesel jeans, i was the one in a purple penguin shirt and ripped seven jeans and now, this is starting to sound like
craig's list
.
does anybody else find it hilarious that most thugged 13 year old pop star
jojo
has two r. kelly songs on her itunes music store playlist including "age aint nuthin' but a number"?
stream the new bjork album here
if you can't wait two weeks.
new le tigre
the world would laugh a bit harder if you could get
sacha baron cohen
and
dave chapelle
together on a project.
for as much as you want to hate
kroq
, you have to admint the line up for "the inland invasion" show is quite good. moz, devo, the walkmen, death cab, muse, and probably the two biggest band of the year, the killers and franz ferdinand. it's almost worth driving all the way out to the middle of nowhere and hang out with a bunch of dudes and their ladies who dress like rachel blison, well, which isn't such a bad thing.
"you haven't lived until you've done coke off the ass of a 13 year old girl"-artie lange
ps. if you're on live journal and you want this particular blog on your friends' page; simply add
skeet skeet
. we're cross posting cause its cool like cupcakes and you know people are lazy.
pps. one of this blogs many muses in
hi res hotness
(link from
f.u.b.a.r.
)