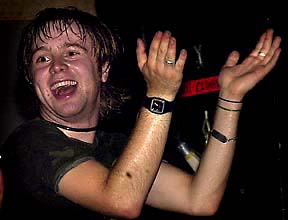 on the blood brothers demos from their latest album, "crimes," johnny, the co vocalist comes off sounding like a angry 13 year old girl or you wonder if he's become
castrated
.
only one can imagine if the heavily traded blood brothers demos will become something of legend in a few years alal
the brian wilson smile sessions
. oh if they put this song on the album, it would've been a million times better. yet i highly doubt that the blood brothers will achieve the depths of pop greatness that brian wilson came so, so, so close to.
yet here's the thing, with "crimes" its perhaps the least hardcore sounding the blood brothers have ever been. so hopefully, hopefully, no more tours with bullshit bands with stupid names like, "the tears taste like revenage" or "the lonely grave of paula schultz". its a hodepodge of styles, and frankly, they should put all 19 songs on the album and not wielded it down to 13. be bold and pretenious, that's what 2004 is all about.