don't be light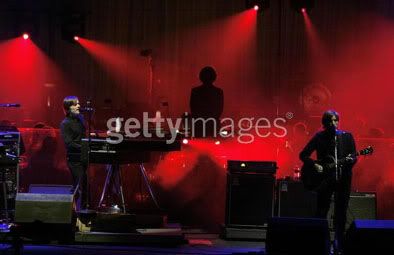 this past sunday night was air with an orchestra at the hollywood bowl. there's two things that i don't do well as a writer: write up something i liked alot and explain why i liked it. yet with air at the hollywood bowl, i presented with two brand new problems, its called, writing up something that i loved and explaining why i loved it.
i don't remember set lists too terriblely well, so i'll present a list of memobarable moments from the show:
-"don't be light" with beck doing his spoken word part
-"remember" with the violins; it gave me chills
-a 10 minute version of "biological"
-"alone in kyoto" in person, finally.
-"high school love"
-"la femme d'argent"
the set went back from orchestra accompament to just the band its self. i have only seen air live before, which was at coachella, so it was slightly similar set lists and i can't compare, but i believe that this had to have been one of the best performances i've seen. everybody was note perfect.
although, the same can not be said about stereolab, unfornately. while not being the world's biggest stereolab, i was a bit disapointed, but i believe that they couldn't connect with the audience. the same went for sondre lerche. they had their moments, but overall, all the la people were busy talking about what wine they brought and a good cheese to eat along with it.
the hollywood bowl, its self, is a great venue for a concert because you can bring in whatever you want, pretty much. i mean, i saw people with knifes, well, they used it to cut the cheese. bring in your alcohol and food, yet that represents a bit of the problem i had with the bowl crowd. everybody's been boozing since 4o'clock, so it turns people into chatterboxes, which makes listening to stereolab difficult when you got some retarded conversation between two girls about how they like nerdy guys who are cute in one ear. so hollywood bowl, yeah, its brilliant, but if you're gonna go, you have to make a day out of it. bring your picnic basket, bring your wine or whatever, leave early and park at one of the many park-n-rides that bowl offers and you'll be good.
the crowd, dudebro, i don't know what it is about the 27 and plus la people. they're just so retarded and patheic. you're nearly 30, you have to go to work on monday morning, yet you get stoned at a concert, still? and what was up with all of the ironic mullets and trucker hats? the aging hipsters of la are just about as scary as the waterpolo teams of south orange county. while, water polo teams are terrorists with shaggy blonde hair, flip flops and a hacky sac, the aging hipsters of la represent day of future present; things to come, and it's sad, really sad. i don't want to be the guy wearing the leather fedora and green pants whose 40 at the show nor do i want to be the guy with the pixies shirt and plaid punk rock pants on whose like 26 and he's at the show, solo. yeah, la, well at least not at the air show, was not fashion forward with their horrible hippie necklaces and male chokers. its just bad, really bad.
it begins! mischa b to star in a horror film!; it's a mid 90s to late 90s teen horror revivial all over again
pitchfork says new lips in summer of '05; i want to see them in snoop town in early november
fat joe, should wake up and realize that sadly, it's a hip hop one hit wonder; "lean beack" will go the way of "u can't touch this"
the tonight with conan o'brien, i love the sound of it; lets just hope truimph will still be funny by 2009
everybody, wake up, fudge your fedora, its all about alien masks, nowadays
mean girls
: the dvd is awesome, y'all. tina fey talkin' about john madden and a 10 minute behind the scenes special on the clothing of the plastics.
stereogum talks about the new gwen stefani single; its getting alot of airplay on kroq
. my thoughts on the song, is slightly similar to unpublished review of velvet revolver (gymbore guns n roses), it's electro pop for mommies & daddies who loved no doubt in the mid 90s, but now they got a couple of kids, so they're not up on their shit anymore, but this is a song that the kids sorta like and you can dance to. since i saw a man who was putting his three daugthers into a suv dancing to the song.