an exercise in gluttony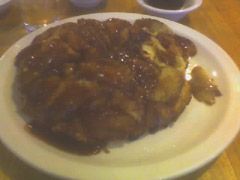 a word to the wise, if its 103 degrees by 10:30 in the morning, do not eat as equally hot pancakes that morning. estenially, its like eating hot rocks. the pancakes just sit in your stomach and you spend the whole rest of your day in a state of flux and frustration. perhaps asking yourself, "why did i go out for pancakes today of all days?"
another word to the wise, chicago style rib eye steak and lobster tails from
morton's
is probably one of the best meals you'll ever eat.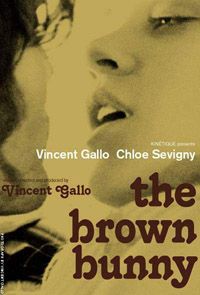 vincent gallo
's
the brown bunny
is a film that lives up to many expectations levels. is it self indugent? yes. is it pretenious? yes. is it too long? yes. i knew that i was going to be saying those very things before i even saw the film, yet what surprised me was that i actually liked the film, in particular, the last 15 minutes of the film. those last minutes justified the preeceding 80 minutes that felt at times, an ad for vincent gallo's driving school.
i thought that the only highlight i would have walked away from the screening was the sighting of a babe i sorta know and the dude i thought i saw her with, but vincent gallo's q & a after the film was worth the price of admission, only. gallo is an intense and passionate speaker, which surprised me a greatly. i had caught his apperance on stern a couple weeks back and was impressed, but in person, he's a smart and quick witted guy. a few years ago, somebody released a dvd of
kevin smith
doing an extended q & a and somebody should do the same with gallo. not only does the man provide some honest, extremely honest insight on his own filmmaking process as well getting off the ground and making your own film. his advice: "pay a celebrity in cash half of your budget." not to mention, gallo's infamous celebrity trashing stories, it would be a fucking best seller.
david lynch's
wild at heart
has to be his most uneven film, ever. there are moments of sheer brilliance in this film like
crispin glover
's brutually underused 'jingle dell' to nicolas cage doing scissor kicks as if he was at a my chemical romance show, but there are moments, which even for a david lynch film are 'weird'. although, it should be noted when i watched the film, it was 1 in the morning and had been up since 7:30; so my full attention was not necessary on the film; it was sort of like the time i watched
scanners
at a midnight movie and only woke up
when peoples' heads blew up
.
making america even more lazier and fattier than once possiblely thought
i'm all about being lazy, but this is just too much.
can we call the fendora, the new trucker hat, yet?
(although, it should be noted that the link has nothing to do with fendoras its self, other than photos of hipsters wearing fendoras while getting the 'surve on)
no matter how much i love dan the automator and no matter how
hot
their fans may be, i have to say
head automatica
has to be the worst automator associated record ever. automator farting into a mic and having kool keith say "boogers" for three minutes straight is way better than head automatica. darrly plumbo's voice is so graiting and annonying epsecially when you hear "brooklyn is burning." such a good automator beat wasted on such a horrible voice. uf, glam elecrtonic rock, some say worst genre ever.
new jojo video!
its her and her girls trying to have a good time at magic mountain while being stalked by a bunch of dudes. oh, it reminds me of my days at the orange county fair minus the verse by lil bow wow.
lil bow wow to star in the hip hop xanadu
for those who didn't get the reference,
check this out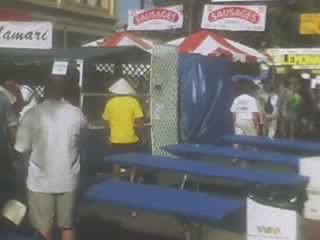 and to be honest, i'm feeling like
eli cash
, right now. totally spaced out and constantly believeing that today is monday and not tuesday. so i apologize for the lackluster update.