it's so standard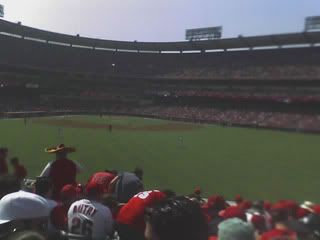 on tuesday afternoon, your humble narrator played
"cameron frye"
along with robin brown's "ferris" and natali hopkins' "sloane peterson" and caught the openning game of the angels/red sox series. the less said about the game, the better (for those who don't know the out come, click
here
), but let's just say this, figgins lost his edge, washburn lost his edge back in august and nobody could hit schilling if he was throwing beach balls). while, the game was not the most bestest game to watch, i learned something.
if you're a boston red sox fan, then you may wanna scroll down to the bit about "laguna beach," because i will not speak kindly of your brethren. now we all know the stereotypes about boston fans, which were perfectly personifed by jimmy fallon and rachel dratch. they're loud, violent, and drunk. in other words, red sox fans are, if you will, the red necks of the east coast. sure, one can say all they want about guidos or guys from jeresey, but there's a certain thing about red sox fans. they walk around the baseball stadium even before the game has started with the shirts off and a six pack already under their belt. these people miss half the game because they are in line for beer, so often. and their women, well, they got better mustaches than me. transplant boson fans are worse than dodgers fans, they leave like in the 5th inning.
back to baseball for a minute, as we left the game, i was singing the chorus of lcd soundsystem's "yeah" and robin brown said that he'd probably have that song as walking to the plate song. for me, i'd probably pick ice cube's verse from "straight outta compton"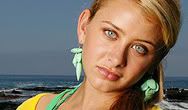 a star was born last night on "laguna beach". her name is lo, and please learn to love her now, because hopefully we'll be seeing more of her in their near future. her voice rings of hope and optimism which has been greatly lost in the past few years, in particular when she was at the beach, trying to get reception: "doesn't my phone know i need to make a call?" or when she talks about her jawns: "i like more upbeat, fun music".
yet last night's episode of "laguna beach," continued on what, if you allow me to quote stephen, "so standard" for the show, nothing happened, other than a hot shot of kirstin in a bikini on the beach (ps. can we get a kirstin swimsuit calander?). the show only leaves you with questions that can never be answered like, who are the people that name their child, talan? or is it just a nick name and where exactly are the parents of laguna beach? and how much bullshit are you filled with when you create a non profit group called 'active young americans' with no clear agdena other than 'party & bullshit'?
i doubt that the show will pick up on my new favorite fad in the oc right now: ugg boots and louis vuitton bags, cuz it'd be so rude.
stern goes to sirius, which is a mixed blessing for me, since i'm a sternaholic and my car has sat radio, but its xm. so guess what's on the top of my christmas list in '05 y'all?
stereogum has some new handsome boy modeling school for your ears
much respect to rodney dangerfield. you have made us laugh so times over and every time that episode of "the simpsons" comes on, i pee my pants. journey's "any way you want it" will never be the same.
apparently, in new york city, babes just hang out in time square rockin' slacks & bros. another reason to move there.
and here's the worst photo i've seen, ever