wake up, the west coast is back!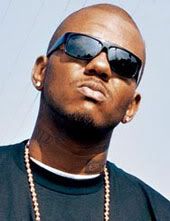 first, southern california is the home to the best new reality show, "laguna beach," then we got two teams mixing it up in the pennant race, and now we're the home to
the game
. with the leaking of his potential first single, "higher," the game re introduces the hip hop community to the west coast. after years of producing
nerdy back pack groups who've been making the same album for the past 5 years
or
hip hop for goofy white kids and old folks
, the game comes on the scene with a sinister dr. dre beat. while i'm sure if it will have the massive cross over appeal of 50's "in da club," "higher" follows the same lyrical pattern. catchy hook and enough name drops, you would think you're at lotus on a friday night.
hip hop site
does an excellent job of writing up the rest of the similarities between the two singles.
although, what a majority have said about this single, is dre's sly announcement of the return of
"detox"
. perhaps game has brought back the old bad boy in dre; maybe game can work the same wonders on ice cube for his next album or at least ghost write it.
ice cube's latest
speaking of the west coast, anybody else notice that in theory, the crips and the bloods are in the pennant race. think about it. not to mention, who ever came up with the schedule is mondo retardo and most likely named gallagher.
i'm not one to tell people how to do their jobs (then why do i have a blog?), but if i was
adam mckay
, i would look into buying the rights to maureen dowd's
"bushworld"
and turn into what could be one of the funniest films ever made.
ferrell
as g.w.,
darrell hammond
as dick channey and rumsfield; i'm already buying my ticket.
i believe that i may have to start a feature here at the old skeet shoot, the ubiquitous reference to some babes at polaroid scene
can be found here
; if all new york city babes, look this, i'm moving post haste and i'm going to have ja rule's "livin' it up" as my new theme song.
dude, who would've thought that your humble narrator, a devoted jimmy fallon hater, would write on a monday morning that this past weekend's s.n.l. was sorely missing his endearing line flubs and laughs at his own jokes? seriously, this season is going to be worst than that season with chris elliott and frankly, if i'm going to have to live with seth myers' impression of john kerry for the next 4 years, i may just throw my vote and vote for bush. memo to tina fey and amy pohler, leave now before your talent gets wasted like maya rudolph's or you'll end up playing the pregnant hispanic lady in every other sketch too.
remember hipsters: bloc party tonight at
spaceland
; seriously, you're gonna be on fire.