the golden path
do i have to really write about last night's "laguna beach"? cause pretty much, all the non drama drama that's been happening the past coupla weeks happened again. the show its self, has already blown its load with the incident between the mexican gangster and trey, who has about as many costume changes as some lady who hosts an award show, not to mention, continues to baffle the world with his tribute to
'heroin chic'
with that belt on his left arm, but oddly enough, the show had its moment, two moments for an episode that should've been loaded with great moments, the prom episode, but all that was good was the moment when some dude bounced around the defination of ostentatious on wheels, the hummer limo, then poked his head out to throw up. then there was the conversation between a drunken stephen & kirstin about her senior formal, yet what made this moment so good was due in part their choice of head gear: a flapper's hat and l.c's attempt to break up the moment in love (art of noise steez) by shouting, "that was our last dance, stephen!" to no avail, then the look of pure frustration that broke out like that you get zit after eating little ceaser's pizza all over l.c.'s face.
apparently, next week, the "laguna beach" kids get attack by bears; try and top that ish,
josh schwartz
.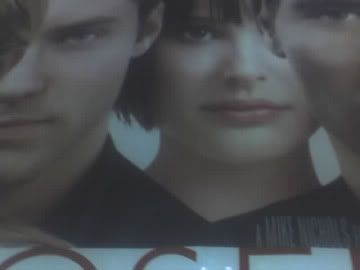 so we're all bumming about
natalie portman's nude scenes being cut out of closer
and with the way,
mike nichols
talks about his reasoning behind cutting those particular scenes looks like a mega slim to nil chance for them to re appear upon a dvd release unless some sleazebag like
joe francis
finds it and releases a video called 'natalie portman: out of control & she's lost her pants!!!!!' (i would assume there'd be a couple more exclamation points in the title). but we shouldn't be bummin' too much since there'll be some portman tees revealage in the film never the less.
in other tee revealing news,
kevin smith fans discuss whether these are avril's boobies are or not
(nsfw)
tiny mix tapes seez a new out hud album in smarch '05
while members of !!! are in out hud, your humble narrator believes that those dudes should quit and be in out hud full time, then tour the world with lcd soundsystem; watch the video for lcd soundsystem's "losing my edge"
here
[video link via
soviet panda
]
since i'm not very good with numbers, so my math may be a bit off, but here at the old skeet shot, we're basically a post away from hitting that ever so lucrative syndication mark, a 100 posts. i'm totally surprised that we've lasted this long, so far.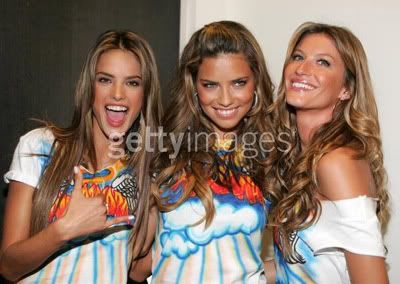 i love
adriana lima
(see the brazil wall in my office) and all, but why did she hit up the tanning bed and blonde up her hair? she was perfect before, now, she just looks like some girl from the hipster bar in h.b. that plays zero 7 and has cheap beer, but you're already too drunk from the pitchers of beer at bowling an hour earlier, so it's a total bust.
alessandra ambrassio
is just keepin' it gangster.