is your dad a dealer? cause you're dope to me!
lil jon gets married, now what's so crunk about that?
i mean doesn't that go against his entire persona to be a married man who probably comes home at a reasonable time. i agree with
nick dubs
' recent write up about the lyrics in the latest lil jon album, but my uncomfortable feelings are more directed at ice cube's verse on the song, "grand finale". we know that cube has been soft as of late in the hip hop game, but does he really need to attack kobe's accuser so viciously? sure as a laker fan, we all probably said in passing that we didn't like that woman, but cube is just taking it a bit too far. seriously, cube, re focus your attack and center it entirely on kobe, since he's the reason why the lakers will be skating to the playoffs this season. i mean, 40 points in a loss to sac town, way to spread the ball around, you jerk.
tommy lee jones in a cheerleader film actually does equal a bad time
not to mention, it's got cedric the entertainer in it. i dunno if you're with me, but i'm starting up a class action lawsuit against cedric the entertainer for false adversting, i've never found him to be interesting nor entertaining, only a ruiner of a good time. cedric the entertainer, more like cedric the party pooper.
sundance '05 to host the premieres for steve buscemi's latest film as well as noah baumbach's wes anderson esque, the squid & the whale
. i went to sundance, once. it was cold and i didn't get to see the movie with 2pac in it, so i was bummed, but bear in mind, i was in the 10th grade. if anybody goes, can you boo or at least whisper 'boo-urns' into the ear of
marcos siega
cause he ruined weezer.
watch the new blood brothers video in really small, blurry and overly pixely quicktime
here
and be really bummed out cause you would've thought maybe they'd make a better video. myself, my idea for a blood brothers video would probably cost a 100 grand and used about 20 lipstick video cameras and 14 panasonic 24p cameras and take about two weeks to edit, but then again, what do i know?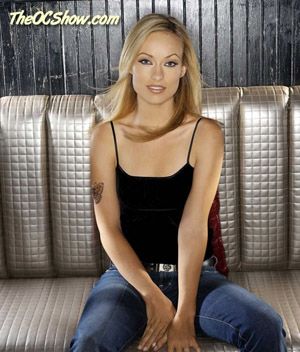 is it just me but isn't
"the oc"
's newest cast member, olivia wilde quite simply a varation of the
monet
esque hottie
kaley cuoco
with the most durstest drive in movie theater forehead since christina ricci circa
the adams family
taking screen time away from rachel bilson with her whiney attempts at being hot and paris hilton esque. could she be any more poochie ish? although on this week's "the oc,"
the killers
drop some science on seth cohen's ass.
alessandra ambrosio: the mixtape (probs nsfw)
, although we recommend watching and listening to "hip hop" dy dead prez instead of the song playing.
and some of the bestest news i've heard,
jenny lewis' solo album due in summer '05
. i smell an album chock full of anthems for teenaged girls and nerdy guys like your humble narrator and we'll probably at all of the shows in the area, cause the hottest girl that i've ever seen, was spyed by my eyes at not one, but two rilo kiley shows, including an awkward moment involving me, robin brown, and her in the air section at amoeba.