its my life and my dreams, nothing is gonna stop me now
one time, jenny lewis of
rilo kiley
told me that she's an optimist. well, not me personally but it felt like it was since
the casbah
is so small and i think she was refering to jimmy tamborello's technical difficulties at the time, but that's beside the point. ever since that night in san diego, i've been an optimistic person.
from time to time, my mind has been put to the test and well, last week, i became the most apatheic kid, evs. although, many may argue that i've built my whole lifestyle around being apatheic. but on monday afternoon, my optimism was put to the test. for the past coupla weeks, your humble narrator has not been putting the normal 110% here, my mind has been else where, working on a couple of shorts, but more specifically producing a short film that's a surealist take on the art world. it's funny and most importantly, weird.
so i've been calling friends at film school for recommendations & suggestions for cinematographers and hitting up
the sites
for parts. some things have worked while other things haven't yet (are you or do you know a good cinematographer with their own 24p camera with a couple of free weekends in november? email me @ dreinhardt@earthlink.net), my project's director, mark came up with the idea of casting...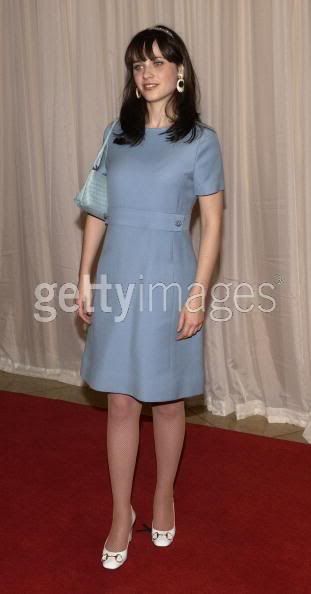 zooey deschanel
for a part in the film. the situation is basically win-win. win if zooey agrees to be in our movie, and win, even if she says no simply cause we tried to get a big name into our short. in theory, this move should give us carte blanche for the rest of the semister in the class. not to mention, for being the good actress that she is, zooey is still under the radar for most peeps.
so on monday afternoon, i stood out in the cold on my cell phone with the horrible speaker phone and proceed to call up her agent. it sort of felt like calling a girl back in high school, cept instead of it being the girl with nice knobs from english, it's
william miller's cool older sister
. when the receptionist picks ups, i nervously ask for her agent, which lead to a game of hot potatoe from personal assitant to personal assitant. every time, i'd ask my question, then they would say, "hold on, you want..." and i'd be connected to another person, who would in turn give me to somebody else, and that's all i'll say about the situation.
now, i'm in a position where i'm not sure if i should've spilled my guts to the blogosphere only because it'll make me look bad, if things go south or get out of hand. do i believe that she'll be in our movie? probably not, but does it hurt to write about how we try to get her in our movie? hopefully not.
let's just say this, it's alot cooler than writing about trying to get
haylie duff
or
tara reid or her sister
to be in your movie. although, if anybody knows samaire armstrong...
perhaps the greatest tv theme song of all time,
"perfect strangers"
[via
ultragrrrl
] and perhaps the best part of the latest 'treehouse of horror' episode other than the part when ralph wiggium smoked opium.
hey
indie 103
, last time that i checked
U2
was about as corporate rock as you get. frankly, i'll take kroq's playing of my chemical romance's "i'm not okay (i promise)" 20 times a day as opposed to hearing the bloated lyrics of an irishman with a joel strummer complex and
black flys
. yet radio in la is getting weirder and weirder with the costantly battling between indie and kroq, i tune into kroq and hear "new slang" by the shins, so i flip around the dial and land upon indie playing, guess what, "new slang" by the shins. pretty indie, but it's totally ruined when you pump out the velvet revolver right afterwards.
james murphy of lcd soundsystem could've been a writer on "seinfeld"?
thank god, he said no because the world would be without "yeah" and nobody would dance anymore unless you were in a
dance battle against yourself
;
dfa's complation #2
is out now at the cool record stores, but not avaiable until today at most orange county record stores or at least that's what the clerk at tower yelled at me while the both of us were searching for it. well his actual quote was: "stop! this is pointless, sir. the album doesn't come out until next week".
as opposed to singling out one particular babe, mark polaroid scene aka the cobra snake has made it very difficult and just has an whole army of
babes
to admire; although if we have to pick out one, it'd be these
girls
cause i have a thing for asian girls who mix it up and you just know that these girls are an istant party, just add booze, a hot beat and somebody's clothes will be coming off that night.
a bit of a plug for friends, but nowhere as blanat as josh schwartz's plug for his buddy, paul frank, but
bento productions
are apart of an art exhibition at the
laguna art museum
. make a sunday out of it if you're in the greater southern california area. drive down pch, grab a smoothie, attempt a little trey & l.c. gawking, then watch some great short films from orange county's emerging filmmakers.
for all of comic book nerds,
the incredibles
will be the closet thing to seeing a film version of the legendary
"the watchmen"
.
the incredibles
, its self is a smart, well made film that has lots of love for what it satirises.
somebody should've told jay-z that
linkin park
kinda sucks cause boy howdy does
"numb encore"
suck. if hov wanted rock mash ups, he needed to holla at
nick catch dubs
and listen to that remix of terror squad.
speaking of catch dubs, he has
photos
from the new luda/spike jonze collabo. so spike went through with it after all, hooray!
sunday night's
"arrested development"
had to have been one of the funniest half hours in recent memorey.
and perhaps one of the most bestest show news since james murphy decided to visit la,
phoenix
will be at
the troubadour
on december 12 and on december 13, they'll be at
cane's
in s.diego. so bring your favorite mandy moore type and your best dancing shoes for these shows cause you'll probably wanna make out and dance all at the same time, which, well, i guess, that's sex, so maybe you would want some sex after the show, either way, the troub show is their only all ages show of their mini tour of the states.