luchini pouring from the sky
boys and ghouls, i've been neglecting you and frankly, i thought i could've phoned in the rest of november and rested upon my aunt laurels with that bit about
mandy moore
and that quick review of wes anderson's latest opus, but i don't think i'm able to. i've been working on two short films that somehow have managed to suck up all of my time and energy. it's not that i'm working with bad people or on bad projects, but i just believe that my time could be better spent watching mtv's "
date my mom"
and during commercials, flipping over to rap city's throwback day hoping that they play
camp lo
's "luchini" video, yet instead, i spend 8 to 10 hours sitting right next to a light switch, asking if they need the lights on or off. or my duties are at the other end of the spectrum where i have to deal with directors, actors, crew, and the question, do i have enough money to get my ass through this day?
being a producer is a job that for me, has required me to be the biggest asshole in the whole world. or at least, that's my attitude, i want to get this thing over as soon as humanly possible so i can return to my comfort zone and not have to worry about buying videotape or how will i feed 10 people on about twenty bucks. not to mention, while being the producer, i'm doing eighty five other jobs, all which seem to require the same amount of effort and stress as a producer. i think this is why i'm never proud of any work i've ever done because i have so much anger and hostilty towards it, that i could care less about how it turns out. i want to have a shirt made that says: "the film i hate the most is the one i'm working on".
this upcoming weekend will most likely lead to the 40th nervous breakdown in my short life time because we're shooting 20 pages over 3 days. the last time i saw the project's director, i showed him a fortune cookie i had gotten. it said: "be careful of extravagance".
although,
robin brown
says that i'm so frustrated and angry all the time about these films is that i'm realizing i want to write and direct films again. and guess what, he's right.
why does pedro almodovar make such great visual films that i won't understand yet must watch anyways like
bad education
?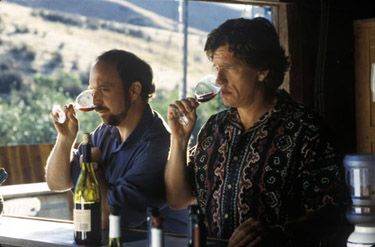 if you happened to have checked out the sidebar, you may have noticed that we at the old skeet shoot, have declared alexander payne's
sideways
as the best film of 2004. where to begin with what's good about this film? the beautifully crafted screenplay by payne and jim taylor, which brings up memories of billy wilder & i.a.l. diamond. payne's direction feels so unbelievablely effortless and honest and the cast in particular paul giamatti just deliever solid, comedic performances.
sideways
is a film that i walked saying that i saw a bit of myself in this character and that character. it's just flawless filmmaking.
yet before
sideways
started, i sorta thrown out of the theater. i sat in the dirty theater, taking photos of myself using the camera phone when a security guard asked me to wait outside, while they cleaned it. the security guard, who seemed like he was on meth or at least he paced around as if he was on meth and told me that i should've seen
the grudge
and not have wasted my time with
huckabees
simply cause it only played at his theater for a week, cause you know if a film bombs, it totally means that it sucks. the guard also told me that the comedian of the year is not dave chapelle nor sasha cohen baron, but tim allen for his performance in
christmas with the kranks
.
jean pierre jeunet's
a very long engagement
is sorta like the french version of
cold moutain
. not saying that i'ts a bad thing, but the film is long or at least runs long, but its necessary to be that length for the film to be successful. at first, jeunet's trademark quirky style did not mesh with the film, yet as the film went on, i could not have imagined it to be told any other way. so see it on the big screen.
glamorous
indie rock eva longoria is what i want
it's in my soul, it's what I need
indie rock eva longoria, it's time

two of us
flipping through a thrift store magazine
she plays the drums, I'm on tambourine
bet your, your bottom dollar on me

it's indie rock eva longoria for me
it's Indie rock eva longoria for me
it's all i need
it's indie rock eva longoria for me

in a clutch
i'm talking every word for all the boys
electric girls with worn down toys
make it up, break it up, what do you care
oh what do you care?

i take my twist with a shout
a coffee shop with a cause, then I'll freak you out
no sex, no drugs, no life, no love
when it comes to today

stay if you wanna love me, stay
oh don't be shy, let's cause a scene
like lovers do on silver screens
let's make it yeah, we'll cause a scene

it's indie rock eva longoria for me
god, i hope that joke worked. but seriously, that's the future mrs. skeet on mischa right there, but the problem is that she has that brooke shields,
pretty baby
vibe about her. yet, if you're looking for a x-mas present for your humble narrator, that's it right there. although, people have always told me that you give people as presents, but you could make up a phone number and say that it's the girl's number and it could be this great prank phone call moment, but what do i know?
speaking of x-mas gifts, i sure could use a copy of
the german import dvd of mario bava's blood & black lace
.
and also, we're through with short hair or at least girls with short hair. it's played out and to para quote sebastrain grainger, "let your spirit free!"
while you've just spent the past coupla days feeding your faces with turkey sandmiches and things of that nature, take a break and feed your ears something delicious, the rub has brand new lcd soundsystem and bloc party jawns, listen
here
. after listening to those songs, finicial wizards say that your best bet is to invest in dancing shoes futures in '05.
if you have a full copy of either albums, do not send them to me. i repeat, do not send to me. but if happen to have a copy of the m.i.a./diplo mix, "piracy funds terrorism volume 1," holla!
anybody else see the re mixed, re edited version of that rather awful version of saturday night live with ben affleck as the host?
details here
; i mean why would they trot out a different version of a sketch? neither version generated any laughs.
to anybody going to the kills show at the troub on tuesday night, please a written report on the new jawns and is alison still on the blow, cause me thinks that the kills won't be as good when sober.
and thanks to
fluxblog
for posting that blow song the other day and thank goodness, that
ep
is on itunes music store.