pro tools gangsters
dear mr. rule:
how can i take your murder raps seriously when you're just about as tall as ashanti is? not to mention, that you two called each other on your sidekicks and planned out how you were gonna match each other at the party:
sincerely,
an viewer of "rap city" whose sick of seeing that 'i'm from new york' video.
at first, i was sorta stumped as to what my new year's resolution was going to be for the '05 (which, we're already over). maybe i should learn to like people more and be more outcoming instead of being a bitter little ball of hate that drives around screaming obsceneties about the people who constructed beach blvd. in huntington beach. then i saw
this babe
and realized that my resolution should be to put away all the hate towards the blondes. ever since senior year in high school, i just held a negative spot for them in my heart with exceptions to: kirsten dunst, z & tennessese of the like, and of course, samaire armstrong. you know, the blonde always got their way and every dude or at least in my neck of the woods fawned over them too much, so why do they did need my attentinon and afflection? but you should that babe is just so killer and probably could drink me under the table. which lead me to think about making the resolution to become more socialable and go out meet babes like this.
then i saw these
nelson
lookin'
dudes
and thought, perhaps it's best if i just stayed at home waiting for the
vip parties uncensored
(nsfw) informercial to air on a saturday night, thank you very much.
in all reality, my resolution is to finish my screenplay and shop it around as a starring vehicle for ashlee simpson, which would lead me to a meeting with ashlee simpson and i would give her a deck of
yugioh
cards and ask if she could get her
boyfriend
to autograph them for me.
kirsten dunst goes to the beach and her top falls off
(nsfw) and i'd just wait until i got home from work before i snuck a peak.
for as much love as i have for the itunes program, i would like to extend a fuck you to them for making the zombies' "the way i feel inside" off of the soundtrack to
the life aquatic
as a song that only comes with the album. why can't i just pay a dollar and get this one song? i don't want the other ones, if i did, i would buy the soundtrack, but i just want this one song. it's all profit, dudes. it's not like i'm gonna take the song and mash it up with beat for "rubber band man" and create some crazy hit song. i don't even know how to do that, but if i did, i would be mashing up
lil scrappy
with
the stooges
; hello? the "no problem" mash up with "no fun"? that is a license to print money.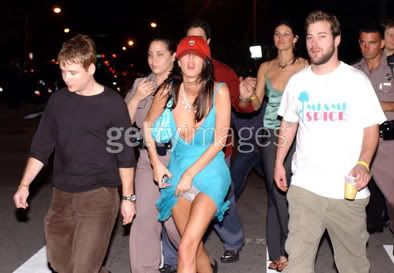 i assume that by the time i post this, there will be a logical explanation for this photo, right? i mean nicky hilton must be researching for a part for a movie, right? she isn't on meth or the blow; she can't be since she's not wearing cowboy boots, which we've established as the new symbol for girls on the blow. or perhaps there's a new symbol here, but i just can't figure it out yet. is she drawing our attention to her awesome red baseball cap or her cool boyfriend who is on some show on hbo that even if i had hbo i wouldn't watch (not to mention, that samaire armstrong is on that show and i'd still wouldn't watch it) or that her beav is freshly clean?
mello got engaged to lala, dudes
and who cares me? certainly not nuggets fans, they could use a bit more w's.
and it seems like in a couple of months, i'll have to change my icon from samaire armstrong & rachel b hangin' out together to samaire hangin' with lohan;
samaire to play her best pal in some movie
, hopefully she won't wear any goofy hats.