t and me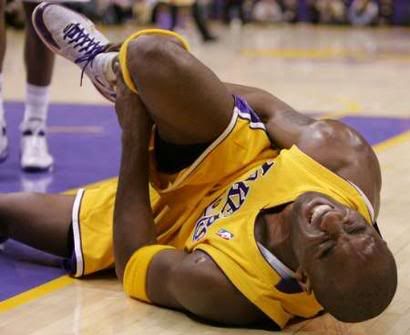 seeing this highlight on the news last night brought that one kelly clarkson song to mind. you know that she sang when she won:
some people wait a lifetime for a moment like this.
kobe spares his ankle
, yet
the lakers win without him
. perhaps i'm in the moral minority or i'm a bit too
malicious
, but frankly, i'm gland that kobe is going to be out for a while; i wish it could be the rest of the season and in some mondo bizzaro twist of fate, we'll get shaq and d. fish back on the team and rudy t would disappear as if he's
richie cunningham's brother
. if that episode of "
curb your enthusiasm
" had been about kobe, people would've been giving larry david high fives and hand jobs all the live long day.
speaking of larry david, don't forget to pick up your
curb... season 3 dvd
on tuesday, if you have that dispole income and live off the dvd releases of hbo shows cause you can't afford hbo, like me.
homey boy is so stoked right now because he found the first, truly, most awesomest babe of the '05. she doesn't need layers upon layers of make up to impress us or some crazy hair do that made a big dent into the ozone layer; you could go out dancing on a sunday and she'd be the one that'd suggest heading home early to catch "tom goes to the mayor". and while we can't see it, but the dude is saying plenty about her shoe game, it's all good.
.
then there are
babes who are so innocent that they call their moms as they're being photographed by the cobra snake, telling mom that they might get on skeet on mischa and be written about in a style that clearly and balantly bites gavin mcinnes and how stoked she is about
tina fey gets some love from the wga,
mean girls gets nominated for best adapted screenplay
; now putting the film on my top ten list doesn't look so stupid now.
nme talks to nick van zinner about the re-invention of the yeah yeah yeahs for their new album
, soon be on the prowl for more guitar solos and karen o acting more and more like david lee roth, cause you know the yeah yeah yeahs and van halen, classic van halen are pretty much the same band.
show notes:
-
bloc party at the glasshouse on march 21st
-
joanna newsom at the troub on february 24
-
blood brothers at the roxy on february 12
&
at the glasshouse on february 11
-
blonde redhead & interpol at the grand olympic on february 18th
-
m.i.a. at the knitting factory on february 3rd; tsunami benefit show
-the bravery at
cine space
on january 18th & at
spaceland on january 19th
-
ted leo at the el rey on my birthday
, so you can assume that i'll be there.
how terrible does the thing look in the fanastic four trailer?, yet how cute does vanessa manillo look at the end of the clip?
i say that they should've cast
mf doom
as doctor doom in the movie and you would've probably had a hot soundtrack with beats by madlib.
robin brown
had a good idea on how to improve upon this absolutely dreadful season of
"the oc,"
add random fart sounds to the soundtrack because a fart sound effects are always funny and well, wouldn't be super funny if during some big dramatic scene with mischa barton and you know, she's using those
method acting
tips, she pick up from that episode of "inside the actor's studio" with jennifer lopez, so mischa is reaching really deep inside to create her perfect performance and right smack in the middle, there's a big wet fart sound to ruin the whole thing.
although, if they want an interesting story for this season and honestly,
josh schwartz
feel free to rip this off. basically, the oc gang goes to cabo for spring break, summer gets a bit too drunk, a 'girls gone wild' type of film crew is there and they get summer to do some crazy thing on video, but she doesn't remember it the next morning, flash forward a couple of episodes, seth and ryan are watching tv one night and they see an ad for some sleazy video with summer in, and well, yadda yadda yadda, the thing writes its self, dudemeisters. and get
jeremy london
to play some joe francis type of dude.
now, one of my favorite episodes of "the simpsons" had to be
the one where homer goes into space
probably due to homer simpson's speech about mr.t:
"Just like the time I could have met Mr. T
at the mall. The entire day I kept saying, "I'll go a little
later. I'll go a little later." And then when I got there, they
told me he'd just left. And when I asked the mall guy if he
would ever come back again, he said he didn't know."
now boys & ghouls, your humble narrator had a similar experince at
south coast plaza
this past wednesday afternoon. my friend and i could've gone to lunch at california pizza kitchen or at wahoo's fish tacos, but instead we went with
ruby's
and ladies and germs, we saw mr. fucking t eating lunch.
i debated with myself if i should've sent this celebrity sighting into defamer, but i never sent in that sighting of david arquette at amoeba that one time. but the thing about mr. t these days, is that he's keeping his look very modest, yet patriotic. mr t wasn't wearing his trademark gold chains, which i want to believe, was an attempt to keep a low profile, but when you are mr t and your outfit is entirely made up on american flags, it's rather hard to keep a low profile.
i tried to take a photo of him, but as many of you know with camera phones and people being more than 5 feet away from the camera, things tend to get a bit blurry. and sure, i could've gotten up from my table and asked to have a picture taken with him, but dudes, my chicken teriyaki burger was mighty delicious and i didn't want to let it go. yet, the problem was this, people, in particular two women weren't that respectful of the t. these two middle age women grabbed him as he was leaving with his entourage of people(it was only three weird lookin' white people, probably from
tbn
) and these women just shoved their camera phones in t's face and probably asked him to be their new voice mail message. middle age rich ladies from newport beach have no respect for our childhood heroes.
i would have to say that this sighting ranks a bit higher than the time i saw
dan the del taco guy
, but not as high as the time i saw paula abula and how i brought her autograph the next day to school, cause i was in the third grade and she was cool back then.
speaking of del taco, did you know that there's one in south coast plaza? that's right you can get a chicken works burrito and shop at the dolce & gabbana store.