whoa oh, here they come, they're man eaters!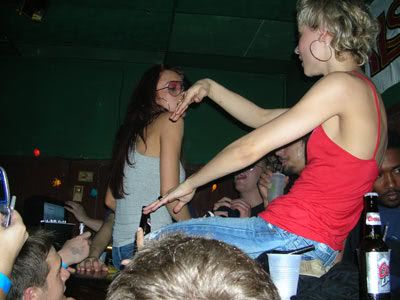 while everybody and their kid sister is talkin' about
lindsay lohan havin' fun in the big easy
and what not, but dudemeisters, check out my girl, samaire armstrong rockin' out. how hot is she? up on the bar, probably makin' bros do shots and what not, in other words, the best time, ever.
[image via
defamer
]
all the while, i'm at home, drinking a brew and bummin' that our babe of the week, nora got voted off
project runway
. who's next? that
hanna-barbera
created lookin' motherfucker,
austin
?
meaty updates tomorrow morning, i swear.