gold fronts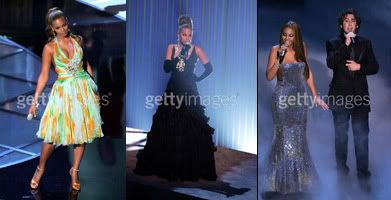 the problem with this year's
oscars
wasn't that virgina madsen lost or scorsese didn't even get the sympathy oscar win, but it was beyonce knowles constantly need to be all over my tv screen. one performance is even pushing it with her. it was bad enough that she and her supremes had to lip sync shit up and drag out the nba all star game last week, but she just kept on making matters worse. i assumed that the goal of this year's oscars was to hip things up a smidge, but come on, three performances by beyonce. that's not hip, it's just being utterly unorignial in your booking of talnet. honestly, i would not be surprised to hear that they thought about getting the black eyed peas to be the orchestra for the show. why did she have to perform three songs even though, the girl with the "charlottee from sex & the city" vibe from
the phatom of the opera
was there. she was in the movie, beyonce was not.
i mean, what is it exactly about beyonce that i seem to complete miss? she's had about one good song, "crazy in love" but it was only cause jay-z has a good verse on it and the beat was beyond redonklicous; other wise than that, she's utterly overrated and completely dull. she's become too much apart of my life and it's not fair. i never asked for her to be in my life, but there she is. she's on "celeberities without make up", she's in the blogosphere, she's on the radio and if she could find a way, she'd probably be in the a/v library renting the film i need to watch for a test, so i have to watch it with her in the tiny av room and she'd try to provide interesting insight on the film, but she'd only say, "oh hey, that shot was really cool" or "like this movie is too long, but my movie,
austin powers in: goldmember
that's the perfect length for a film," and i wouldn't know what to say other than nodding and smiling polietely.
i don't know if it sounds too crazy, but can we start up a petetion of sorts to get beyonce to leave the public eye for a while, like five years or until i and i assume the rest of america are comfortable with her again. let her boyfriend come back and make some records instead and be like, "yeah, sorry about creating that ego manic kanye west and sorry for dating a woman who'll never leave you alone, so here's a new album that's produced entirely by dj premiere to make up for everything. sorry and sorry about sitting on cam'ron's record for a minute, while we tried to get people to like memphis bleek. i, now know that nobody likes him and will never like him."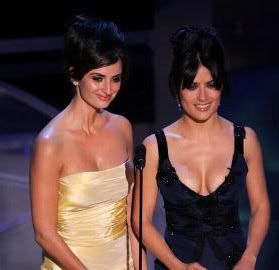 penelope cruz and salma hayek proved to everybody that they're not the same person, but color me ignorant, after looking at this photo, i'm starting to think that they are related in some way.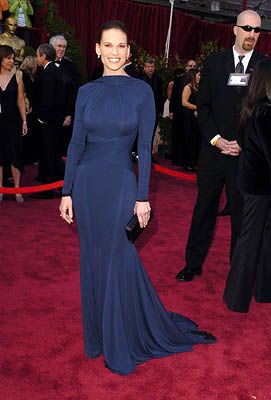 although, you can't see it in this photo, but don't you think that hiliary swank could've afforded to pick up some pasties for her dress or something? i mean, she's still trying to feminize her look up, but have exposed nipples isn't doing the job, lady. this father who lives on my street is more femme then you, but that's only cause he drives a mini van with a tinkerbell sticker on it. so, don't beat up us with your boobies; just be a respectable actresses like meryl streep or something. you know, cover up and just do quality work, leave the gigantic boobies all up in our face for
sidney lumet's daugther
[via
the thigh master
]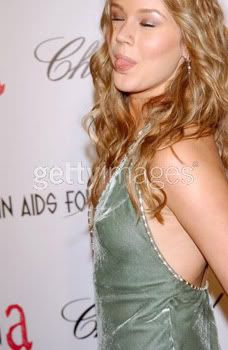 joss stone got drunk with dustin hoffman and they both said it was okay for eva longoria to wear...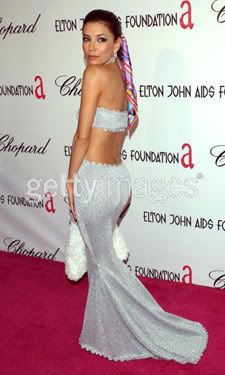 this outfit. sure, it may have that 'pow-pow' effect but what's the deal with
grease
hair ribbon and the whole sparkle motion vibe? did she steal the jacket from the lady at morton's satuday night meeting of the julie cooper nichols look alike club, costa mesa chapter? (two people will get this reference)
as for the rest of the oscars. i thought rock was funny. charlie kaufman finally won something; scorsese in a couple of years will get an honoray oscar, so expect a long, rambling nervous speech from bobby d about working with marty and the good old days; big ups to morgan freeman for winning, wished it was thomas haden church, but the fact is, morgan freeman is the coolest person alive (sam jackson is so over); who is adam durst of the counting crows trying to kid about the balding with the poo dreads?