supreme clientele
first and foremost,
music for robots has new prefuse73
, meanwhile,
fluxblog has brand new out hud
; both jawns are extremely ear delicious.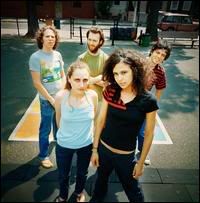 and whichever dudes that are in
out hud
who are in
!!!
should totally quit the exclamation points and just stick with out hud.
did y'all catch
my super sweet 16
with the new personification of a spoiled child, ava? for as whiney and for as rude and for as stuck up and for as self centered as this girl was, she created for an amazing half hour of televison. far more entertaining than episode of that snooze world: philly. i would rather watch ava stomp around paris complaining about all the high fashion stores are closed in august as opposed to shifting through the muck of when savandona and m.j, will hook up? or is it savandona and landon? who knows. i think more people want to see some 15 year old ball on the level of ja rule; can't we have a show where ava takes on ja rule in a shopping battle? let's see who can drop 10 grand on ugly clothes in an hour, first, but here's the twist, cause you know, every show has to have a twist, they gotta shop at a mall in idaho.
dr. jerry buss, you seem like a smart dude, so take this as a sign that nobody wants to work with your golden child,
rudy t quits as lakers head coach
. it's cool if you want to apologize to all of the lakers fans and admit that you fucked up and kept the wrong dude around. i think we all sorta knew when you hired rudy t, it was just a dude who could be easily bully'ed by kobe, but now that kobe is out for who knows for how long, rudy t saw it as a perfect time to jump ship. although, it should be noted, jerry buss is slowly, if he has not already achieved this status yet, but he's the al davis of basketball, which is mondo retardo.
here today, gone later that evening,
elektra hits the dvd baragin bins in april
tina fey to do a pilot, which ulimately describe as "arrested development" meets "the larry sanders show" but most likely and no offense, tina fey, just not as good. also, tori spelling is gonna do a pilot thats a rip off of "curb...",
i don't understand why all of these tv people are giving money to washed up, unfunny actresses to do curb knock offs. give me money to do that shit. my life is far more funny than tori spelling's. a day at school for me is bound to be ten times funnier than
kirstie alley's show
. wow, she's an actresses who can't get work cause she's fat and she's fat cause she can't get work and she can't get laid cause she's fat and she's fat cause she can't get laid, i'm so ready to spend 12 bucks a month to get showtime to see that urine inducing comedy. my show would already have people laughing without having to say anything. the openning credits sequence, a direct knock off of "the oc," but instead, it's cut to mobb deep's "shook ones pt. 2" cause you know, in the o.c., it's all about the killers and hundred dollar billers. and if i get the rights to that song, i'll use "neva eva" by trillville
for all of you who that are local and were wondering about "secretos," the spanish language version of
"cheaters"
, it's on at 8 o'clock, i think every night on the same channel that shows "buscando amor". for me, that channel is 41, but it's probably different for you. so flip around and you'll probably find it; it's okay,
"lost"
is a repeat.