hollaback girl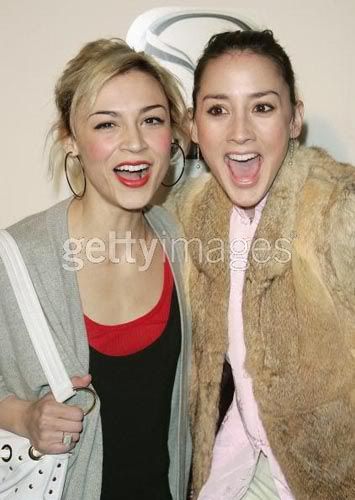 you totally know what
samaire armstrong
and
bree turner
are yelling about, two words: spring break! do you think that these two planned out their hair colors with each other; you know one is blonde for x amount of time, while the other is a brunette, so nobody would get them confused, cause i mean, look at their headshots, patty duke steez, yet i'd still want to hang out with them at some resturant owned by somebody from "that 70s show" in la.
although, wanna talk about wild? i've been off caffine for about a year or so now, and at easter lunch at albertacos, i had a couple cherry cokes. got crunked up? understatement to the max.
so the drive in totals for spring break '05, thus far:
-2 caffeinated drinks
-1 panic attack
-0 beers
-0 hot girls sightings
i must extend an adios amigo to parking lot b at school. we hardly parked in yee, but we're dreading next monday's parking nightmare.
consider us b-a-n-a-n-a-s for sleeping on how great
gwen stefani
's "hollaback girl" is. the downside, the video that'll probably be directed by david lachapelle with half of the budget going up his nose and his absolutely brilliant concept of those poor harajuku girls dancing around in bananas costumes on a track field with early 80s stylized high school kids or maybe the video will featuring some of that hot
krumping
; you know like those harajuku girls get into a dance off with some krump'ed kid. that shit is gonna be a-w-f-u-l, awful. but yeah, the song is good though.
yet, a video that plays homage to
bananas in pajamas
would be rather hot.
chuck klosterman on ashlee simpson and how she smacks of effort
[via
oh no they didn't
]; related:
page six six six
says that
ashlee simpson is dating some dude from hoobastank
, so if you live by ashlee simpson & her party house with her paid friends, be on the prowl for shirtless dudes with highlighted faux hawks playing guitar on balaconys, singing awful songs or at least thats how the kids who listen to hoobastank act and their dads are dicks cause they ask you to pick up your dog's poop cause 'kids' play there even though, there's gigantic shrads of glass lying in the grass. yeah, a bit of dog poop is way worser than bleeding kids.
cameron diaz's travelogue aka celebrity road rules show, "
trippin
" starts tonight where her and close, personal friends go traveling around the world and doing e
x
treme stunts and show the hilliary duff set how to take the care of the environment. my thing is this how are
dmx
and cameron diaz close, personal friends? i mean, drew barrymore, i understand, but dmx, not so much. i can't see cameron diaz texting dmx about going to lunch together when he's in la or when she's in yonkers. maybe, they became friends over the fondness for dogs, but i mean that's a bit of strentch. then again, they have publicists who are friends and they pitch this thing over blackberrys, starbucks and cigarette breaks. i like the idea of cameron diaz and dmx hanging out with each other, but not necessarily doing e
x
treme stunts, maybe something like
my dinner with andre
style. x and cammy d rappin' about the pitfuls of celebdom, having bad skin and pretending to be federal agents.
related, a friend of mine wanted to borrow some movies from collection and he asked if i had any drew barrymore movies. i dunno why, but it was kind of creepy. not to mention, he totally messed up the dario argento section. everybody knows that
suspiria
goes after
deep red
.
you know, you'd see somebody at some thing and think that the person looks like somebody you know; like an old friend from riverside that you never see anymore because they live in riverside and who wants to make the drive out to riverside? then you ask your friend if the person looks like the old friend, and of course, they say no. so you sorta walk over towards that person to get a better look and they look nothing like that old friend at all, yet you want to get to know the new person a bit better. does that make snese? or was it like the time when me and punk rock tim thought we saw rob halford at a faint show and we yelled, 'halford' a couple of lines, then ran away.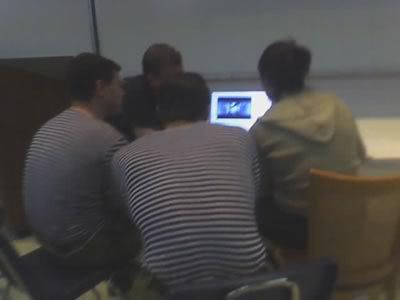 colter freeman
's
location 146
wrapped production this weekend. from what i've seen of the rough cut, shit is binoculars; yet when a majority of the cast speaks russian, you start to worry that maybe the cast is badmouthing you and if they were, how would you know? i can't speak russian, but i think i was okay because i did a good job and i was the guy who knew were the open bathroom was located.