yr city is a sucker, my city's a creep
to the vending machine who gave me a pink lemonade when i was wearing a pink shirt, i think i can match my own clothes, just fine, thank you very much. i don't need lemonade bottle graminals to set my look off. although, this look is my tribute to
trent of pink is the new blog
because dude is like whoa,
mya
style, no less.
this year's american idol should be a babe. so please vote for
amanda avila
. yeah, kelly clarkson has bounce, but there's never been like a full fledge babe as the american idol. or at least, if she doesn't win anything, e! should call her and start cranking out new episodes of "wild on..." with her; she has that brooke burke vibe minus the fake boobies and amanda avila has the ability to show emotion, since you know, brooke burke was made in a mti lab.
no "my super sweet 16" tonight, but mtv is gonna give us a psychobillyfreakout by real world boringadelphia's sarah and another episode of "cribs" cause i just have to see how omarion is living. mtv should just re-run the commentary episodes of "my super sweet 16" again. i just loved how ava consistently denied that she had plastic sugery and how hart denied that he bought those girls all clothing so they show up to his party and how natalie called hart out on his collar up polos. so much better than seeing some rapper talk about what kind of shoes he has on his hummer. durst.
dear the producers of the upcoming
fantastic four
,
you got it wrong, the producers of
into the blue
got it right. people don't want to see jessica alba be invisible, they want to see her in next to nothing. watch the film's trailer
here
and see if it's not too late to do a reshoot on the film with a storyline about sue richards becoming a sports illustrated swimsuit model or a lingere model or whatevs.
if
clear channel 103
is so indie, then why aren't they playing "blood on our hands" by
death from above1979
like every other hour? why are they playing that awful, awful, awful, awful, awful song by
rise against
and that mondo retardo
danny masterson
radio show. they don't put him in movies, i don't watch him on tv, so what makes you think i want to hear his thoughts on the new kills song? or hear he ramble about dj-ing some maxim party and model girlfriends. they should give an air shift to some girl from
kxlu
who'd play
roots manuva
and tell a story about how she threw up outside
the smell
after a
coachwhips
show. now that's indie; but basically as it stands, the station should be called starfuckers103.
also, e!, nobody watches to danny masterson play cards with the non ashton kutcher/topher grace people from "that 70s show". i'd be into a show about
kurtwood smith
going to peoples' houses who are really big fans of the film,
robocop
and renacting scenes with them on their patio, but fez wearing one of his trademark knit, wool caps playing poker, i aint havin' that.
i think if more people had seen luis bunuel's
the phantom of liberty
, they would've gotten david o russell's
i heart huckabees
, well now people can see the bunuel film, out on
dvd in may
.
another complaint from the bourgeoisie:
-my ass gets sore from sitting on my wallet all day.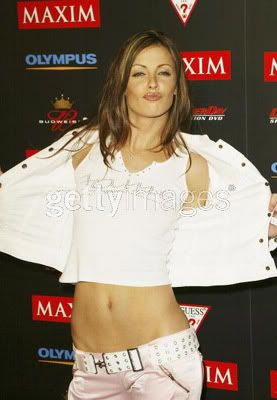 i've been out of the game for a minute, so please excuse me while i write about old news. the only real interesting that came out of the paris hilton hacked t-mobile sidekick (plug, plug) incident for me at least, was the discovery that model/actresses/playmate
summer altice
has a 714 area code.
the thing about summer altice is that if she probably had put on the pink satin p.j.'s at hef's house, she would've been a playmate of the year, instead of a struggling slashtress whose carrer will never get out of neutral no matter how many apperances she makes in fhmaximstuff with phony, force feed comes ons that appeal to that ever lucrative market of bros who are too afraid to buy real porn. am i supposed to believe that some girl who was an
elite model
hates shopping and loves to eat buffalo wings and drink coors light while watching the big game with your friends? that she's into dudes with a good sense of humor, so that's why she dated vin diseal? homeboy is about as funny as gallagher is.
so the point i'm trying to reach is that this should've been has a really unglamarous area code. contray to what my enemy, josh schwartz would lead you to believe, the newport beach/rich white kids who drive raise trucks that blind me with their lights when i'm driving home at night and listen to nofx but vote republican anyways/trophy wives in juicy suits that never really work out area code is 949. that's the one to have. where as the 714 area code is like where no doubt hangs out and ditches classes to go to disneyland and stuff. it's not as sexy or egocentric, so why does summer altice live out there and not in the 949 or in santa monica or like weho? manhattan beach is a very nice place to live with a respectable area code and it has all the features that might make a place like huntington beach living in, minus all of the bros, 4th of july riots, and beach blvd. i mean, can't summer altice buy a phone in maliboobs and say that her residence is the guest room at paul walker's beach pad?
actually what i think i'm trying to say is this, summer altice, if you had a better area code, maybe you'd get more work. people see 714 and assume that you're all about ska and would show up to castings in creepers and blue zebra print pants, talking about how awesome
the suburban legends
are and in the waiting room, your ipod will be blasting
rx bandits
tunes, distrupting the concreration of the other actors preparing for the scene.