demolition
lakers' gm mitch kupchak is gonna do an autobiography called, "yes, i can; if kobe bryant says it's okay". does everybody and kid sister believe that kobe will have a definate say in who'll be the coach for next season; shit, i bet kobe will be on the phones on draft day, trying to trade up and down; running trials for potential picks. yet, what the lakers really need to look into in the off season, time travel. seriously, find a way to come back to like summer '04 and say, "suicide you later, skater" to kobe and take phil and shaq attack out to
steve aoki's dad's resturant
and say, "you're the best. so what's it gonna take to get you back in purple and gold?"
they said it first, not me; but yeah, only i think we're talkin' about different things, we're sorta of on the same wave length.
please don't confuse me with this
doug reinhardt
; same county, just vastly different lifestyles.
maybe your city is cool and showing godard's
masculine feminine
, check
here
and probably be disapointed cause yr city is a sucker.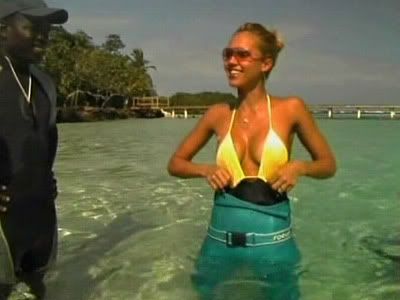 if you're like me, then you definately like your jessica alba to be wearing next nothing and more importantly, saying nothing as well. while, i can't say she won't be talking, i just know that jessica alba will be on tonight's
trippin'
, outfoxing came'ron diaz and just makin' every dude mad cause you know, hot chick rage. [image via
jessica-alba.ws
]
people can say whatever they want to say about brittany murphy, but now, she's beyond cool in my book. while i can't find a story or at least, i don't know enough of the celebrity gossip sites, but brittany murphy is dating a crew guy, a best boy grip, to be specific. and i honestly don't believe it's none of this julia roberts, i'm so shallow and have a extremely frail ego that i can't be in a relationship with anybody who has the possiblitlies of becoming more successful than i am, so i date a crew guy things. brittany murphy is just doing cause she found love, ll cool j style. so, to all actresses out there, don't look down upon the crew guy who may be undressing you with his eyes at the craft services table, it might be the start of a beautiful relationship.
so, i checked out ticketmaster the other day and the lcd soundsystem show at the el rey in may hasn't sold out yet. what the fork? i mean, sure, it seems pretty shitters that m.i.a. isn't on the bill anymore or so sayth her website, but hey, pitchfork says other wise; so you know, since everybody is into gambling these days, why not take a chance to see if m.i.a. shows up or not, but here's the thing, you're gonna win anyways, cause lcd soundsystem is playing. take it from me, they're amazing live. i went to coachella last year, just to see them, radiohead was a bonus and it was extremely worth it. i saw them late last year at the echo, amazing show, but all of you la kids blew it cause you had to watch interpol for like the fifth time. so don't blow it this time, dudes. it's sunday, may 15th. you have no excuses to miss it; "arrested development" is done for the season and let me tell you what's gonna happen on the episode of "desperate housewives," you'll miss, terri hatcher falls down and makes a big scene in public, eva longoria is short and buys a pair of shoes, felicity huffman yells at her kids and marica cross acts like mathra stewert; there you go, you're all caught up. so your tv excuses are gone. final weeks, i might let it slide, but i mean, if i'm going and it's the week before finals, then you gotta go, cause nobody is more studieous than me this semester (hello? i missed bloc party's tour of la cause of mid terms; do you think i'm gonna miss this?) other shows, now lcd soundsystem has been the victim of other shows going on at the same time. at coachella, it was the pixies reunion and as mentioned before, interpol in october, but this time, there's nobody playing tonight. it's the only show in town that night. seriously, if you have the ablity to see lcd and pass on it to see like the adored at the troub, then i want you to stop reading this blog. no, really, please stop. if you would pass one of the few chances to see james murphy perform and probably do an amazing live version of "on repeat" to see a band like
the adored
, a club bang band that isn't allowed to have their records carried in amoeba. i mean, if you would pass a chance just to let loose and dance to amazing music to see a band that probably spends more time on doing their hair instead of writing good songs and won't be around in a year or two and probably started to make dancier songs after a little number called "house of jealous lovers" made all the cool kids dance again, then fine, be my guest, i can't stop you for having bad taste in music, but i would like to stop reading skeet on mischa.
although, if anybody from my school is reading this, can you not book the adored for any lunch time concerts the rest of the semester because i have a fear that they may hang around and jump me after my class or something and i don't have a posse yet. so you know, getting beaten up by a bunch of dudes in beatle boots in front of the girl who looks like kathleen hannah will be not good for the rep.
does anybody else remember when mtv news actually was a show that had interviews with bands by kurt loder and wacky on tour segments with tabitha soren and the band flirts with her and there was some overtly political segment with alison stewert that'd just fall on deaf ears and there was sort of a gray area about john norris' sexual preferences and there was anybody named gideon yago? anybody remember that? all it is nowadays, is some 30 second soundbite that took about two hours time to get out of hiliary duff about her new movie or how good charolette is going on tour with simple plan and it's being called "shit sandwich part 2: cause one of us alone is not enough shit to deal". i mean, there's no way to change things because 'the kids' don't want interviews with musicians as they work on their new albums unless it's like 50, playing the tony montona card or it's eminem further proving that he's the howard hughes of rap. i wouldn't mind if they bring back the week in rock and do stories about my chemical romance or whatever the it band is at the time because it'll actually give me a better idea of why i don't like the band; provide more fuel for the fire (as it stands, imo, my chemical romance aint so bad; they're just a bunch of nerdy kids who play with make up and scream alot). i think its possible to squeeze a week in rock show back into the line up, i think we can stand to loose the 10 times "punk'd" is on daily for a weekly news show. there can be time for moments of self importance with gideon yago covering some drug issue or doing a piece on bloc party or whatevs and you can have time for john norris to do interviews with kylie minogue and you can have time for suchin pak to be hit upon by bad nu new wave bands; imagine the hiliarty known as suchin pak on tour with the bravery. it just seems that the on air news staff has been hurting ever since they fired ian robinson. dudes, look at this as a blessing and actually make a news show where you can talk about your favorite new bands. it's not like i'm asking for
zalman king
to produce the week in rock.
although, if we could get zalman king to produce a season of the real world or road rules or a road rules/real world challenge would be pretty nice. check out the reality show he's producing,
forty deuce
. i mean ivane kane is a douche who wishes he was don simpson, but the show has these cool little moments of high gloss, late night skinamax style cinematography of the dancers of forty deuce doing their thing. you know, maybe as a chance to spice up a rather bland challenge where coral and veronica yell at everybody, by injecting some zalman king style of filmmaking. and if he's too expensive, mtv could always go after
andrew blake
(nsfw).