snow on the tv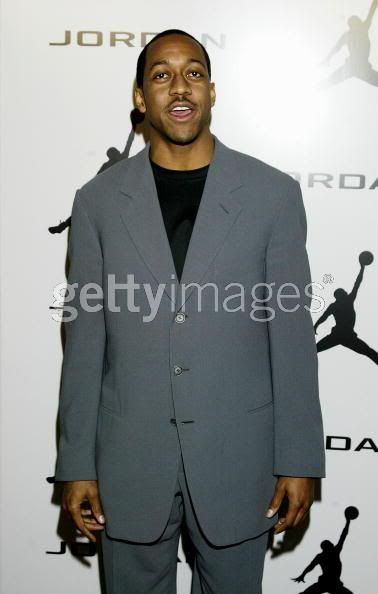 i got my fingers crossed that i make the c-list of bloggers on
blogebrity
. that way, i'll be able to hang out with my fellow c listers like jaleel white and ask that burning question, "who did you like playing the best stefan, urkelbot or mrytle urkel?" cause for me, i would figure that playing urkelbot would be an easy job, if he's just doing the voice and some poor dude has to be in the suit doing some weird dance and knocking stuff over, but jaleel would probably say, he liked playing stefan the best because he got to be himself and say that he's a ladies' man, then he pretended that his phone rings and he'd fake a conversation with some lady and he'd say, that he has to go cause he got a booty call and of course, i'd say, i didn't hear the phone ring. then he would explain that it's on vibrate, and you know, i'd accuse him of faking it and he'd probably say, whatevs, i'm getting some poonnanny while you're still obessessing over "family matters".
for those in college and will be graduating next may, mark my words,
do not get
max weinberg as your commencement speaker. the dude is extremely boring and will not be inspiration, let alone, being funny. his speech more or less was the potential sound bites taken from him in a future episode of "e! true hollywood story: conan o'brien". so boring and to make matters worse, it was like 95 degress outside. i don't mind standing in the heat to check out a band, but to hear how max weinberg saw conan o'brien walking down the street the one day and how he went over to talk with him, yeah, no, i'm not havin' it. i was talking with somebody who would be graduating next year afterwards and we were talking about better speakers. first, there's prince becaue you know, some how he'll be wearing an all purple velvet graduation robe. then another idea was gwen stefani because the school will have to give honory degrees to those hijakru girls too and gwen stefani would be in some dolce & gabanna remixed robe with an early 80s hip hop vibe. then it came to me that
the dipolmants
would be the best commencement speakers. do i need to finish the rest of it? i mean, the idea pretty much writes its self. the kufi slapper telling the graduating class of some redonklciously expensive school, "if you call a girl and you ask her, 'what's the plan?' and she says, 'i don't know, baby. what's the plan?' break up with her." then regular pomp & circumstance would be replaced by some killer beat by heatmakerz. shit would be like the video of "oh boy".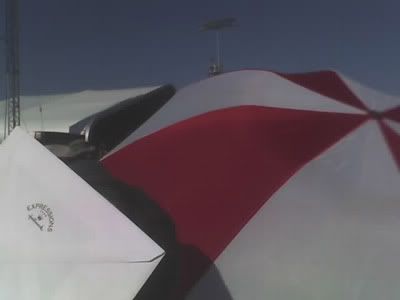 although, the guy said he was max weinberg, but as you can tell from the photo, i didn't really have the best view of the stage. so maybe it was an imposter. but here's the thing, yeah, it was really hot on saturday and it probably took like 8 minutes or less to get a sun burn, but these douches didn't need to use an umbrella to protect themselves from the heat. yeah, they wanted to see their kid graduate and they probably paid a poop load of money and they probably didn't have a panic attack when trying to find a parking spot that day, but it doesn't give them the right to block my view of the stage and seeing my friends graduate from school. it should be noted that these douches must've been dodgers fans cause they showed up late and lefted early. "yeah, suzs, we tried to hang at your graduation, but your mom just got too hot and you know, how she gets when she starts to sweat, so we went to dinner, but never the less, congrats and we're proud of you and stuff."
for those who care, colter freeman's
facility 4
got shut out at the award show. it felt like being scorsese at the oscars or something because you know this film deserves to win, it should win and when it doesn't win, you just get sad and bummed. tis just an honor to be nominated and what not, but i wish the film would've won something, simply so i can say, i swept medicial waste on the set of an award winning film. the award show afterparty, umm, maybe if i had go to that school, i would've had a better time, but the fact is this, when the dj only has house music and only three people are dancing and one of those people is the dj's lady, it's bad news bears. i'm not asking for don omar or the dip set, but you know maybe some m.i.a., postal service, or even some michael jackson; you know, give me something that has a different beat than the past 10 songs the dj played. and you know, it's an oc party when the most attractive woman there was a waistress. but for more on oc parties, please read
the oc idiots
.
i guess to hang with indie rock eva longoria you gotta be in high school, and still into the killers. but here's the thing with me and the killlers,they are a last summer thing. it reminds me of my old car and my ipod adapter kit blasting out the bass less speakers, "indie rock n roll" while on the way to see saved!. it reminds me of extended car trips to wendy's in my new car and singing, "gotta be down cause i want it all" while bang on my steering wheel. i probably haven't even listened, like really listened to any of their songs other than those brief months where "mr brightside" was my ringtone, since the summer. like if i was in high school during that summer, i'd probably be writing references to the killers on the page that my friend designated for me in their yearbook.
related, does anybody know if they let indie rock dudes into those steve aoki's dancin' pool parties at the standard? cause your humble narrator could care to attend, but not if the anoxeric peanut gallery will be grossed out and making faces like when fat joe took off his shirt during mtv's spring break a few years ago? sometimes, people have beer tummys and farmer tans.
while i do believe that annie did a rather good job on writing up the kroq weenie roast, i also have something to say about it. i did not get to put into play my theory of if i park at the burger king across the street, will i still hear the concert? cause you know, i don't want to pay that much money to see a bunch of people in their late 30s who didn't make a musical back up plan (in about 10 years, i'm gonna sell all my jay-z cds for u2 cds because you know i figure thats what people in that age range listen to) dance around to my chemical romance. so i couldn't do that, but i ended up talking with some people who knew better ways to hear concerts there and i figured out some ways to avoid paying for tickets the next time somebody is at irvine meadows, IE the journey concert in late june. i don't want to pay money to see journey and make the treacherous drive out the parking lot, dodging all the broken miller lite bottles. you know, i'm just gonna drive up some hill, park the car, drink on my smoothie from jamba and take off after they do "anyway you want it". i also may do that when coldplay comes to town.
by the way, coldplay at irvine meadows, what the fuck? do the bookers of that tour hate guys or something? coldplay at the hollywood bowl equals poonnanny because first and formost, the hollywood bowl is just a classy venue to begin with; it's like that expensive four star restutrant but they play good tunes and you could score tickets for about 4 bucks. perhaps, the best aspect of the hollywood bowl and why it would work for mr. romantic dude at a coldplay show, is the fact that you can bring in your own food and booze. how killer is that? hopefully, mr. romantic packs a picnic basket full of all the stuff that his lady friends enjoys or at least, popeye's chicken and some good desert. i'd say bring chipwiches, but i dunno if they would work in that environment, shirley on the jealousy vibe alone ("oh man, where did that guy get those chipwiches?"). then there's your booze, me, i'm not a wine person, so this is a circumstance where i contact my
father
and say, "dad, i need a wine that a girl would dig upon while listening to one of the world's most boringest bands, evs." so choose wisely what you're gonna bring in, but you can bring in your own alcohol, how amazing is that? of course, they have booze and food there for purchase, but you know, it's a bit expensive and if you plan something out, it shows that you care and were looking forward to the show, even though, you'd rather be at a slayer concert. then, there's the blanket factor and the whole cuddling up together business and do i need to finish the rest? i might be getting lazy here, but i think you get the idea. the hollywood bowl, while on site parking is rather difficult, it's beyond good times.
now with coldplay at the irvine meadows, what do you have? an rather exciting view of the 405. overpriced greasy hotdogs and miller lite. gross rich newport people in their 40s who think they're in their 20s cause the kids are off at college. probably some guy in a modest mouse shirt blazing up during "clocks". me across at the burger king, eating a whopper, booing from across the street. that's not romantic.
it should be stated, that whatever show you go, there will always be a guy in a modest mouse shirt blazing up. i mean, if you were to see hiliary duff show, he'll be there and you'll see him the next week at good charolette and the following week at kenny chensey, and probably the next night, right next to you at a killers show. although, you won't see him at a madlib show cause you know, he doesn't like rap.
and with last thursday's season finale of "the oc," we all say bon voyage to that trainwreck, but oh boy, this season certainly ended in flames, but not jon bon jovi 'blaze of glory' steez, but like kobe bryant style. i always thought that josh schwartz was a decent writer; for as annoyning as his alter ego, seth cohen gets, he has some good one liners here and there. but what the hell happened to josh schwartz, when it came to the scene with the asian gangsters in the club? did he play telephone in the writers' room with that one, "here, nora, you write the next word, then terry, you're next." i've been in my fair share of community college creative writing courses and i watched nearly 10 hours of student films last week, but that has to be some of the worst dialogue i've ever heard. first off, it didn't make any sense. why was that blonde girl selling drugs to the asian gangsters? from the cataylast scene, it seemed that the blonde girl was the one buying drugs because it's graduation time and newport kids wanna go crazy. secondly, if the blonde girl is the supplier in the newport, then who is she importing these drugs from? sure, the world could use a lady tony montana, but nobody in their right mind would sign off on some blonde little girl with perky tits as a big time drug dealer. i know it is a tv show and you're supposed to suspense disbelief, but i just can't let this slide. if josh schwartz was in one of my community college classes and we were doing peer/group editing, we'd all tear it to shreads. well, lemme, rephrase that, we'd all politely tear it to shreads (nobody is really to mean to each other in community college creative writing classes) and say, "i just don't buy into it" or the ever so polite, "it didn't work for me." and why didn't josh schwartz refer to garden grove as garden grave? if it's a show about "the oc," then somebody would've called it garden grave because garden grave is the scariest place in this county.
then we have the shooting of trey. well, i don't really have to anything to say, other than, the show is becoming "
melrose place
" but with death cab & alan moore refrences. i dunno, it's not the show i dug the first season. all this season has been a bunch of backpedaling and attempts to correct mistakes they made in the first half of the season. oh, they're bringing back jimmy cooper; too late. he was written off for no reason and now, he's brought back to help save a sinking ship. right now, personally, for as much as i dig upon rachel bilson (i know, it's weird for a site named after mischa barton, we never talk about her and weren't not big fans either), i'm not sure if i'll be back for season 3. for me to come back, they're gonna either have to time travel with kobe and fix shit or go through with that proposed "arrested development" storyline about tobias getting a role on the show; so like if david cross played tobias playing somebody on "the oc," i'll be back, but if it's gonna be court rooms, rehabs, ross & rachel2.0, and heather locklear guest spots, then i'm out like trout. or if there's a storyline about rachel bilson leaving the oc to stalk james murphy in new york city and she ends up hanging out with
beans
and starts making rap records (not like fannypack), i'd be down, but nobody ever seems to listen to my ideas.
and finally, i'm going to be catching up on my movies this week.
star wars
today and probably
layer cake
on tuesday. anybody know if it's worth my time? anybody know if the new
dance disaster movement
ep is any good? i'll never forget the time i saw them and i fell down while trying to dance, thats when i lost my edge.