sorry you couldn't stop to stay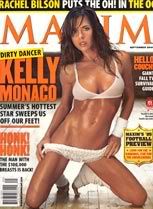 i haven't really been interested in an issue of maxim in over three years, but this one, i dunno; i just might have to. in case, you didn't know, your humble narrator crushes upon kelly monaco.
umm, you didn't hear this from me, but if you're so inclined, the new kanye album has leaked and you may want to see a mininova about it (wink).
i'm just wondering if people plan out their cobra snake photo moment or at least do a practice session in front of the bathroom mirror before they head out for the night. you know, "i'm going to the hanging jury tonight , so mark will probably be there.." then they go onto make a zoolander (an extremely overrated film) reference. for me, it'd be a big deal to get on there and you know i would want my moment in cewebrity to be picture perfect and not with some crazy, drunk botox'ed out lady behind us, ruining the whole thing
or at least not looking i just shot up in the bathroom either