the babes o' 05 part 1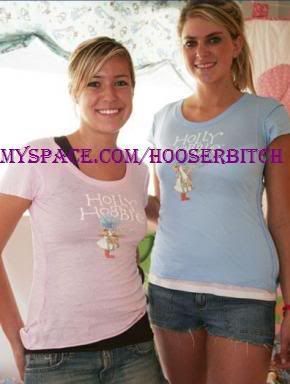 the thing about the trio of blondes, kristin, alex h. and jessica from the seacond season of mtv's "laguna beach," is that they're the physical manifestation of the california dream. like 'em or not, you can't deny the fact that these are the girls that pop into your head when you hear those early beach boys songs. sun kissed blondes who have nothing better to do all day but hang out at the beach and after that, maybe grab some in-n-out. and the point that's going to emphasised alot in this list, is a sense of diversty amongst babes, in other words, a type of girl for every type of guy and the lb girls have in spades. of course, we have the quintessential kirstin, who pulled off a tricky combo in an
appearance in rolling stone magazine
; being both hot and make the audience feel a bit uncomfortable. we were ready for that, but at the same time, it's like could you wrap a couple more sheets around. out of the three, kristin is easily the most californian as well with her infinity (or at least on the show) for platform sandals and extremely short skirts, yet, what makes kristin actually interesting is the dynamic she shares with alex h; the subtle lesbian undertones to their relationship. each week, we watched in hopes that maybe, just maybe, alex h finally say, "kristin, i don't think you should date matt leinhart or talan, but instead, you should date me.'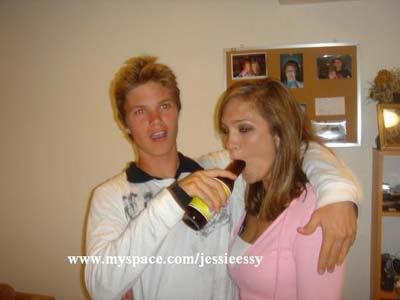 although, sadly that moment never came to be and instead, we got a bunch of brills one liners from alex h about life and the right way to live in. then, there's jessica, whose the only of the blondes to actually stay in laguna after the show and go to college and at times, one has to wonder if the girl was conscious of her body and those bombs over baghdad. she was always covering those things up or wearing a low cut top, then like a few minutes later, she's covering up. these girls were all the producers of "laguna beach" could've asked for, but without them, the next season is going to be a total snoozer. you can't replace the california blonde or at least, all the different varations of the california blonde. besides, who doesn't love a ditzy, slutty blonde who gets drunk alot?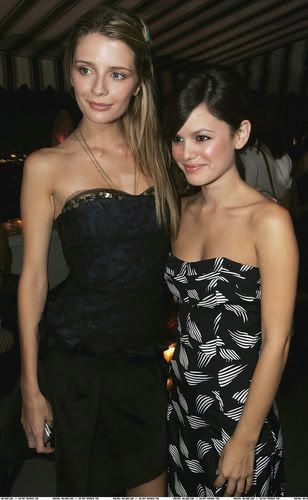 remember the first song from the last, truly great album by the queens of the stone age, "
rated r
"? you know, "feel good hit of the summer,"? part of me wants to believe that if they were do that song again, there'd a be reference to the killer bs because for a few months in the summer, because not only were they the feel good hit of the summer, but, they were the greatest duo since meg and jack white. mischa b was in the rebound mode, you know, just broken up with that oily bohunk of a regular heir (ew), brandon davis and probably a few weeks away from shacking up with that faux dirtbag and stoner, cisco adler and she was in need of some relationship advice and a shoulder to cry on, and where else could she turn to? of course, her on screen best friend, rachel bilson. and well, rachel b was in a weird phase as well where we didn't see her as much with the extremely obnoxious adam brody and the rumor of rachel b's supposed '
me and mrs jones
' sessions with zach braff hadn't really come up to the surface yet.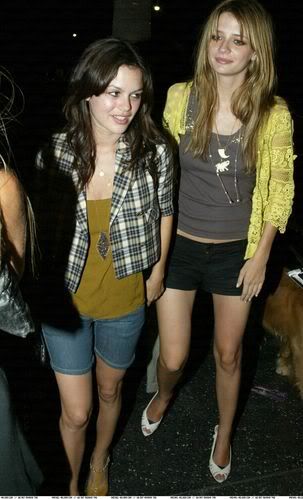 and it was just refreshing to see two celebrites hang out together who weren't both deathly skinny or dressed like a
jawa
. it was a healthy relationship and when the killer bs were on the prowl, mischa b rarely looked like falkor and rachel b, well, she looked so much more happy, but who knows these days? and of course, this being skeet on mischa, we're gonna have to shout out the girl, we're named after and well, the other girl that we like a bit more than our namesake.