the babes o' 05 part 3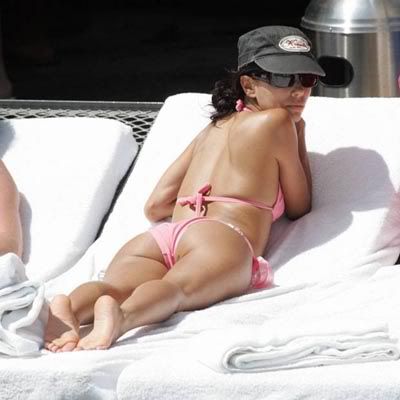 not everybody is into short girls. personally speaking, i think they're pretty all right in my book cept for the ones who try to lie about their height by wearing platform sandals; you know they're about 5 feet without the sandals and like 5 feet and some change; yeah, not alot of difference, but still very deceptive; but alas, we've been down this road before. even though, a good portion of this year has been about the return of the tits, you also have to say, its been the year of the short girl or at least, the honest short girl. first off, there's eva longoria, who comes in at 5' 2" and is the stand out star of "desperate housewives." talk about terri hatcher all you want, but eva longoria, along with marica cross are the only decent things about the show. not to mention that she had an amazin papapparazi set of her just hanging out by the pool proving to the world that you don't have to be 5'11" to have a nice set of legs. and for a while, eva longoria was jumping from dude to dude in hollywood before shacking up with that horrible french basketball player (spurs blow and tim duncan is a robot) and it wasn't cause she's slutty; it's just that she's a bit of sex monster. she's got a problem and frankly, i think its a problem we'd all like to help her solve one of these days. while the housewives may be in the toliet this season, look at longoria's guest hosting bit on snl a few weeks back. for me, it was the first episode that i didn't fast forward through all the skits; just the musicial performance.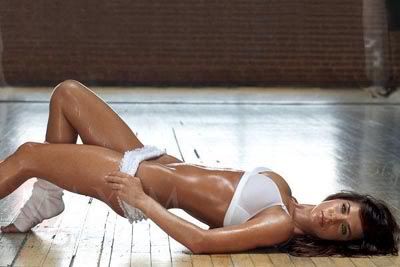 kelly monaco comes in around 5' 3" and much like the killer bs was another feel good hit of the summer, yet sadly, she never really turned that buzz from "dancing with the stars" into anything other than a few spots on the talk shows and a layout in maxim and a punking by ashton kutcher. what really did it in for her and the buzz train was the lost to petermen from "seinfeld" on that rematch show. she was so upset at the results, it was like she was like bill buckner or scott norwood and she just blew the biggest game of her life. now if she showed some grace and took the loss a bit better, then she'd still be in the news. i don't know what she's up to and i think she's just going to faded into daytime oblivion. too bad, she was pretty outta hand.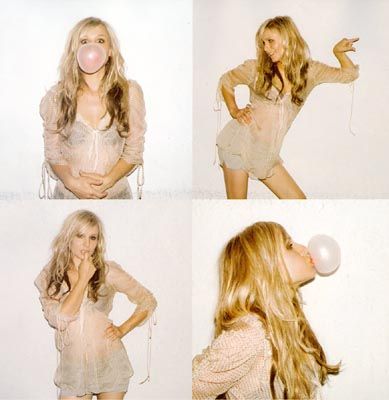 and the tinyiest one of all, kristen bell, is on this list cause she's on the second best show you're not watching, "veronica mars". now, this show gets compared to "buffy" all the time, but here's the thing that makes v. mars better, they actually acknowledge she's short and use it to their advantage where as on buffy, there'd be this awkward shift from tiny sarah michelle gellar to giant stunt double. also, you gotta give it up to a girl who loves dogs the way she does.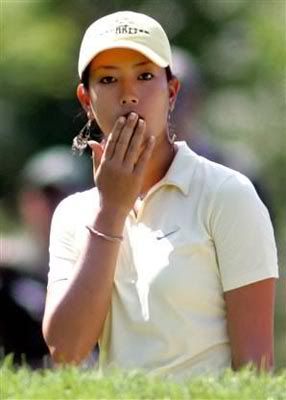 michelle wie seen above at her most my space-ish didn't teach me anything new about the hottness of female golfers. that's something myself and
robin brown
have known since '99. first, there was a reason why i took video production in high school, so i could have an excuse to holla at the girls golf team and second, there was the shirt that myself and robin's late clothing company made that read, "girls golf: always a hole in one" (get your mind out of the gutter). so the rather out of hand nature of michelle wie isn't nothing new, but thankfully, for the general public, they're learning that not all golfers are dykey, but yeah, they still probably have a better game than you. the thing that michelle wie does, is that she made golf interesting. i could give a fuck about tiger woods, unless its highlights of him choking on "p.t.i." , but wie makes me want to watch golf or at least tivo it and fast forward to whenever she's putting or whatever its called. and the thing, we have to remember about michelle wie is that she's still a teen, so you know, she's only bound to get better in her golf game and her hot game. not to mention, she could probably crush all of the girls above her; since you know, she's like 6'1