the best in 'o5 lists (hey, better late than never)
i think out of my own laziness, i did a couple of year end lists with mark from
hella awful
. i really don't like doing write ups and for the most part, myself and mark agreed on most things. so things written by myself will be noted by a -dr and if was written by mark, its -mh.
it should be noted that the singles list is all mine, hence the lack of write ups.
best albums o' '05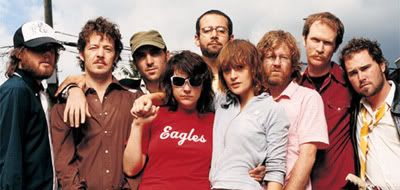 1."Broken Social Scene" by the Broken Social Scene.
I think why I liked this album so much was simply because it's completely different from "You Forgot It In People," but at the same time, it's as familiar as riding a bike. Sure it has a lovely My Bloody Valentine vibe to it, but at the same time, it embraces other elements like rap music on "Windsurfing Nation". Besides, "It's All Gonna Break," is everything you could ever want from an album closer. It's loud, it wears its heart on its shelve and you want to hear it again as soon as its done.-dr
I love this album so much is because it gives me the feeling I had seeing Broken Social Scene live. It's this intoxicating wall of sound that makes you shut your eyes and air-drum like crazy. Just throw on head phones and listen to the album really loud. -mh
2. "Beauty and the Beat" by Edan:
Beauty and the Beat is a history of hip-hop courtesy of Edan. He explores the influences of jazz and soul and rock in the beats and lyrics. It's manages to be both precise and abstract in the samples and rhymes. What the album turns out to be is Edan's philosophy on music, piecing together all the genres he loves into something wholly his own. It's more than an homage to the "old school" becausee it could easily exist as a contemporary of the music he references. In the end there's nothing not to love about this album. And don't forget it features the brilliance of Percee-P and Lif.-mh
3. "Before the Dawn Heals Us" by M83.
Remember how everybody said that AIR fell off after they made "10,000 MGZ Legend" or whatever that album was. It was a good album, but it wasn't "Moon Safari." The thing about M83's second album is that not only goes in a similar terrority of "10,000…" but it's an even better album. Also, its improves greatly upon the M83 formula for the last album. Its chock full of stadium anthems and atmospheric dreamy pop. -dr
4. Tie: "Superwolf" By Matt Sweeny & Bonnie "Billy" Prince: This is just one of those albums you have to hear for yourself to figure out why it's so good. Amazing songwriting by Will Oldham and brutally beautiful & simple guitar work by Matt Sweeny. A perfect album for early in the morning or a verge of full fledge depression. It should be noted that during my first semester of real college, I listened to this album every time before I took a test and I got an A on my tests usually. -dr
"And the Mysterious Productio0n of Eggs" by Andew Bird: Originally "Illinoise" held this spot. But you've all heard how great that album is (and it is) but not enough people talked about Andrew Bird's brilliant "...And the Misterious Production of Eggs". This makes such a good companion to "Superwolf" because you need to listen to it to know why it's awesome. The music is full and beautiful and they lyrics are whimsical and funny and clever. Just an extremely well crafted album. And you must see Andrew Bird live, dude is a professional whistler.-mh
5. "Apologies to the Queen Mary" by Wolf Parade:
So, here's the first buzz group on the list and quite frankly, I thought I was not going to like this album as much as I did. When I heard the comparisons and connections to Modest Mouse, I thought about heading for the hills, but I loved this album and it didn't leave my car stereo for nearly two months. You know that this album has pull when valet guys are talking to you more about the album in your car than getting a tip. Not to mention, there's that holy gazookas one two punch known as "Dear Sons & Daughters of Hungry Ghosts" followed by "I'll Believe in Anything". -dr
6. "Z" by My Morning Jacket:
I wish I could reconcile my belief that "Z" is a perfect jam album and the fact that it's only 46 minutes long. Each song has a build that first gets your head nodding, then your feet tapping, then your hips swaying, then your whole body jamming and grooving along. It's the kind of album you'd want playing when you're driving on an empty freeway because Jim James's echoing vocals and the crackling guitars and rolling drums just make you feel like your floating by.-mh
7. Tie: "Home Sweet Home" by Kano:
I still can't understand how its 2006 and Kano has yet to get an American deal yet. Lady Sovereign, who, lets face facts, only has about 2 to 3 decent songs that get old really fast has a deal, but Kano's album has chock full of bangers and even a couple of songs for the ladies, no deal. Is that he's only UK rapper besides Roots Manuva and Mike Skinner that you can't actually understand what he's talking about? -dr
"Arular" by MIA:
Sure it couldn't stay the 'best thing evs' all year, but there's next to nothing wrong with the album. It's a creative blast of world culture, pop culture, politics, and sex. M.I.A.'s rhymes are like calls to arms over the beats, which swing from light and dancey to harsh and vicious in a matter of seconds. But forget the hubbub because in the end "Arular" is just a totally enjoyable album. It's fun, it's refreshing, it's great.-mh
8. "LCD Soundsystem" LCD Soundsystem:
Okay, this was a given. If you've ever read the skeet shoot, then you know that I worship James Murphy like he's Brian Wilson. James Murphy could've just released an EP with "Yr City is a Sucker," as the only on it this year and it would've made this list. -dr
9. "Silent Alarm" by Bloc Party:
Yeah it's got the formula of a standard rock album, but how many rock albums make you wanna dance as bad as this one does? Essentially "Silent Alarm" is an album of singles. It's catchy and accessible and entertaining: a driving guitar in your face and killer drums to boot. But at the same time they take themselves seriously and make music that still carries some weight. If any band is set to take over the world, it's Bloc Party. Perhaps the crime of the year was passing my opportunity to see them live.-mh
10. "The Documentary" by the Game:
What happened to the west coast rap scene? Ice Cube did a bunch of kids movies where he got hit in the nuts a couple of times. Snoop became a parody of himself in spite of '04's classic "Drop It Like Its Hot". The last hope for the west, Xzibit gave up rapping in order to help goofy white kids get playstations in their mom's old geo metros. The people in California make interesting music was like Shadow, Automator and Madlib, but only one of those dudes is prolific. (Automator, where are you?) You'd turn on Power 106 and usually, it'd about 10 minutes of wait, but you'd hear a Battle Cat beat, but then, it just disappeared. Then The Game came out with "Higher," which surely sounded a bit like "In Da Club," but some dude talking tough over them about Compton, made it actually a Dr. Dre beat. Sure, The Game is the hip hop's version of Michael Ian Black on VH-1's "I love the…" series, but he brought back an entire coast with a solid album that featured amazing production from start to finish. Then there's the mix tapes and the bars, so yeah, G-Unot (although the guy from good charolette wearing a g-unot shirt kinda kills it).-dr
honorable mentions:
-"seperation sunday" by the hold stready
-"bang, bang, rock n roll" by art brut
the singles list: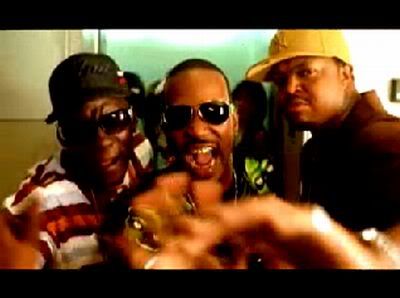 1. "stay fly" by three 6 mafia featuring young buck, eightball & mjg:
the thing about this song is that it has yet to reach the level of 'played out ness' of this year's early southern anthem, "still tippin'," and quite frankly, i don't think it'll ever be played out. that's what makes three 6 mafia so good because they crank out timeless jawns that not only make you dance or bop your head, but said loads about where they're from. there was a lot of talk about houston this past year, but frankly, beyond this year and besides, bun-b and of course, pimp c (free pimp c!), can you honestly picture yourself listening to paul wall or mike jones? the embarrassment factor of buying the mike jones album crept in about three weeks after the fact. where as "stay fly," presents the beauty & genius of the entire memphis scene in about 4 minutes and most importantly, leaving you wanting more.
2. "destroy everything you touch" by ladytron:
it's taken ladytron about 3 albums to finally figure out their sound and it's perfectly summarizes in "destroy everything you touch". throbbing bass line and insanely catchy lyrics
3. "bread & butter" by beanie sigel featuring grand puba & sadat x
whoever thought of collaboration of just blaze, beans, sadat x & grand puba deserves award and if it was dame dash, then give him back the roc cause clearly he knows more about making interesting and good music than mr s dot does. i can't tell you why this song is amazing; it just is. sure, it has chipmunk voice samples, but it's not the cheesy kanye kind; the track has more soul to it and just a cinematic quality to it.
4. "black history month (alan braxe & fred falke remix)" by death from above 1979
5. "zen" by clipse featuring sandman & liva:
dear pharrell,
seriously, fuck your solo album. fuck whatever bullshit album you're trying to make with alan ticke's son. fuck your ugly ass sneakers and ugly chains. honestly, forget all of that and focus in on bringing the black card era to the masses. do you not hear the fury and intensity and amazement in the clipse on this track? there are three things americans need in 2006: a) the troops to come home 2) a new president and c) a new clipse album. so be a patriot and bring us the re up gang.
6. "hollaback girl" by gwen stefani:
if you can't tell, i have a love/hate relationship with pharrell. i hate the guy who cranks out shitty n.e.r.d albums and unwearable, overpriced clothes and i forget about the guy who along with chad hugo made classics like "super thug," but then, i hear a song like "hollaback girl," and i remember the pharrell i love. a really simple beat that fouls you into thinking that maybe you could make beats of your own, then you fumble around with garage band and you don't even know how to work the drum sound effects. not to mention that orange county's very own gwen stefani crafted some extremely catchy, yet 'twins peaks' esque lyrics to keep you singing as well as teaching you how to spell bananas.
7. "ageless beauty" by stars:
you see, i wish i knew something about music to tell you why this song is good. i read pitchfork's write up on it and i was like, "yeah, i guess," but at the same time, you know, it's just a great rock song with great vocals.
8. "tito's way" by the juan maclean
9. "murda murda" by juelz santana featuring cam'ron :
flipping the beat of the summer anthem, "welcome to jamrock," cam'ron outshines juelz and delievers probably my favorite lines of the year: "come through late night, i know what it tastes like, some good coke, dawg. go get your base pipe, put on my laker jersey and go rape white (#8)!"
10. "hate it or love it" by the game featuring 50 cent
honorable mentions:
-"whoop that trick" by terrance howard aka "djay" from
hustle & flow
-"since u been gone/maps" by ted leo as well as the kidz bop version of "since u been gone"
-"these words" by natasha bedingfield
-"heard 'em say" by kanye west featuring adam levine
-"we major" by kanye west & nas
special shout outs to:
-
oddz n endz productions
for making the beat, "bandanas" which turned out to be the perfect beat for both juelz santana and the game
tv shows in '05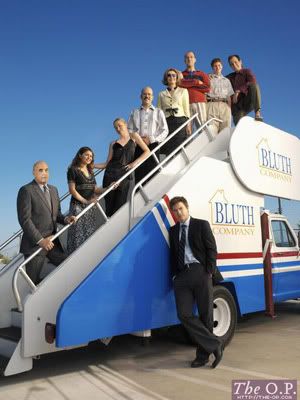 1. "Arrested Development"
(Best Episode:
"Meet the Veals"
): Remember when "The Simpsons," was must see television? Remember how you'd never make plans on Sunday nights cause you didn't want to miss a new episode? Remember that? Okay, that's how "Arrested Development" is right now. It's a live action version of "The Simpsons." Sure, it's high borrow, but when you boil it down to brass tacks, all this show is a bunch of dirty jokes about wieners and volvos.-dr
The best writing, the best acting, and the best camera work on television. I can't really say anything more than if you're not watching you're missing out. -mh
2. "The Office" (American Version):
(Best Episode:
"The Dundies"
) In the second season, Greg Daniels and his writing staff finally separated its self from the giant shadows of Ricky Gervais & Stephen Merchant's creation. It's smart, it has the awkward moments we all love and the second best cast on television that delivers effortless performances each week.-dr
(Best Episode:
"E-Mail Surveillance
) What's so great about this show is that it managed to take the British "Office" and make it American - somehow it manged to take a show that built to an end, and formatted it as an American sit-com. And in doing so it came into it's own. It's got a sense of humor that is both optimistic and sardonic, not to mention these are the most detailed and vulnerable characters you'll see on a sit-com.-mh
3. "Lost" "
(Best Episodes:
"Numbers"
&
"Man of Science, Man of Faith"
) Say what you will about season two, this is the most exciting and intriguing show you can watch. The reason it's slowing down a bit is becasue it's like "Dazed and Confused". Every wednesday you join in to hang out with the guys and dolls of the nose (and tail) of Oceanic Flight 815. But don't get me wrong, because it will still have you on the edge of your seat and yelling during the commercials. If you're not watching, you probably feel left out at the office water-cooler. -mh
4. "Zoey 101"
(Best Episodes:
"Bad Girl"
&
"New Roomies"
): What haven't I already said about this show and how great it is? Is the fact that they had a "B" storyline about a 9 year old kid engaging in a sleep deprivation experiment for money? Maybe, it's because they treat anybody between the ages of 15 to 25 as total jerks, where as any adult in a Ben Sherman button up is one of the coolest people in the world, but if an adult is wearing a suit, they're total jerks. Maybe it's the show's amazing prop department since they created a phony magazine called, 'Cool Sunglasses' that was read by a guy who was wearing sun glasses at the time? Or maybe, it's just that "Zoey 101" is probably the best show about college life since "Undeclared". Sure, we'll never get that season where Zoey and her party crew attempt to find a place near PCA cause dorms are such a drag, but in a round about and extremely funny way, they tackled drug addiction. -dr
5. "Laguna Beach: the Real Orange County"
(Best Episode:
"Don't Hate The Game"
) Come on, this is a group of high school pima-donnas hooking up with one another and then talking about it. What's not to love? Or, what's not completely addicting? Jason's weird mind control over girls? Stephen conjuring up all sorts of pity? Girls bitching out other girls over boys? The strange lesbian dynamics between Alex H. and Kristin (as has been pointed out on skeet) - making them the most interesting beauties on TV? And let's not forget Jessica's massive bazongas? Pure gold. -mh
6. "Veronica Mars"
(Best Episodes:
"Normal is the Watchword"
&
"Cheatty Cheatty, Bang Bang"
) For any aspiring TV writers out there, take note of Rob Thomas' second season opener cause the dude and his writing staff know how to perfectly hook in an audience. A school bus full of high school kids goes on a cliff; of course, that happens in the last 10 minutes of the show, but I don't know about you, but I most certainly want to find out how and why a school bus went off a cliff. That's great writing, but let's not forget that this is a show that actually shoots on location where it's supposed to take unlike some other teen dramas.-dr
7. "Extras"
( Best Episodes:
"Patrick Stewart"
&
"Les Dennis"
) Gervais and Steven Merchant are possibly the best writing duo working right now, and they come back from "The Office" with a slimmer but equally well drawn out sitcom. It's quiet and sad and vulnerable but just flat out hilarious. Throw in amazing guest appearances from the likes of Sam L., Kate Winslet, and Ben Stiller, amongst others, and a great Merchant character and you've got a classic on your hands. (But since it's off air for a bit, I recommend the awesomeness of their podcast and experience the wonder that is Karl Pilkingtom.)-mh
8. "Wonder Showzen"
(Best Episodes:
"History"
&
"Nature"
): What hasn't been said about this show already? That's the problem with doing write ups because I've written about these shows numerous times and it's sorta like beating a dead horse. Okay, now, this show is super funny, its subversive and chock full of quotes that you can share with your buddies for weeks on end, like "Greeks is freaks".-dr
9. "Robot Chicken"
(Bes Episodes:
"Midnight Snack"
&
"Joint Point"
)
It's hyper and hilarious and the savior of Adult Swim. Fifteen minutes of non-sequitors and making fun of celebrities ...the perfect late night show for Cartoon Network.-mh
10. "Blow Out"
(Best Episode:
The One Where Scott Throws A Party"
): I'm not sure who has more swagger, ego, and bravado: 50 cent or Jonathan from "Blow Out"? I'm leaning towards Jonathan and who knew that a show about a hair salon would be so addictive and hilarious each and every week. Please Jonathan come back for a third season; you're the game that Bravo's been missing. -dr
Frings to look forward to in '06:
-"killa season" by cam'ron
-
the thigh master's
review of
when a stranger calls
starring
camilla belle
.
-new
ghostface!!1!
; "fish scales" in late february; the mf doom collabo album in the spring time.
-
eon mckai's
neu wave hookers
[mayhaps a bit nsfw]; perhaps the greatest teaser trailer evs; i'm walking around singing gravy train!!! tunes (can i get a free copy?)
-new films from the following: david fincher, martin scorsese, darren aronofsky, the coen brothers, tarantino (hopefully), michel gondry, sofia coppola and richard kelly.
-the new superman movie being gayer than
brokeback mountain
.
-dario argento starting production onn the 'third mother' film.
-new records from: the blood brothers, prefuse 73, el-p, clipse (fingers crossed), and death from above1979
-some even tinyier ipod that holds more songs with a sirius radio reciever built in, but everybody will be like, its too small, but i must have it and can i get it in the same color as my razor?
-asian girls, they're always in style, dudes.
-girls stepping up their shoe game
-the launch of
gods girls
and the eventual drama surrounding that site. (also, can i get a free membership?)
-fox canceling "arrested development" and then getting a second life on a network that'll apperciate the bluths so much more.
-john krasinski aka "jim" from "the office" (american version) being the new zach braff
-the name of the spawn of tom cruise & katie holmes
-the easter related incident where eva longoria talks alot of junk to somebody about being nice or making racist comments.