rebels makin' love in the streets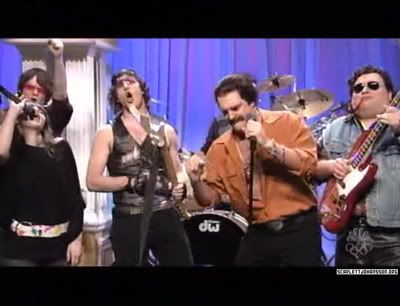 there are too many things to talk about and i feel like i'm gonna collapse even though i had a decent amount of sleep and there's like a million things to watch on the dvr. so i'm just going to break off with some bullet points:
-i like a song by a mallcore band called
matchbook romance
; i'm a sucker for hand claps.
-the thing about working on music videos or at least in my case, it's like, the first day, i wasn't sick of the song at all; i was just starting to get into and as i driving up to work, i was looking forward to listening to the song for the rest of that evening
-i heart riley mason; google if you must, but i'd say, you may be investiageted by the government
-cam's diss of jay, when i first heard it, i loved it, but on the second, third, etc. listenings, thought cam could've came a bit harder and quite frankly, his main pot shot at jay, the wearing sandals with jeans, is well, something i'd say or why i won't be into a person anymore. like i saw craig kilborn in a pair of birkenstock with blue socks, and i never ever found the dude funny again, but thats not strong enough to build a whole campaign of lyrical terror around. never the less, most of the week, i'll wear my dip set shirt every day.
-new v.mars next wednesday; finally!
-rachel b's friend from the other day's
myspace
; i'd say lame, but that might make its way back to rachel b and well, we all know how bad that'll be.
-fuck ted stevens
-i heart justine joli
-my trunk smells like lee's sandwiches
-fuck skating with the stars
-
whatevs
is back and
goldenfiddle
should change their theme song to the soft boys' "i want to destroy you," cause he's destroying everything.