gold lion
you know, here's the thing, this has to be the absolute worst episode ever of "date my mom" right here. cause at this point, the wwswmilfbin1988(the woman who she was a mother i like fuck but its not 1988) has forgot that she's trying to win a date for her daughter at home, but, its all about her becoming jennifer o'neill in summer of '42 and she'll be turning some dude with flip flops and faux hawk into a real man. or we could go this way: remember what teri hatcher wore to the grammys? real desperate, please look at me and validate me like i'm parking and george clooney, look at what you're missing out on; that dress was so many things. but here's the thing, is an actual real life desperate housewive's version of terri hatcher's dress, but its made even better by a couple thousand cocktails and the equally as drunk, single friend wearing her best man trapping outfit. honestly, this probably the best photo that mark "the cobrasnake" whatever his last name is has ever taken and i think he should consider retirement because its gets no better than this.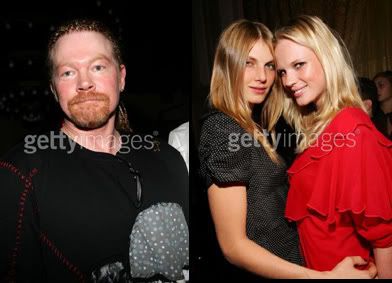 apparently, the fire crotches who have been laying low as of late had a party with each other the other night in nyc. i mean
angela lindvall
who haven't seen the last time i watched
cq
and axel motherplucking rose in the same room together. clearly, everybody thought that axel was a member of the kitchen staff who managed to sneak his way into the party and wanted to test out his hillbilly charms on some new york model girls. seriously, what's angela lindvall been up to? the world needs more of her and less of perez hilton. why can't she have a celebrity gossip site? she's probably got awesome stories about frankie ryder and what not, which quite frankly, is more entertaining that the daughter of the man who wrote "brick house" not eating any food.
i believe that i'm going to have call friday morning's update, 'the
mindy kaling
love fest' cause the girl has been fire! (copyright k-fed) the past couple of weeks on "the (american) office". ever since the co workers of dundler mifflin have been made as cast regulars, they've all been alot funnier and the whole kelly/ryan the temp storyline, what little that has been shown, is just side splitting. i nearly fell out of my seat from laugther. for a while i thought sarah silverman was the funniest woman, then i thought it was that one girl who played 'dawn' on the 70s house, but i don't know, i think mindy kaling is the funniest woman out there right now; not to mention, she wrote my favorite episode of "the (american) office".
and i'm slowly catching up with my tv and naturally, "v mars" from wednesday night, killer as per usual. i think the writers for v mars do a better job of weaving in old story lines and characters into their show then "lost" does. its a show that has a good, solid payoff each week. it doesn't insult you, it's just a reward for being a loyal viewer. its sorta like a fortunate cookie. sometimes, its the best part of the meal or sometimes, it just hits that right spot and fills you up nicely.
and of course, tonight is the night we say good bye to our beloved bluths. i believe i may be going to a viewing party tonight and it'll be weird for me because i've only watched the show from my house by myself. so i'm unsure as to how i'm supposed to react when watching with people. i guess it'll be like watching a good movie, but still at the same time, it'll be weird.
i have to ask a question to the regular readers: i know that most of the mp3s i'm been posting has been hip hop stuff, but is anybody digging on that? i'm no
pretty pony
, but i figure, maybe throw a track or two up every now and then. and maybe one of these days, i'll hear a regular tune thats good, but i'm sorry, i can't get over that raekwon tune.
oc write up on
willa
hopefully one of these days this will be my
new phone
. but knowing my luck, the store will only have pink razors, which would've been kosher a year or two ago, but the new color is lavander.