a million and one
i'm surprised by how long it took, but never the less,
the spin off back lash has begun
. and oddly, i sorta agree with the guy, but then again, whenever has a spin off been anything decent with exception to "family matters", naturally.
unrelated though, i'm taking the week off. finally got hot on another thing i'm working on and my homework is taking alot out of me. who knew watching the first season of
"lizzie mcguire"
would be so tasking? remeber when hiliary duff was chubby and didn't have that scary looking sister attached at her hip? oh those were the good old days.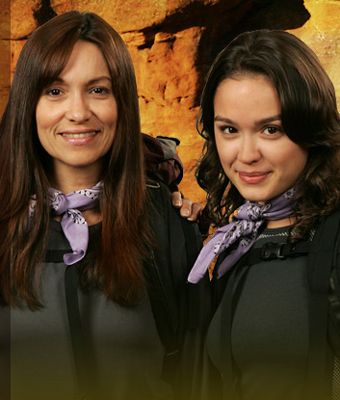 these two are the best reason why to watch the new season of
"the amazing race"
; that one girl is like the puerto rican rachel mcadams.
and finally, on k fed's
my space page
, there's a track by the game on there and the game makes references to k fed in the song and k fed has two lines on the song, but thats about it. i don't know what the game is doing these days. first, the butterfly tattoo, then he hangs out with the good charlotte guys (who own dim mak), then i see him using his son as a way to hit on giuliana depandi at the grammys and now, he's defending and doing records with k-fed; what? maybe 50 was right after all is said and done.
also, fuck
les moonves