say that to say this....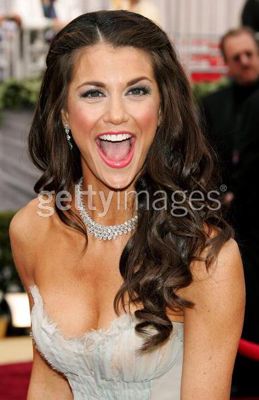 man, seriously last night i was as excited as e! reporter samantha harris is all the flippin' time.
before i get to the detail. its only one thing, but there's a bit of a backstory, so deal. i was leaving class the other night and i get a message from
robin brown
telling me that he just won clippers tickets and if i would go. of course, i'd go because who am i to turn down free tickets to anything. he won the tickets in some radio call in contest. etc.
here's the thing before the thing, clippers game, oddly, are alot of fun. perhaps, the most fun i've had at a sport event in i dunno how many years. they're pretty well attended, but its still small of a crowd that one starts to believe that their idoit comments have some sorta impact. yelling at tim duncan and calling a robot could hurt his feelings, most likely it doesn't, but there's this fleeting bit of hope and then, you look at the box score for
game
and how duncan had about 5 fouls, maybe it worked after all is said and done. then there's the whole clippers fan situation, their superfans are the best because you know that these people have suffered for so many years of shitty team after shitty team, but now, they're finally getting their desserts and it's great to see to some crazy guy in a blue and red suit jumping around and yelling during the game. so don't knock a clippers game until you go and quite frankly, if i wasn't too sketched out by the parking situation around staples, i'd go to more games or at least put it under serious consideration.
and for am radio contest prize tickets, they were good, really good. good enough for me to spend portions of the game watching tony parker's girlfriend, eva longoria watch the game. it should be noted that parker did better when she wasn't watching the game which made me feel like a reporter from
tmz
. and the thing about eva longoria, not that killer in person; sure, she's pocket sized, but there's not that much of a holy moly factor. and she was sitting somebody who i believe was an english teacher from my high school (and to the haters out there and you'll agree with this statement: boy, did he fail on the job when he taught me! aha!) and a bridgette nielsen lookalike.
yet, the better celebrity spotting was frankine muniz. at first, i see some kid and his sister walking to their court side seats and think nothing of it other than a bunch of rich kids. then, robin brown points out that its frankie muniz, who was wearing a modern version of a
charlie brown shirt
and his galpal who looked like a broken down version of samaire armstrong. and all through out the game, i wishing that a loose ball would knock him out or at least, a player would crash into him in an attempt to save the ball, but never it happened. all that happened from where i was sitting, was frankie muniz telling his galpal about he'd be ready to pass the ball over
shaun livngston
if it were to come to him.
on the matter of "8th & ocean," i was surprised by how shakey the camera work was. they're not going after an antonioni esque visual style, but it's more like
sven nykvist
meets mid 90s
chris doyle
visual style. and if the first episode is an indiction of the rest of the series,
briana hicks
is going to be wallpaper for the show.
and finally, as of late, there's been a steady stream of hate mail. here's the thing, you guys won. i'll probably be quitting this thing in another month or two. so you know, you won't have to read my misspelled thoughts on how hate this show and my usage of 'fuck' every other sentence. i'm sorry that i'm just doing this to goof off and maybe make a couple of other people chuckle. you know, i'm sorry that i don't tackle the same topics that everybody else tackles; you know, i can't help the fact that i like to watch mtv shows and like to use different nick names for breasts. its just not fun to say breasts or should i say 'tits' instead? would the use of 'tits' really drive home the point that the russian girl from the new real world has really awesome breasts. and guys, i bookmarked the merriam-webster website, so maybe it'll help me out in the home stretch but more importantly, it'll help you guys out. maybe i'll step things up and start to write about how excited i am that the sopranos are back, but i've never watched any episode of that show and never will or how awesome the new band of the week is. you know, different strokes for different folks.
its like i've always said, when it stops being fun, then i'll just move over to the spin off and goof off over there.