aqua lung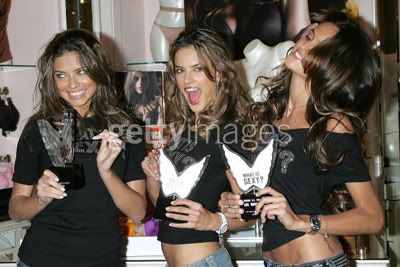 you have to wonder how much these three are having. the addition of
izabel goulart
is like putting crushed oreos chunks in an ice cream sundae. only making something that was already a home run into a grand slam. if the success of "8th & ocean," and "project runway" taught us anything about reality shows involving models, why isn't there a show in development about a model apartment in brazil or at least following the wacky day to day adventures of this threesome.
speaking of models, "8th & ocean," last night. first and formost, was one briana hicks wearing a
diplo
tee last night? if so, it's official that she's probably the hottest girl on the planet then. next week, she'll probably be in the model apartment, pants less, watching
el topo
. but onto the meat of the situation, this episode was a classic. there was the beginning of the end of the beginning of the end of vinci, which was priceless. you know how many times is this bikini brief wearing fella going to skate by in life? although, it should be noted that if vinci was being unprofessional, then ladies and gentlemen, i'm extremely unprofessional when i've worked on my friends' projects, but there's the difference, its my friends stuff and i'm just doing a solid. if i wasn't being helpful, then they would've told me to go home. if you're being paid 6 figures to walk down a little aisle, wear nice clothes and hang out with briana hicks, what's so hard about showing up on time? or waiting until things die down a bit until sharing that new song on the ipod with the male model friend? then we have the bookers, who seem like they're about to erupt at any moment and they're just waiting for somebody to really fuck up. these bookers know a thing or two about pushing the tension. gotta always push the tension. and finally, there's the increasingly brilliant, brian de palma film in the making saga of sabrina and kelly; i'm at a lost of words to describe how amazing the insults they traded with each other: "you're full of shit." "no, you're full of shit." they were pushing tension, but i think it would've be more than okay for them to explode and just smack the shit out of each other. kelly doesn't need to get breast implants, she just needs to smack her sister and get out of her system. sure, one way to get revenge is to not tell sabrina about castings when she's standing right next to you as you get the call. (how the fuck do you forget that?) they just need to go at it and get a little "melrose place" for a minute. yet, what'll end up happening is that towards the end of this season, they'll make an apperance on "tyra" and work things out.
sadly, i watched
"tyra"
the other day and they had janice dickinson one and they had videotaped her shrink sessions in a vomit inducing over stylized manner. basically in an attempt to copy vh-1's
"breaking bonaduce"
and i thought that it was going to be a home run (too many baseball references) cause as we all know that janice dickinson is insane and she should do something like "breaking bonaduce," but i should've remembered that i was watching "tyra," and known that it wasn't going to be fun at all. it was serious and boring. and of course, janice dickinson had to apologize for openning up and getting shit off her chest and for feeling better about herself and attempted to deflect and tell jokes. i'd tell you to check out "tyra" today cause they're gonna have her locked in a trunk of a car, but you know that won't be funny either. although, there was footage of her kicking open doors on her stage, so that may be funny after all is said and done.
potentially funny tv show alert: there's an episode of
"walker, texas ranger"
on usa this
friday
. i think it's at noon, but i'm not sure. i make a note of this because
luis guzman
is guest starring in it. so imagine the pairing of chuck norris and luis guzman. if you're not laughing already, then, i don't know, you probably need to watch more marx brothers films.
further related: luis guzman is starring in the jeff goldblum tv show pilot. so let's hope that gets picked up. we need to see the teaming of those two on the weekly basis. come on, can you imagine guzman playing off of goldblum
robin brown pulls a 'led zepplin' and
goes off on baseball
yet again.
have you listened to "crosses" by zero 7 yet? seriously, it'll be your new theme song.
shout outs to katharine mcphee for nearly falling out of her outfit last night on "american idol," but it's pretty much paris bennet's contest to lose, then again, america does love a ditzy blonde and well, kellie pickler fills that role in spades. she's like jessica simpson, but only more stupid and without a creepy menacing joe simpson like puppet master or a chain smoking, terrible rapper stealing all of her money.
there's going to be another spears federline child in the world and so soon; jeeper creepers. maybe k-fed is alot smarter than we give him credit for. you know, maybe he's pumping out the kids, then kaboomba, get the divorce a couple of years now and tries to get a major sposual support check out of the situation and just live fat off the hogg formley known as britney spears.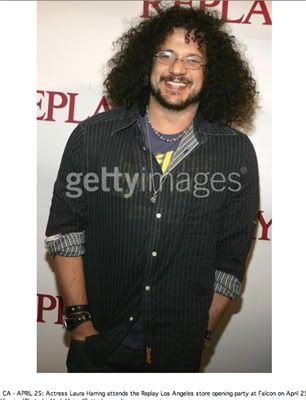 man,
laura harring
really let herself go after
mulhollad dr.
jeepers creepers; click on the photo for a closer look.
dudes, i don't think i'm going to be able to slug it all the way through this week, let alone next week. i'm starting to take this me against the world stance, which basically mounts to me listening to that song, "club foot" by kasabian and shadow boxing and jumping in place. you know, i'm doing too much writing here and i have to focus my brain elsewhere cause i'm writing a couple of papers that are kicking my ass up and down the street. i need my whole brain there; not half of it and the other half focused in on how awesome celebrity hair stylist
kim vo
is (jonathan antin is over). so the month may is going to be hit and miss. you know, i just need to figure out to spread my thoughts on
easy rider
over 5 pages when i think the film is only so so and set the standard or at least started the tradition of hippies selling out, then maybe, just maybe, i'll be okay, but the day i'm okay is the day that all of this business is finished.
speaking of jonathan antin and kim vo, i know that
spencer sloan
shouted out kim vo last week, but after catching him on the daily 10 the other night, kim vo needs to be on the next season of "blow out" or at least the style channel should give him his own show. he's that creepy, he's that weird and most importantly, he's that entertaining. kim vo seems to be in love with everybody and not going to be a shill for his sister's group's ringtones and randomly out of left field become an avid golfer. where did that whole 'i cut hair and i golf,' angle come from on "blow out"? you know, i just thought jonathan knew about bangin' hair and attempts to recreate that monologue at the end of
raging bull
. you know that scene in
magnolia
where john c reliey is in his police cruiser and gives that brilliant monologue as if there's a camera crew or a partner in his car, but he's all alone in the cruiser; i have to wonder if jonathan antin when he's driving around la by himself? no camera crew or passangers.
related: it costs $95 for
jonathan's beauty water
? which is what? a britta filter that goes on your shower head?
just when i thought i was out, they pull me back in;
willa holland to guest star on the season finale of "the oc"
[via
oh no they didn't
&
thighs wide awesome
]; and perhaps even news and speculation:
willa holland to be made season regular on the next season of "the oc"
. while this sorta sounds like season 3 of "laguna beach," you know the show shifting its focuses from one sister to another, but the big difference is this, willa holland is awesome; l.c.'s sister most likely extremely boring. and alls i can say to make season 4 of "the oc" better, katlin cooper hangs out with
murs
and lady soveregin plays the bait shop; let's hip hop shit up, dudes. if it's going to be a radical reinvention of the show, then less death cab and more cannibal ox.