it's always been like this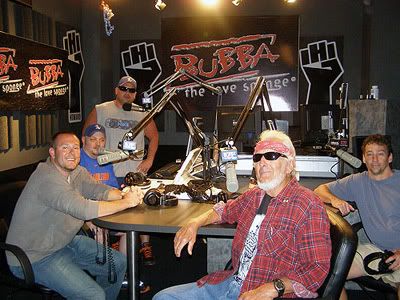 so, we're nearly approaching the five month anniversary of
howard stern
being on
sirius
and well, there have been some great moments like the first week with george takei in studio, the wilmer valadrama and john stamos interviews which may have burned some fuck buddy bridges in l.a., the incident where artie lange pretended to be a porno movie producer and called himself a racist, dana dearmond in studio, valentina vaughn sybian rides, and well, many other great moments as well. yet at the same time, for all the really great pranks pulled on sal the stockbroker, there have been many vile and gross things on the show like yesterday's incident involving jeff the vomit guy levy; fruity nutty cake, the rapping granny riding the sybian and if you will, 'gay' stuff, mainly involving the aforementioned sal the stockbroker and richard christy. the show being on sirius seems more inclined to have a great, funny conversation about "american idol" and crazy alice inbetween dueling riley martin impressions or just go on until noon with another round of dueling impressions of ted kennedy.
yet the true revelation during the past couple of months has been the emergence of
bubba the love sponge
and well, basically, they do everything and then some to their female guests that the stern show or at least what the show would've done with their porn star guests. i'm not sure if the show reached the peak of what they do, but they certainly stepped out of the large shadows of 'shocking the puss' with 'pop rocks the puss'. i want to believe that you don't need me to go into full detail of what was done to these strippers and porn stars; it seems somewhat self explanatory. the act seems like it should only work in a visual context, it's "poprocking the puss," but hearing the crackling and popping and the random commentary by gene lasker creates a much stunning visual in the head then whatever could be seen on the internet or tv. and at first, i thought the experiment was going to be one of those things you're embarrased to be laughing at, but as soon as i heard the crackling and the comment of "it looks like her puss threw up blue windex," i knew i was listening to great radio. in about 50 years from now, a recording of it will be in the library of congress sitting next to a recording of orson welles'
"war of the worlds"
.
also, it doesn't hurt that ned makes the greatest prank phones call ever; doesn't matter if he's real or fake; by the by, i'm back to thinking that ned is a real person; manson can't be that brilliant.
skeet on willa
will have the "lost" & "idol" wrap up sometime today. needless to say, we're not happy on either front. soul patrol? caleb nichols cameos? tacos? public broadcasting?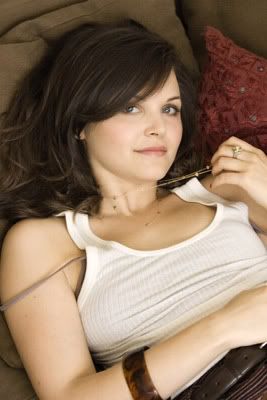 a reminder to everybody out there, no "
"big love"
this weekend, which means there's no "sopranos" either. i finally watched "the sopranos" for the first time last weekend. well, i watched half of it and i don't understand what all the fuss about the show is. the acting on it was terrible and it was just rather boring. granted it could've been an off episode, but i hear people comparing the show to
goodfellas
, which is probably the best film of the 90s if not top three and i just don't see the comparsion. for me and my inane opinion, its a bunch of guys waddling around, talking about business and then there was that whole sequence in paris, i dunno, i don't get it and perhaps, its just another hbo show that you have to had watch all of the episodes to apperciate. [photo via
thigh master
]
did anybody catch ice-t & coco the other night on jamie kennedy's so-so show "blowin' up," and the part when coco talked about how nobody believes that she's a real person and about being ice-t's sex slave? pretty funny stuff
. why hasn't vh-1 given coco a show yet? i mean they put tera patrick's husband on a
show
.
being arrested because you have brass knuckles in your car isn't very gangster, game. he's gotta try harder to win our respect back after shouting k-fed in a song
; i'm one to talk because i said that i liked a
k-fed song
and i'm still trying to regain whatever respect/street cred i had; could i cite that i was going through a rough patch as an excuse for my lapse in judgement?
while i'm one to frequently play arm chair quarterback, i have to suggest to the people who run the "
attack of the show
" website to include a section with pictures of what olivia munn wears each episode. i'm getting a couple of hits each day from people doing google searches for "olivia munn nude" and "olivia munn lowrise jeans." kids, there's a demand and really, how hard is it going to be to take a quick picture with a digital camera before she goes onto air?
anybody else get surprised by what they have on their itunes when its on shuffle mode? as i was writing, i heard some fiona apple and i completely forgot that i had downloaded her stuff; i think it was a form of research for when i get my hair cut again; the girl that did it last time was really into her. i do that quite a bit. watch "sopranos" cause they talk about on stern, watch nascar cause they talk about it on bubba, then listen to fiona, so i can have something to say other than talking about my favorite subject, myself.
have you seen the early 80s style, seizure inducing, wanna be like an ipod commercial video for lil jon's
"snap yo fingers"
yet? perhaps, hype williams' worst video even though the linklater-esque animated shot of the hand playing the keyboard was kinda hot. seriously though, what happened to hype williams though? does he have fuck money and can't make a bunch of crappy videos and like one god ashanti video every coupla years? related: the "crunk aint dead" chain is a nice touch.
now, why couldn't raja bell get injured in like game 5 or 6 of the clippers series?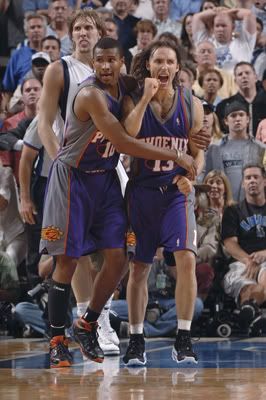 and everybody is just sick of this. i don't even know why i posted it, but talk about a come back. i go to the bathroom in the 4th quarter, the game is kinda close. i come back, the mavs are ahead. i go get a glass of water, and the suns are leading by one. mark cuban must being crying into his wads of cash or at least prank calling george clooney to cheer himself up.
myself and mark from
hella awful
had the ultimate internet nerd moment the other day. in addition to pretending to be uci students in an attempt to see
middle earth
, we also laughed in somebody's face. allow me to paint the picture, so me and mark are walking out to the parking lot and this kid askes me a question about my shirt. i was wearing
the infamous diplomats shirt
and the guy asks me who the names on the shirt and i break them down and the kid still don't know who we were talking about and then we asked if he listened to dip set, and he said no and for some reason, we said you should and preceed to laugh at him. what a fucking dick move on our parts. sure, "killa season" may have debuted at
#2 on the billboard charts
, but lets face facts, mostly internet nerds listen to dip set. normal people may know a juelz santana song if they hear it, but they're not going to know who he is.
i need a personal assitant who could do proof reading for me.