the walking chair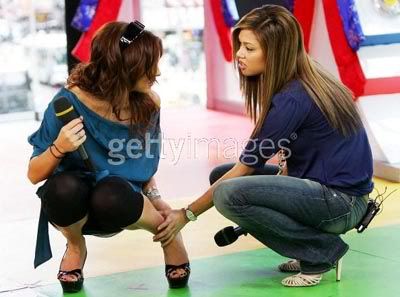 geez, no wonder lindsay lohan has so many problmes; even queen of the shorty shorts movement,
vanessa minnillo
(mark out to myself, ned steez) is telling lindsay that she's got cankles or vanessa minnillo is having an intervention with her. it's the new fad in hollywood. seriously, everybody is staging intervention; interventions are the new pink.
frequent commentor bonham hathaway brought an interesting point in the comments from yesterday; the whole concept of people getting in trouble; like underage girls getting charged with child pornography and what not cause they posted some photo of themselves in their myspace profile and of course, this goes slightly hand in hand with the potential new feature: the willa holland myspace photo of the week; if people want to make fools of themselves on myspace or flickr, then go ahead and knock your collected selves out and if one's worried about people seeing their goofy photos on myspace, then set the profile to private. now onto the matter of willa holland, i found all of those photos at a fan site of hers. i did not do the dirty work; i just thought it was a goofy image.
heads up:
v.mars season 2 on dvd in august
. it should be noted that i haven't watched v mars in a couple because i'm saving them, so i can watch them in one big lump sum. so don't say stuff.
it should be noted that the swearing ban lasted about 12 hours. i was talking with somebody about pharrell and i got frustrated about how he had to have the first verse on the first official clipse single in years and i think i may have dropped an f bomb, but you know, tomorrow is another day.
clips lost
and there was no defense played at all.
anybody else get douche chills when jack bauer was flying the plane on "24" last night? good episode; miles is the most hateful person on tv since doug collins started calling ball games.
i'd love to say something about
sunset rubdown
, but i can't get past the fourth song on the album; it's just too good. very haunting and reminds me of that song on that air album, "10,000 hz legend" with buffalo daughter on it.