way more
there are so many ways to start this story. i may have to go '
choose your own adventure
' status with this one; so three openings to a single story.
when i ever do 'oh, its been a while since we've hung out' lunches, usually one of the topics, i'll bring up is celebrity sightings cause seeing famous people is always interesting. for numerous reasons: how good was the sighting as well as how dumpy or uninspiring seeing said celebrity in person was. i've said once and i'll say again and again, if more young girls see these celebrities that are causing them to have eating disorders in real life, they'd stop or at least beginning a slow process to recovery. models, yeah, they hit the genetic lottery. actresses or at least most actresses, they got 4 out of 6 numbers on the genetic lottery ticket. it's all smoke and mirrors and the support of tiredless make up artists. with that said...
you know how you'll think about something; 'oh it wouldn't be cool if i were to run into that one outta control girl from my class that i'm quasi stalking on facebook while i'm at the movies and we could have a weird conversation.' but then you go do your thing and you don't run into anybody, if anything, you'll run into people that you wouldn't want to run at all. with that said, so on saturday afternoon before i left to run some errans, i was watching a marathon of
"the real housewives of orange county"
and i thought it wouldn't be funny if...
so in all of the years that mtv has been making reality tv gold in laguna beach, i never ran into any these kids. you'd think at least, i'd bump into them since we live about 20 minutes away from each other and in theory, we have a tower records as well as a couple best buys in common. sooner or later, i'd see one of those goofballs and send a text message to a friend saying such and such in person looks lame in person. and recently, bravo has that reality show about coto de caza and thats a little bit closer to my house and its near where i go to have my car serviced. and the thing about that bravo show is like, i wouldn't really want to see any of these people in person nor do i think i'd see these person in some lamey store like a borders or target because they live behind the gate and why would they want to go to target or at least wouldn't they have their maid staff go to target. with that said..
so i went to target the other day and as i walking to the register, i pass by the young wife on the show,
jo
and that guy named slade. and it was so lackluster. it was perhaps the worst celeb spotting of all time. i didn't even think of sending it into defamer; i didn't even know what friend of mine i could tell about it cause you know, who actually watches the show? here's the kicker, you'd think more people in the target would be care or be star struck about the sighting, but i don't even think knew that they were d list reality stars. although there was a weird feeling them because i made fun of them on the internet and i know that they didn't probably read it, but it's still weird and probably one of my greatest fears; running into somebody i goofed on. i once had a girl who i wrote a cobrasnake caption about ring me out at amoeba, but it was pretty okay. and the young wife looked very dumpy. and i don't know how bravo is leaving the season finale of "the real housewives" show, but guess what, jo and slade get back together. and yes, a guy name slade looks like a giant tool in person as well.
i'm just upset that you know i've never been able to run into that jessica girl from "laguna beach," you know the huge boobs cause she still lives out here and i figure you know maybe once, bump into at a coffee bean or something like that, but a show i don't watch, yup, i'm gonna run into them. you know, i could go out to newport beach on a friday night with a specific plan to see
jeremy jackson
and his luxirous mullet and i'll just end up running into somebody from elementary school and like that
scary botox lady
from the oc housewives show.
semi related: yeah, i had to go back to
facebook
and my goodness, is that a creepy site. i went back for a creepy reason and i've taken a couple of showers since and i still don't feel clean about the situation. all of these web sites are creating a generation of creeps and many of them without excuses for being creepy. i read the article by david foster wallace and i feel in a way, it could be used as a way to defend my creepiness since i assume i'm a writer and wallace talks about writers are creepy people in nature.
its now may and there's still no launch for
gods girls
yet. i had read that they were looking for submissions for writers and i'd send in something, but at the rate they're going, i could send in a writing sample in early june and they probably won't even be up yet. then again, i have no clue what websites are looking for exactly in a writing sample. you know, a sample review. i just have to assume that everybody and their kid sister who are sending in samples, are probably reviewing the same album that i would be reviewing. you know, i just want to send a clean up version of this junk and be like, "hey, these are my tits. take it or leave it."
back to gods girl for a minute, you know, all of these delays and potential launch dates being missed is just making me less and less interested in the site. no matter about the quality of the content. you know, gas is going to be like 4 bucks a gallon this summer, i dunno, if i could hang with the subscription to that site when i gotta pay for
howard stern on demand
as well. right now, this gods girls business is starting to become like the star wars prequels trilogy. you had to be there for the first one, but that one kinda sucked and you were a little unsure about going to see the second one, but you went anyways and it was okay, but still pretty shitty and by the time, the third came out, you just saw it to feel complete even though you know you weren't gonna like it. naked girls is always a popular thing and most of the time, its a good thing, but you know, it just all this waiting around business is a real killer.
related; from what i've watched of howard stern on demand thus far, its pretty good. its like the e! show, but with boobies, swears, no commercials and the ability to fast forward through stuff you don't like. although, i think my cable company is loading in certain episodes cause i haven't seen the episode of where they shocked sal the stockbroker in the balls and shocked the puss on line yet.
anybody go to whoachella this weekend? how was tv on the radio first and formost? (this
you tube clip
tells me that they were pretty good) but also, how was the shorty shorts action? i can't wait for that cobrasnake update. also keep an eye on
you tube
for new videos. yeah, the audio sucks and the camera work is soddy, but you know, it's sorta like being there and it gives you something to do at the office and if anything, it'll make you want to go back for next year.
anybody know if the
greek theatre
in la is any big? i heard word that radiohead would be playing there, but also, heard something about radiohead at the hollywood bowl. while i've never been to the greek, i have been to the hollywood bowl and it's quite amazing there and from the word on the internet says, if its late june, holy smokes, its going to be spectular. yet, here's the problem, i've seen radiohead live once and i couldn't really talk after i saw them play for at least 10 minutes and if you knew me, really knew me, you'd know that its a struggle for me to not find something to talk about, but they managed to shut me up. now, i worry if i see them again, it won't be as good. it's a weird logic because i don't watch certain movies that i say love again and again because that first time was amazing and perfect. i recently watched the film
palindrones
for the first time and thought it was brilliant, but i'm unsure if i want to watch it again because it won't be as good. and i know that its radiohead and for the most part, radiohead has been fairly consistent and they'll probably be doing new tunes, but i just worry it won't be as good. but why should i even worry because i doubt i'll even get tickets if radiohead does happen to play. [editor's note: pitchfork has
official radiohead tourdates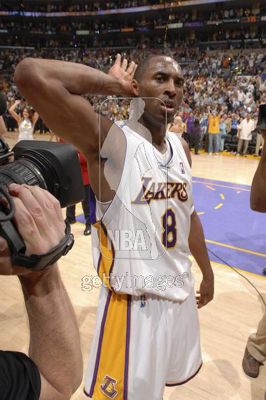 i just have to say this, boy is my face red. i would've never thought in a million years that the k-o-b-e would be a team player as well have a low scoring game in a victory against the highly taunted suns. mayhaps, the zen master much like myself only consider the real season to be the post season. perhaps, my misguided statements about the lack of playoff potential should be pointed in the direction of shaq attack, dwayne wade, and pat 'greasy' riley. i know that the heat live in miami and probably lounge all day listening to
jose gonzalez
records, lifting with hulk hogan and what not, but you know, they gotta step the fork up. they fire ron jermey early in the season and can barely squek by the baby bulls, what's up with that?
after "big love," each week, i have to wonder if show creators mark v. olsen & will scheffer are into
water sports
because so much of the show involves people taking a piss. one of the storylines in last night's slightly good, but mostly so so episode (not enough margene for my personal taste; that scene where bill was attacked by roman grant's wives while being kinda funny and surreal was verging on "
american dad
" status for a moment) dealt with a bruce dern peeing in sinks. in the earlier press about the show said that the show was really a cover attempt to talk about gay marriage and how it should be legal and what not, but i honestly think the show is more about the normalization of 'water sports' than it is about a loving marrage is a loving marriage regardless if its man and woman, man and man, womand and woman or man and four other women.
lose whatever faith you had in x3 being any good right now
the give
and
the take
of celebrity gift bags.
another reason to strongly dislike mcg;
the revenge of the nerds remake gets a director
; how much you wanna bet that jon heder gets his paycheck ever to be in this movie? mcg isn't directing the remake, but he's producing it, which for me, still is a problem because why remake a classic?
was it a shock that
mario williams
got selected first over reggie bush and vince young? granted i haven't watched "around the horn" in a few months, but at my bank, there's a british guy who looks like tony reali, so i figure its the same as watching the show, but reggie bush, number 2, really?
california democratic party endorse phil angelides as the democratic candiate for governor
. sure,
steve westly
may have helped with the inital launch of ebay and i like westly's idea of free community college for californians, but he lacks the hot daughters of
angelides
. so as it stands, the skeet on... empire endorses angelides simply on superficial reasons.
and finally, it should be noted that updates are going to be rather light this week unless something truly spectular happens, but i highly doubt that. i'm aiming for a thursday morning update. talk about "lost", some backside "8th & ocean" jones, does danger mouse have telfon status after the gnarls barkley, maybe some shocking of the puss, 25 cent with some cricket capers, and hogan might stop by.