that's the way he wants it to be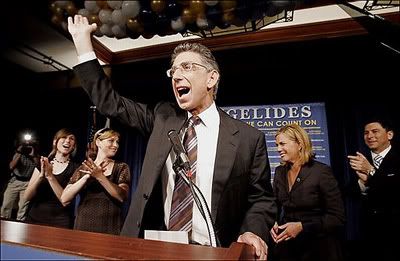 I'm not sure if my endorsement helped, but I kinda want to believe it
did
. And no, I did not fix the votes in spite of working as pollster for a grueling 16 straight hours. I live and worked in Orange County; come on, that's the only Republican part of southern California except for the Richie Rich parts in Hell Diego.
Yeah, we elected Arnold in the recall, but that's because we have a great sense of humor and while not all of the state may not enjoy, there are some who enjoy long walks on the beach. Basically, the election of Arnold was something we did to put in our theoretical match(dot)com profile. In addition to enjoying movies, "Friends," (OmG! Ross & Rachel 4va) we elected this
dude
[maybe NSFW] to be our leader. Granted, he looked better than Gray Davis, but then again, me as the governor would look like an attractive alternative too, especially, with my bill making it illegal for Rachel Bilson to wear nothing but shorty shorts with exception to the wintertime and rainy days.
So when November comes around, be nice with the people working at your local polling place. Honestly, we're doing the best we can with what we have and it's not our fault if an e-slate goes down, blame the douche who doesn't believe his or her vote is being counted because there's no paper proof of it, so we have to use the VVPAT system and if the VVPAT goes down, that particular e-slate is rendered useless. And you know, if you come at 5 or 6 o'clock at night, bare with us for a moment; we're a bit punchy and suffering from a mean case of cabin fever. You know, we've been there since 6 in the morning and probably won't get to go home until 10 and we're getting below minimum wage for our services. And as some may know that I'm no good to the world at large until I've heard at least an hour of Howard Stern that morning and on election days, you're looking at a guy whose only had at max, 45 minutes of Stern even with replays. So please be kind to the pollsters, you could even go as far as dropping off some chips & dip for us; I'm a big fan of guacamole and tortilla chips.
I'll try to be back on Friday morning with a recap of the polling experience of which I told Mark of
hella awful
was 'a whale of a tale of anti-climax' and a write up of that ever so exciting episode of "The Hills". But right now, I just want to hang out eat burritos with cool people while listening to Tom Waits and then later on, bust an old tennis racket and play air guitar to Judas Priest's "Living After Midnight," even in hind sight of the incredibly gay undertones the song now have.
One time, me and this guy named Punk Rock Tim thought we saw Rob Halford at a Faint show in San Diego. We didn't talk to him or anything, we just yelled "Halford" a couple of times and ran away.
That New
TV On The Radio
album, "Return to Cookie Mountain," is pretty killer and "Playhouses" will have the hipster dance floors on fire.
And finally, how am I going to compete with this girl and her wearing of the N.W.A. names t-shirt? I should just give it to the Good Will because the comparisons are going to be endless and boundless. Never the less, shout outs to shorty shorts and the CobraSnake's muse is growing on me; Stockholm Syndrome status