Hooray!
To celebrate our country's independence, let's look at the things that make our nation so great. First and foremost, writing lists about why we're so great is the first thing that makes America great. It's just the American way to quickly point out our strengths, charms, and well, to put it bluntly, our awesomology. So, before we burn bits and pieces of our fingers off because we're too drunk to be holding sparklers in the first place, let's look upon some things that I believe and I hope you believe that make this country pretty darn great. Sure, we may have elected the wrong president and lock up
internet models
for hosting wet t-shirt contests all the while serial bad music maker, Lil' Kim freely walks the streets these days, but we're still a pretty cool country (Free Melissa Midwest & DJ Quik!)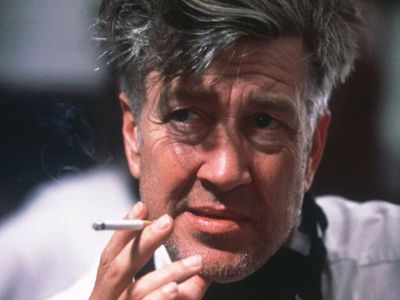 Does it get anymore American than auteur David Lynch? Lynch every couple of years, generally with funding from France creates a film that combines the best parts of Alfred Hitchcock and Luis Bunuel and explores the dark, perverse side of the heartland of America or Southern California (at least, the last couple of films). While the subject matter may not necessarily appeal, if anything it confuses the audience, it still presents an interesting facet of the American lifestyle. Whether it be the seedy underbelly of a small town that Norman Rockwell painted to Bobby Peru's wonderful bank robbing skills in the American southwest to the most recent film,
Mulholland Dr.
about the dreams of a Hollywood actresses. Lycnh considers all his films to be dreams and be taken at one's own face value, but he's presenting his interpretation of the American Dream and is fascinated by many aspects of popular culture.
Lost Highway
is a film about O.J. Simpson and
Twin Peaks: Fire Walk With Me
was written in between marathon viewing sessions of the home shopping network. Perhaps, the most American aspect of Lynch is his entrepreneur spirit; he's recently launched a line of ringtones and wallpapers for the cell phone. One of the ringtones has quickly become one of the popular sound effects on the Howard Stern Show.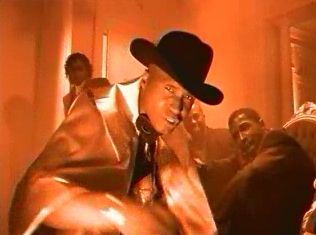 Kool Keith may not actually be an American; he's probably from outer space. Just don't ask him to rap about Mars and shit. I'm going to be honest with you, I haven't bought an album by Kool Keith in like five years, but only because the dude puts out like 10 albums each year. From what I remember of my beloved copies of "
Sex Style
" and "
Masters of Illusions
," Kool Keith and Kutmasta Kurt make great records together. Not only is Kool Keith funny, but also Kutmasta Kurt's production is so slept upon, it's not even funny anymore. Or at least, I remember people sleeping on his stuff. The dude did a remix that made an awful Linkin Park song bearable and dare I even say it, listenable.
The website,
YouTube
pretty much offers all that an warm blooded American male could want. From videos of
girls making out with each other during a Staind concert
to
a best of Stewie from "Family Guy" video compilation
to well, weird,
Japanese school girl bondage videos
. It's one stop shopping for entertainment and it's all there for free or at least until the corporation that owns the right to said video sends a cease & diesis letter. Not to mention, YouTube is the only thing that is actually acting upon those famous claims that directors Francis Ford Coppola made about with the advent of consumer digital video cameras and iMovie everybody would be able to make any one who want to be a star. Yet what we're learning is something we should've already known, not everybody should be stars, even if it's a guy in
a V for Vendetta mask doing magic tricks
or the girl from
88slide
or
some guy who needs a haircut beatbox
. So, this site already has answered a question that NBC is currently asking the country. Does America have talent? Nope, just look at YouTube.
Another great thing about America, the ability to put out an opinion that would have been more biting and interesting 5 months ago and believe that it's relevant. I mean look at the success of loud mouth blowhards like
Ann Coulter
. You know it's hard to believe the words of a woman who'll freely post a
photo of herself with a man wearing a tie-dyed Wyland t-shirt
. Yet, here we are and the woman is on the New York Times best seller. America is a place that welcomes all sorts of opinions whether they're good or bad and sometimes, people can make a living off it. And the same goes for dudes who paint murals of whales and shit. It may not be fine art to me or you, but you know, somebody out there must be digging the playful series of martinis olives smoking cigars while engaged in a game of poker paintings by
Michael Godard
. Anybody can be famous in America, which sorta invalidates the earlier statement about America not having any talent. Okay, so I'm saying like the 13 year old girls who made a video for the Justice song, "Never Be Alone" aren't going to be the next Hype Williams or anything (maybe because they didn't use any dissolves), but you know they have a shot at being the next Dave Myers or something like that.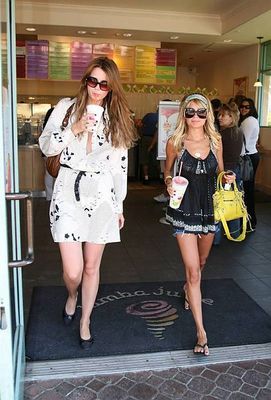 Now, I know what you're thinking, I'm going to say something about Nicole Richie, but you'd be incorrect. I'm going to talk Jamba Juice as a great American thing because it's a double edge sword. One part of you believes that going to Jamba is a healthy activity; getting a drink with a whole bunch of fruit in there and an extra shot of vitamin c. Refueling the body with something non toxic after a few nights of hard drinking and what not. Yet, at the same time, Jamba sorta makes you fast. Of course, if you enjoy Jamba Juice in moderation, then you're not going to get fat, but remember, this is America and we never enjoy anything in moderation. I blame Jamba Juice for making fat a couple of years ago because I assumed that I was doing something healthy, but you know that yogurt is just loaded with carbs. So now, I enjoy it in moderation and well, I feel rather healthy. And quite frankly, there's no greater equalizer than waiting in line at a Jamba Juice. No matter in how much of a hurry you may be in, there'll always be somebody ahead of you in line, with no clue what to order, telling the girl behind the counter that they like raspberries a lot and what's a good drink with raspberries in it, which of course, the girl behind the counter to something on the menu, but naturally, the person ordering explains that they can't read type that small, so the girl behind the counter, who doesn't even know all that goes into the drink, explains it, but that gets a bad reaction from the person ordering, so they just ask what's the drink that everybody usually gets and ends up ordering that. All the while, you're standing, waiting with money in hand. I have to assume that the same thing happened to Mischa Barton & Nicole Richie while they were at Jamba Juice. Of course, naturally, the gals behind the counter wanted to serve them right away but they had to finish taking the order of a 70-year-old grandma who's at the beach with her grandson and they wanted a 'cool' treat.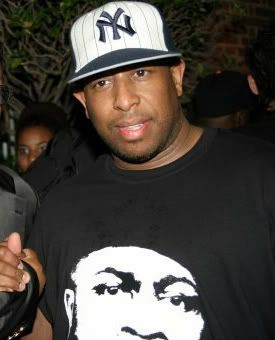 Not only did DJ Premiere manage to make Christina Aguilera sound cool with her latest single, "Aint No Other Man," but Premo also produced the album, "
Daily Operation
". Have you heard "B.Y.S."? If you don't bop your head to that beat, then you might as well jump off a bridge. I'm not sure how many people do this, but I believe Premo is the reason why nerdy guys like myself do air scratches while listening to rap records (I do air samplers while listening to
Just Blaze
beats). And there's countless other classic tracks by DJ Premiere we could talk and we might in the comments, but who knows. Anyways, I have a story that relates to how great DJ Premiere's production is. I was driving home late a couple of nights ago and I had taken the toll roads to drive fast and cut around the riff raff. So I'm pulling up to a toll, to pay and on the radio (ah, the beauty of Sirius), they're playing "Ex Girl to Next Girl." So naturally, I'm doing air scratches and singing at the top of my lungs, yet as I pull up to pay my toll, I notice some car just standing still at the toll. So I roll down my windows and start to pay my toll when somebody from the other stalled car walks over to me. The lady gave me some story about not knowing how to work her GPS system and it took her on the toll roads and they didn't have any money to pay it. So, listening to that particular Gang Starr song had put me in such a good mood that I handed the lady money to pay the toll. In other words, DJ Premiere is a great American because his music has the power to make people pay it forward. Fuck
Helen Hunt movies
, the world needs to listen to more records with jazz samples and we'll be in better shape.
Other things that make America so great:
-
Whatevs(dot)Org
-Hamburgers
-Bubba the Love Sponge's on air fights with his crew over their merchandise
-The song, "Fall Saddles" by Why?
-TV On The Radio; have you heard that song, "Let The Devil In," yet? Holy smokes.
-The Criterion Collection
-The fact that mutants that are more suited to hang out with the likes of Lord Humungus from
The Road Warrior
like Wes whose currently on the new season of the Road Rules/Real World challenge not only get to be on TV, but also get to date Johanna and possibly paid to make speeches at colleges.