Louder than Bombs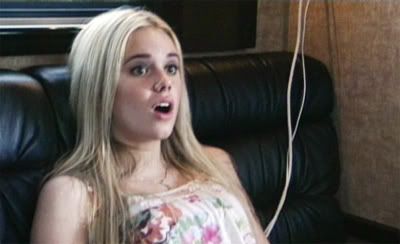 I had this same reaction the other day when I was at a BBQ and somebody told me that they didn't like
"Youth in Revolt"
. Then again, the person said that they had been drinking since noon thirty and it was like 6 in the afternoon, so you know, maybe they weren't all the way there. Some people, well people in real life have been giving shit for being a fan of Cheyenne and my ability to sing a majority of her hit single, "Hanging On," but to me, her show is really funny and you know if I start to do Kool Keith's verse on the song, "Time 2 Get Right," nobody will understand what I'm butchering. It's an attempt by me to have normal social skills, but I can never really win. Cheyenne, on the other hand is a winner and optimist or at least through clever editing and nifty voice over, she appears to be one. And after seeing her video, I have to wonder what changes were exactly made to the original treatment to make it better than other giving the dread lock guy an extended cameo; an improved shitty treatment can't really turn chicken shit into chicken salad even with the magic of editing.
Then again, most videos suck these days, example the new Clipse
video
'cept for the part where they're yawning at the end of it. I wish more people would make videos like
"Somebody is Watching Me"
and have fun with the song instead of throwing money around or the video is all about the
bass player
who can't sing but wishes he could. The other night, I saw the video for the Red Hot Chili Peppers' cover of "Higher Ground," and I remember when I first saw that video as a kid and it such had an impact on me. I had to buy the cassette the very next day because it was a cool video (just a band playing behind blue screen), great song and Flea wore pants made out of stuff animals. Maybe, I'm just becoming more of a dude, these days.
Yes, guys, I believe I'm becoming a dude and I blame global warming for this change. I've said it countless times before, but the summertime requires shorts. I can't understand how the cool kids can pull off tight jeans when it's 87 outside. Shorts are just more comfortable to me and I'm starting to believe that for the most part, I can wear shorts to any social event I'm attending within reason, of course. A nice restaurant, no shorts, but for the most part, everywhere else, gets the shorts treatment. And this behavior slightly scares me because you know the only other people who wear shorts all the time are dudes and I never wanted to be a dude in spite of my frequent abuse of the expression and often referring to people as 'dude,' dudes are basically bros who don't wear black shants with black socks and gigantic black skate shoes. Then again, I wonder how these bros manage to stay comfortable basically dressing like the motocross version of Johnny Cash all the time.
So to all the cool kids out there, if you see some dude at a show, don't give him shit behind his back because he's not rocking a pair of
G-Star denim
but a pair of RVCA shorts. It's probably just too hot for him to deal with denim. That or he can't afford it.
Gonzagas University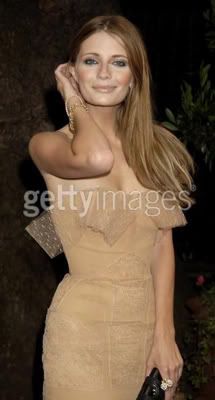 Mischa B. is looking a bit older these days and not necessarily sure if that's a good thing or a bad thing. There's a bit of a
Jackie Bisset
, but you know how many of those precious money holders in that ever lucrative 13 to 24 male demographic are familiar with her? It should be noted for those who were fans of Mischa B on "The OC," may want to visit this
site
; it's a campaign to bring her back on the show, but I'm not sure that'll bring her back, let alone a full season order. Besides, we fucks with Katilin Cooper around these parts. Not literally, in the figurative, hip hop sense of the term.
Did Trixie Teen go mainstream and hook up with the mastermind behind American Apparel? Then kudos to the man who over charges people on a pair of great socks and long shelve lavender shirts. Jeers and boos are being heard from the dudes who paid for a membership on her site; no more updates because you know, she's financially secure and what not, but, she'll be down to the topless ad for the back of Vice every now and then.
Quick Musical Round Up:
-"Sexy Back," by Justin Timberlake featuring Timbaland: So at first, I thought it was the summer of Timbaland between Nelly Furtado's "Promiscuous," and Lloyd Banks' "My House," (a single which has apparently been scrapped cause 50 isn't singing the hook; which is a G-Unit Records no-no), Timbaland could do no wrong, but then I heard this tune and holy moly, is it ever a downer. To me, the tune feels like an outtake from
Mount Sims'
first album
. You know JT & Timbo want to take us all the way back to 2002, which was the same time Timberlake's for the most part, rather good solo album came out. Maybe, I don't know what's happening with people in the night clubs because well, night clubs give me panic attacks and the amount of money one has to spend to get in there and you know, I don't want to be the asshole asking if the DJ is going play other T.I.P. songs besides the one girls like, but I assume that I would be and maybe people who go to those places are into songs that sound like this. But you know if I was like most people, I'd still scratching my head as if I was at The Source Awards, asking what happened. The last time these two dudes made a record together, they made "Cry Me A River," and I will not lie to you, but that happened to be one of my favorite songs of 2002. So in the reply e mail to Mr. Timberlake and Mr. Mosley, we're going to say that the mission to bring the sexy back was not accomplished, but that promo photo on
Stereogum
is pretty boss. On another listen, it sounds like a bad Missy Elliott record; you know Timbaland flipped the beat of "Get Ur Freak on" for Bubba Spraxx's "Ugly," the Timberlake song sounds as if some kids got to the song, "4 My People," and goofed around in Garage Band.
-"Get Myself Into It" by the Rapture (which can be heard
here
): As some may know that I'm a rather big fan of the DFA and the albums they produce, but the Rapture was the band that got me into their production in the first place. So to hear something done by the Rapture without the aid of the DFA at first seemed a bit weird, but here's the thing, it doesn't really matter that much who produces the Rapture because they're a better live band than they are on record. With that said, I like the new single quite a bit. It's fun and probably really good to dance and when performed live, the saxophone solo will be intense.
-"Vato" by Snoop Dogg featuring Pharrell: I've only been able to find a radio edit of this song, but you know, it's the same Snoop record; I'm a tough dude, I still smoke weed, yadda yaddda, etc. The beat is so so; I've heard better stuff by the Neptunes, but I've also heard a lot worse. What's the worse part about the song is Pharrell's Spanish accent for the chorus. Clearly, this man does not want any one to buy his solo album when it drops at the end of the month because he's going out of his way to annoy everybody. First, there was the rather weak single with Kanye, then for some reason, he's shirtless in the Clipse video and now, he's attempt to doing accents when he does his shitty hooks. Man, I miss Chad Hugo.
-"Candy Coated" by Shawanna featuring 8Ball & MJG: I'm not a fan of Shawanna, but I like the beat and 8Ball & MJG are always awesome on other peoples' records. Their own stuff, I don't get it, but as soon as I hear Diddy scream, "Bad Boy South," I turn the station. Why doesn't somebody give Diddy the same treatment he gives those chicks on "Making the Band 3" (shout out to Aundrea)? Yelll and boo at him for yelling over records when it's not really necessary.
It should be noted that while I'm not a big fan of R&B/Soul music, in particular the new stuff out there, but I'm oddly enjoying the stuff I've heard thus far by
Aloe Blacc
from his new album (check out the
podcast
for a sample), especially the tune, "One Inna…," love that xenophobe and I believe or at least I heard Aloe Blacc was from Orange County, so naturally I have to support the dude.
I'd say something about "The Hills," from the other night, but only part of it really interested me. How creepy was Jason when he was camped out in Range Rover waiting for L.C. to show up to school. Most likely, the producers put him up to it or at least arrange for them to meet there because you know, it makes for great TV, but it was still pretty creepy. I'm not sure if it's as creepy as some of the things I've done because I think a girl moved to England to avoid me once.
Also, is anybody actually watching "Rock Star: Supernova" because they're interested in seeing if Tommy Lee forms a cool band with some singer or are we all watching it because these singers hilariously butcher the classics week in and week out all to the loving and caring feedback of Dave Navarro. You know you're a bad judge of talent when Paula Abdul goofs on you, but the weird thing about Navarro is that when they cut to him during the performances, he looks so bored and uninterested, but once he knows that the camera is on, he's all, "Awesome job, brother. Way to bring the mosh!" or other generic bullshit expressions they use with each other. It would be pretty cool though if that one Zayra girl busted into some P.J. Harvey and did like "Down by the Water," and if all the dudes did
James Hetfield circa 1986
impressions and said, "Yeah" a lot.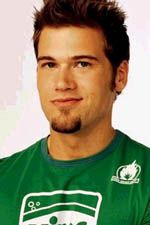 I wish I could tell that the new season of "Next," is awesome, but honestly, I'm getting into
Countdown with Keith Olbermann
, so I'm missing a bit of the new season. I think it's a trade off: watching girls with too much make up talking about kissing girls when they're drunk in favor of a humorous insight into the world in which we live in. Although, I have seen "Why Can't I be You?" and Nick Zano's reign of terror needs to be stopped. Next to George Bush, Nick Zano is setting our foreign relations back fifty years with his arrogant, spite full style of TV hosting. People wonder why the world dislikes America its because of people like Ann Coulter and Nick Zano.