The Movie Life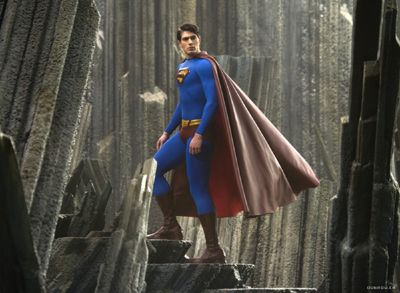 I believe I've said it once before, but it bears repeating. The hero is only as interesting as his villain is. It does not hurt the story or the film or TV show if the bad guy is even more compelling and charismatic than the hero either. The audience has to have a great emotional investment with the hero and if the villains can illicit feelings of disdain and hate, then mission accomplished. All the more reason why the audience wants to see the hero win and save the day. Unless, it's a slasher film or at least if it's a franchise slasher film, then the audience for the most part are rooting for the villain to literally tear through the next batch of sexy teens or sassy aspiring models (if we're going back to Italy in the 1970s); we want the killer to kill again. And with a superhero movie, the audience wants the hero to be more than heroic, but more importantly, the villain has be so dastardly that it seems as if on their days off, the villain is busy throwing used condoms and syringes all over the child playground at the local park.
The audiences needs more of a reason to cheer when the hero punches the villain and kisses the girl with about 10 minutes left in the picture.
And that's the main problem with
Superman Returns
, Lex Luthor isn't that great of a villain. For the most part, Luthor is the "George Costanza," of villains. Bitter and angry at the world because he's bald. The only difference between Luthor and Costanza is that one character has a couple of PhDs and being extremely knowledgeable about science. Gene Hackman's performance in the Richard Donner
Superman
film was good because mostly, he hit comedic notes. In other words, Hackman or at least from what I remember of the first
Superman
film, was perfectly over the top. He wasn't dominating the film like Nicholson was in Tim Burton's
Batman
; just chomping on the scenery with dollar signs in his eyes.
Kevin Spacey's Lex Luthor ultimately comes from the Nicholson school of villainy, but Spacey must've either slept through a couple of classes or just took an extended coffee and cigarette break (It was a seminar class at Santa Monica City College) because his performance is the equivalent of a kid learning how to play Jimi Hendrix song on the guitar. Hitting all the wrong notes. Obviously, it does hurt Spacey that the character is rather dull, but he comes off as if he's trying too hard to funny in certain scenes and scary in other scenes. As an actor, of course, you're require to hit multiple notes in a film, but a performance should have an overall tone to it and well, as Lex Luthor, Spacey is anything but menacing. Which is rather difficult to believe since Spacey has played some of the great movie villains in recent memory (John Doe in Fincher's
Se7en
and the Boss in
Swimming with Sharks
). Spacey never strikes that right balance in the film and presents Luthor as a rather petty individual.
The villains in the
Spider Man
films worth rather well because there's a greater motivation behind their actions: revenge and it's spelled out in bright red letters. Where as in
Superman Returns
, it's never explained why he wants to do or at least why he's bitter towards Superman. I know that Singer wanted this film to be a sequel to the Donner film, but one has to remember and perhaps, this is the problem with a director cashing in on his clout and being removed from the studio, is that they're not there to say, "Hey Bryan and your fashionable males writing staff, remember that we're re launching this character for a new audience, so explain things a bit more." Christopher Nolan and his re launch of the Batman franchise re told the origin and presented the character in a new, interesting, and sexy light.
Back to the film's bad guys for a moment. Why did Lex Luthor's henchmen dress like the other guys in Matchbox 20? I don't understand. I can understand remixing the Superman costume a bit, but why do the bad guys have to look as if they just came from doing an interview on Ryan Seacrest's morning show and about to tape a performance for the Ellen show? I know that things have to be cool in movies, but come on, let's strive for accuracy every now and then. If Tom Cruise is going to be a dock worker, then he can't be zipping around, fighting aliens wearing Diesel Jeans or if the guy from
Harold & Kumar Go To White Castle
is going to beating up Superman, then don't dress him up as the guy who rides Rob Thomas' coat tails.
Also, can anybody explain what Parker Posey added to the film and why she was in the film all together? I'm a fan of her work; well, the stuff in the Christopher Guest films,
House of Yes
and
You've Got Mail
, but in this film, all of her stuff was just an utter mess. This may be the only time that I may say I was gland that an actor was underused in a film. If this was going to a sequel to the Donner film, why not bring out Ned Beatty again and have him play Otis? He was a fan favorite and I'm sure that Beatty could use the work or if you want to go young, get somebody like Donal Logue or the go to fat comedic actor guy, Horatio Sanz to play the sidekick.
Since Superman's villains are boring, it only makes Superman just as boring, if not more boring. He can fly and stop bullets, but you know, where's the complexity? And what I still don't get about this character and his translation from the pages of a comic to the big screen is that the cartoon version of Superman manages to make not only the Superman character interesting, but also, Lex Luthor and just well, everything else in Metropolis. For the new franchise to work the filmmakers have to move beyond Superman stopping bank robbers and Lex Luthor's latest plan for world domination that'll be easy stopped. Let's rattle a couple of cages and get somebody like Paul Giamatti to be like
Mr. Mxyzptlk
and Superman has to fight Bizzaro Superman at the same time.
And perhaps, the saddest thing about
Superman Returns
is that Bryan Singer didn't really make a Bryan Singer film. He created a weird cinematic hybrid of Peter Jackson & Michael Bay. Much like Peter Jackson and his recent remake of
King Kong
, Singer cashed in all of his chips from the
X-Men
series and made a bloated and partially ugly film. Most of the film, which is rather surprising since Newton Thomas Siegel is an amazing cinematographer, is just ugly to look it. For nearly 40 minutes of the film, we're watching people act on gray and puke green colored scenery; it's like watching an episode of "Prison Break". Yet at the same time, the film has the quiet moments where the filmmakers are trying too hard to create this beautiful, iconic, Americana moments, which accounted for the bloated run time in Michael Bay's
Armageddon
. It has nothing to do with the story or the plot, but it looks cool.
Superman Returns
is just an unsatisfying mess of a film.
It should be noted that I saw the 3-D IMAX presentation of the film, which for twenty minutes made the film a lot more interesting. The one problem with the IMAX presentation is that one sequence, the bank robber with the Gatling gun on the roof was not in 3-D. If there was any sequence in the film that demanded to be done in 3-D, it was that one. The bullets flying into the audience, it would've been amazing, but nope, we get to see three scenes where Superman flies in 3-D. I would've probably liked the film more if the whole thing was in 3-D. More movies should be in 3-D or at least big summer movies.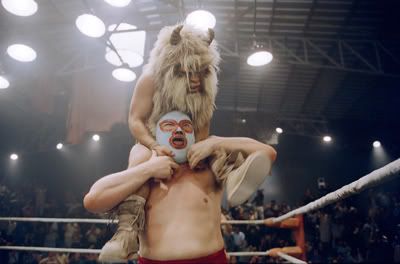 Has anybody else noticed that two of this generation's interesting and most polarizing filmmakers came out of the same school? Neil LaBute and Jared Hess both emerged out of BYU film school and their films could not be further away from each other. LaBute with exception to his two films he made for 'them,' and maybe his upcoming remake of
The Wicker Man
basically places his disdain for humanity on screen each time and has single handled created a genre that a professor of mine called, "The Anti Date Movie". LaBute also manages to pull some of the best work by his cast I.E. Jason Patric in the feel bad hit of the summer
Your Friends & Neighbors
.
Which makes one wonder what exactly is being taught at this BYU film school? Because Hess, the director of
Nacho Libre
and
Napoleon Dynamite
clearly has a great love for humanity and quality yet one note performances from his cast. Before I went to watch
Nacho Libre
, I was wondering if Hess is a real filmmaker or just a guy who should be directed single camera sitcoms. I'm not going to go there again, but I was not a fan of
Napoleon Dynamite
by any stretch of the imagination. I didn't get it and the soul shattering hype surrounding the film made me feel as if I was an asshole for not finding the film funny. While I haven't seen it, but I'll assume that
Peluca
, the short film that inspired
Napoleon
works fairly well because the most I could spend with that particular character is about nine minutes. Even then, it's still a little too much time with that character.
Even though, I was looking forward to watching
Nacho Libre
, I still thought that for the most part, it was going to suck. Even though,
Mike White
was one of the film's co writer, I still worried that the film was going to be the same five jokes over and over again. After watching the film, I have to believe that Mike White was probably responsible for one of the film's weaker elements: love story between Nacho and the nun; well, it felt more tacked on than anything. With that said, I actually enjoyed
Nacho Libre
.
As I watching the film, I noticed that Hess has grown quite a bit as a filmmaker and will continue to grow. I know that everybody has and will continue to make comparisons between Hess and Wes Anderson, but I think that's the wrong connection to make. In an
interview
with Hess I read, he stated that his favorite comedy was the Coen Brothers classic,
Raising Arizona
. With that knowledge, Hess' storytelling decisions make more sense. He's attempting to make family friendly versions of Coen Brothers films. Each Coen Brothers film is populated with a cast of wacky characters, which Hess attempts to do with his films, but he's missing one crucial element. While the Coen Brothers fill their works with unusual characters, they always create an amazingly tight story line that feels as if there's no structure at all to the story.
The Big Lebowski
on the surface, just feels as if the audience is watching the adventures of the Dude in L.A., but there's a meticulous detail to plot and structure that the audience barely picks upon. Once Jared Hess and his frequent writing partner, his wife figure out how to create a solid structure for their characters, they'll be definitely become must watch filmmakers.
It's not to say there aren't bits and pieces of detail in
Nacho Libre
because the Luchadore stuff is quite amazing and infinitely interesting. I know that there's hundreds of thousands of Lucha Libre films from Mexico, but I could just watch a whole movie about this particular's universe Luchadores wrestling and interacting in society. The party sequence was just amazing because it was well shoot and the production design was just brilliant.
Nacho Libre
is just a film that looks good even if most of the actions are played out in wide shots.
The only other thing that Jared Hess has to overcome in order to be a successful filmmaker; his films have made quite a bit of money, so he's a successful filmmaker in one aspect, but to be a true filmmaker, he needs to stop his actors from looking directly into the camera on close ups. It probably happens in other films, but you know, it's more noticeable in
Nacho Libre
and it can take an audience out of the film in a matter of seconds.