Save Me, Dear...
It's been a slow week and well, my mind has been elsewhere this week. So unless, you want to talk about rewrites and this other thing I'm working on, I'll have at it, but you know, I assume that you wouldn't want to go there. Rewrites are extremely boring and the more one talks about them, the more awful they become. Also, I've been listening to a bit of Black Sabbath lately. Dude, if I were to take to the Pepsi challenge and decide between Zeppelin and Sabbath, I'd probably go with Sabbath. That's a lightning round discussion right there for the ages: Zepp VS Sabbath: discuss.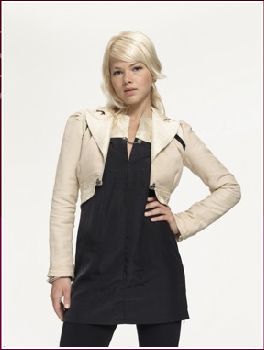 While I've probably already jinxing her for the rest of the season and she'll probably out by the end of tonight's episode, but I'm going to be pulling for
Alison
on the new season of "Project Runway". While Alison's looks reminds me of the girl from
The Sounds
, which is a bonus because I don't have to listen to a Sounds song, there's just a certain quality to her that may not scream out "great TV," but you know it screams "Easy on the eyes." Although, it should be noted and I may sound like the world's biggest weirdo, but I got bit of a crush on judge
Nina Garcia
; there's a certain degree of class with her that most women on reality television lack. Nina Garcia not only knows what fork you're supposed to use with each part of a seven course meal, but she also knows what's the best wine to go with; which of course, is a box of wine from Trader Joe's.
The problem with the new season of "Project Runway," will be the fact that us stupid bloggers turned Tim Gunn into the star he is and there's going to be way too much Tim Gunn on the show. As I've learned over time, that everything counts even in small amounts, but guess what, things work even better in the terms of TV in just as small amounts too. And from the looks of the cast thus far, nobody seems like they could bounce off Tim Gunn that well and be the comedic foil that Santino was in the second season.
Cheyenne could go a couple of ways. She could either become, of course in a superficial sense and in term of looks, she could either become the next Kate Bosworth or the new
Busy Philips
, which would be kinda cool cause Busy Philips was pretty funny on "Freaks & Geeks."
Holy smokes, anybody else catch "Rock Star: Supernova" last night? 10 butchered covers of great songs and two guys wearing blazers without shirts on, does it get any better? Well, actually, you know the people on the show could be decent singers and not slaughtering songs I found at one point enjoyable, then maybe, just maybe, it be an interesting show. I like watching this show cause people are destroying great songs, but you know following that same logic, I should go to karaoke bars and/or karaoke nights at bars and listen to the folks forever ruin various Journey songs and country hits that I have no clue about. I remember watching a guy do a karaoke version of "Like A Rolling Stone," and it was fucking great because half way through the song, the guy started to talk about how he didn't realize that it was a long song and then asked for help from people. What separates "Rock Star: Supernova" from being a full blown televised karaoke experience is that the douche chill factor. You know, there'll be that one person that makes you feel bad about attempting to goof on them with as they sign their heart out at the bar; you know that person and by the end of the song, you're actually a little bit happy that the person sang the song. Well, on "Rock Star," there's none of that, you just wish that everybody would just off a bridge and never ever sing again. And the judges, besides being allergic to wearing shirts with blazers, they have so much attitude. I'm sorry I own Guns N Roses albums, and I still have to ask who the fuck is Gilby Clarke? The dude wasn't on "Appetite," so why is he giving so much attitude to these signers? These kids don't know who he is because he wasn't standing next to Axel during the classic Guns days.
While I think we have a song for the summer. It's one of those Nelly Furtado tunes, right? And that song about snapping fingers by Lil Jon and E-40. Yet where's the catch phrase of the summer? Are we going to wait through the lost episodes of "Chappelle's Show" to find it? Well, if you're a high school kid, then yes and all through registration day in between taking class pictures and buying their P.E. uniforms, it'll be said about 4 to 5 times a minute, but still, where's the real catch phrase of the summer? You see my favorite or at least the one I'm attempting to work into my daily conversations and vocabulary is from the
BTLS
and it's: "Fuck this place. This is bullshit, I'm outta here." How perfect is that? And quite frankly, it works well within any situation in spite of being a good bye type greeting. When you're upset about something, it'll be so easy to simply mutter, "Fuck this place. This is bullshit. I'm outta here." You've vent your frustration and have managed to make yourself chuckle in the process. So test it out and see if it's you. I tried it the other day after I saw some bullshit with Olivia Munn on G4; I got upset, throw something onto the floor and said, "Fuck this place. This is bullshit. I'm outta here." And I felt better.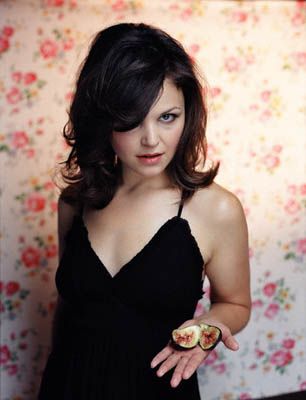 The first season box set of
"Big Love"
costs way too much. A hundred bucks? Does it come with a handy from Margene? Jeepers creepers, you could get like the Cassavetes box set for that money and get five films from a master.