Back to the Cave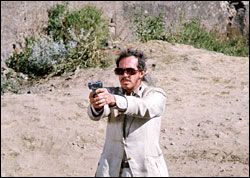 Sorry about the updates this week being a little light. I've been getting back into watching movies on a more frequent basis since school is starting back up and all. I don't know if this happens to you, but this happens to me from time to time after watching a movie I like a lot, I find myself attempting to act like the main character. There's a certain degree of coolness that a character projects that I'll never achieve in my personal life. The past couple of days after watching Peckinpah's
Bring Me the Head of Alfredo Garcia
, I wanted to be exactly like
Warren Oates
in that film. His performance, which apparently was inspired or at least based on Peckinpah or so legend has it. There's a great sense of desperation in the character, but it's all under the surface. Completely and fully living up to that statement of never let them see you sweat and when they do see you sweat, have a weapon near by to take them out. And the way I assume to bring bits of Warren Oates in my everyday life is to always wear sunglasses even when in doors, but I don't know if I ever could make the transition to being that shades 24/7 guy; I can wear my shades while in doors around the back of my neck cause I'm into that Cousin It vibe.
The trailer for Eon Mckai's latest
Girls Lie
[NSFW] is on some David Gordon Green, Terrance Malick shit. Shout outs to the other inventor of the internet,
Dana DeArmond
.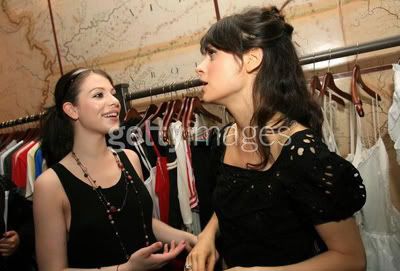 Speaking of
David Gordon Green
, do you think Michelle Trachtenberg asking Zooey D what's it like to be a movie as good as
All The Real Girls
? Only I say this because I've only Michelle Trachtenberg act on TV shows and the last time I saw her was on a rerun of "House," (it was on at somebody's house I was at, at the time) and she had a tick on her cooter and that was rather interesting.
It should be noted that I've officially given up on the new season of "
Project Runway
". I've missed too many episodes and well, nobody on the show is that interesting this season. Yeah,
Michael Knight
is cool and
Alison Kelly
proves that sometimes blondes do do it better than everybody else, but there's nobody that funny this season. Everybody is just really pretentious and full of themselves. Like that one old lady who hates her kids. She's nuts, but it's not an interesting I want to watch her weekly adventures nuts. They should've brought back that
Andrae Gonzalo
for the third season. Melodramatic and over the top, what more could one want of a fashion based reality TV show? Honestly, I ask you?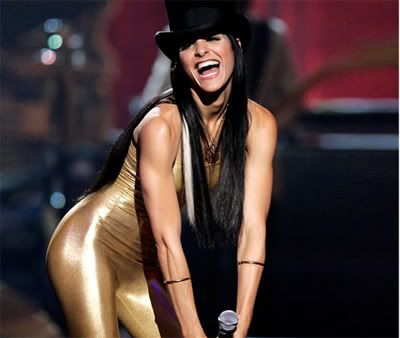 Then again, what would I know because I watch
"Rock Star: Supernova"
. A show I started to watch because it was so bad, that it was good, but it's getting to the point where it 's so bad, that it's unbearable to watch. I commend T. Lee for doing a double elimination the other night and getting rid of the new reality TV stereotype, the white soul singer and that really old lady, but the two people who may end up winning the thing sing as if they've been smoking cigarettes since they were fetuses, eat sandpaper, and drink liquid concrete. Just really grating, nails on a chalkboard types of voices and to me, how is that rock n roll? A really throat guy with highlights and a haircut that was done by a blind person is supposed to sell records? To quote
Brent Hatley
, "Wow". Tommy Lee wants a person that'll distract the audience from focusing on Supernova being Tommy Lee's band, which will never happen (See Velvet Revolver), but if they want that person, they have to pick Zayra cause she's hot, wears wacky and interesting outfits and if the show would let her sing in Spanish, would probably be the best singer out there, in spite of butchering the classic "All The Young Dudes."
Any body else watching the new season of "
The Venture Bros.
"? Last week's episode, "
Twenty Years to Midnight
" had to have been my favorite of the series thus far. Well, any episode with Professor Impossible is instantly good. Never the less, the new season of Team Venture is really good and the best costume I saw at Comic Con was a couple who dressed up as the Monarch & Dr. Girlfriend.
Semi related, adult swim related,
Metalocalypse
is pretty good, too.
Also, another good thing is the new Blood Brothers album, "Young Machetes". It's quickly entered into my top 5 albums of the year thus far; dare I even say, top 3? The same can be said about that Band of Horses album. Had to have some time away with that record cause the hype sorta killed it, but, it's rather relaxing.
And finally, I went and watched
Talladega Nights: The Ballad of Ricky Bobby
again. Basically, I went back to watch because John C. Reilly is that amazing in it. He deserves an award for the performance because he's chomping on the scenery, but he's not all over the place like Ferrell is with his performance. Honestly, Reilly has to be one of the best actors working. My favorite scene in the movie, the scene in which Cal calls up Ricky and asks for advice on how to use the house hold equipment, had laughing so hard, that people around me, most likely missed the jokes I was laughing. Also, the
dude
who plays "The Waffle House Manager" cracks me up.