Bathroom Breaks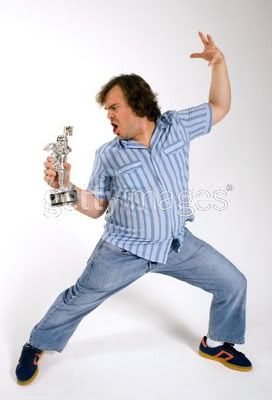 Is it me or does MTV seem pretty over the fact that they have Jack Black to host this year's VMAs? Granted, it'll probably be one of the worst VMAs in their history because in a year or two, they'll be embarrassed by a lot of the nominees the same way people are embarrassed by photographs of themselves in acid wash jeans back in the late 80s. Why not place an emphasis on the fact that one of the funniest and most charismatic personalities, Black is the host of the show? Panic! at the Disco, yes, the masses need to know that they're going to be there and perform that one song about writing, but it's not really about writing. I don't know exactly, but I do have a shirt by
Cardboard Robot
that says 'Panic!' all over it and some people assume that it's a Panic! at the Disco t-shirt and boy, did I feel embarrassed when me and the 16 year old girl at Starbucks were both wearing our panic related gear; oh the people who must've thought that we were twins. That's beside the point. I just don't the casual brushing over the fact that J.B. is hosting the show, which means probably some hard rockin' with Rage Kage and solid physical comedian. Black is the perfect choice to be the host of the VMAs because while Chris Rock was frequently hilarious in the monologues, the people who go to these thing take themselves very seriously and don't like to be trashed. With that said, while Black may not necessarily be into all of the bands, he's not going to rip them apart. I'd like to see him do that, but Black has a bit of respect for musicians. So why is MTV so casually about him as the host? MTV even had promos with Chappelle a couple of years ago explaining that he won't be the host of the VMAs, so where's the promo with Jack Black saying that he'll be the host? Apparently, it's a bigger deal that Ne-Yo and the All American Rejects are going to be there. Oh well.
The Super Chocolate Eruption Power House
returns tonight; 9pm, west coast time. I may call in, but I'm looking for material to write about, so who knows, dudes?
If you live in L.A. and have finished listening to the S.C.E.P.H., you may want to ride your skateboard over to the Beauty Bar and get some
free porn
.
Hopefully, tomorrow there'll be a proper update, but yesterday, I was in classes for about 6 hours straight. Shorty shorts ain't dead yet, but skinny jeans are getting played out and short skirts as well. Come on, I already blew my best material of the week when I saw Lexie at the mall.