Chill Out, Telephone Tough Guys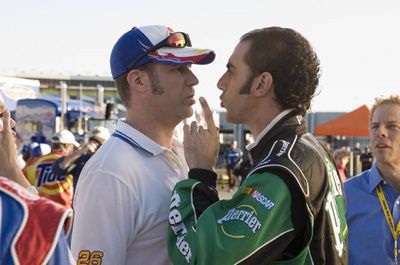 To be honest, I wasn't looking that forward to
Talladega Nights: The Ballad of Ricky Bobby
. I was a fan of
Anchorman
, but when I first saw the trailer for
Ricky Bobby
, I thought that Will Ferrell had lost his touch. None of the movies he made in 2005 were funny and his cameo in
Wedding Crashers
just landed a big fat egg, but then again,
Wedding Crashers
was only pretty funny. So my expectations for
Ricky Bobby
were so low, I didn't even play on watching, but I just went on a whim and the fact that
Sacha Baron Cohen
was in the film. I think the biggest problem I had with the film going in was the cast of the film. Too many regular actors, not enough comedians or at least comedic actors. Watching the film though, I realized that Will Ferrell is perhaps the worst part of an all around funny film.
A couple of months ago, I traded some emails with Jeff from
The Passion of the Weiss
about the difficulties of crafting a smart dumb comedy. It's easy to dismiss a comedy as being dumb because it's mostly a collection of low borrow jokes, but comedy regardless of being high or low is extremely difficult to write and create. Honestly, it's a dumb move to call this film, 'dumb' (I'm looking at you, fake movie critic, Ben Lyons) because there's a lot of smart writing in this film. The supporting characters surrounding Ricky Bobby make the movie enjoyable and more importantly, rewatchable. John C. Reilly as Cal Naughton, Jr was one of my biggest fears in the film; was he going to play it too straight, but he nailed the performance right out of the park. Over the top and hammy, but in an oddly subtle manner. A perfect compliant to Ricky Bobby. Of course, Sacha Baron Cohen delivers the best performance. The dude is just funny regardless of the material and very well may be this generation's answer to
Peter Sellers
. Cohen has the ability to get lost in the character, but at the same time, the audience is aware that they're watching a brilliant man.
The only problem with the film that I have and it's such a minor note, but director Adam McKay overloads the films with music. Every minute and half or maybe every thirty seconds, there was a new piece of music. If he wants to develop as a filmmaker, just ease up for a minute, not shove some Kings of Leon song down our throats. Just because one has a music budget, doesn't mean that they have to use all of it. Just ease up for a minute on the music and let the jokes play out.
A really weird thing happened when I was watching the film. You know how usually the sound at movie theaters is too loud. Causing ears to bleed and what not. When I went to watch
Talladega Nights
, I experienced the exact opposite. It began with the trailers. The first trailer,
Stranger Than Fiction
played at normal movie theater volume, but then the trailers for
Tenacious D in the Pick of Destiny
and
Borat
played at like at 5 or even 3 or 4 in volume level. The audience, I want to believe freaked out because there was no mind numbing sound telling them it's okay to laugh. Apparently, the movie theater doubled as a time machine and it took us to the era of silent films. During the film and perhaps one of the film's biggest laughs, the knife in the leg scene, it goes nearly silent again and nobody laughs. Maybe, the scene just wasn't funny, but you know, I'd expect a few laughs from people other than me and the eight year old kid quoting every other line a minute after it was said. It was just such a weird moment. Then again, I should've known I'd have a weird experience in that particular theater because it was the same place where I had an out of body experience while watching
The Island
.
Talk about Windy City Heat.
And this should be the sequel.
On the new season of "
Flavor of Love 2
": the favorite has to be
Buckwild
(have to scroll a bit), the girl who was raised by Oprah & Jerry Springer and she's from the city of
outlet malls
. Did anybody else notice that a lot of the women had gaps in their front teeth? People got weird fetishes these days, but gap teeth fetishes? And the girl with the lisp isn't going to get annoying in about two weeks from now. As long as Buckwild is there, mixing shit up and if Beautiful still has 'Eddie Munster' hair too, then yeah, I'll be there for the rest of the season.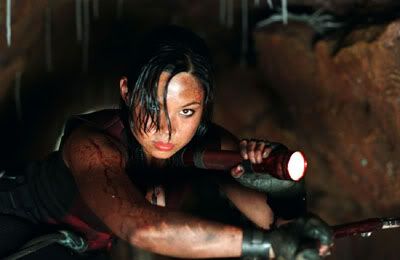 The problem with
The Descent
and they are rather minor and they may be a bit spoilerish, so read ahead; skip down to the next photo. Once again,
SPOILER WARNING
. The problem with
The Descent
was that the filmmakers were giving us
Aliens
before they gave us
Alien
; in other words, it would've been more intense and scary if there was one creature instead of an army of them. The director Neil Marshall has built a great deal of tension as the group of women goes further and further into the cave, but you know one creature after the next pops up, it loses a bit of tension. It's a well-made film and it's a breath of fresh air in the rather stale state of American horror films.
The Descent
isn't a film with saturated colors and rough hand held camera movements. Sure, a cave isn't the most attractive or sexiest of locations, but it's better than watching some CW actor getting tortured with rusty blades in a dank, rusty basement. What happened to the days of the early/mid 1970s when there was a killer on the prowl in an apartment building full of models in Milan? It should be noted that Diorra Baird and Jordana Brewster are both in the new
Texas Chainsaw Massacre
film, but it's still a movie about people getting killed in ugly basements with rough camera movements. What happened to the days of Dario Argento when it was horror movies with all style, beautiful locations, beautiful girls and no story, but more importantly, great kills. Yeah, the new breed of horror films have great cinematography, but shitty production design.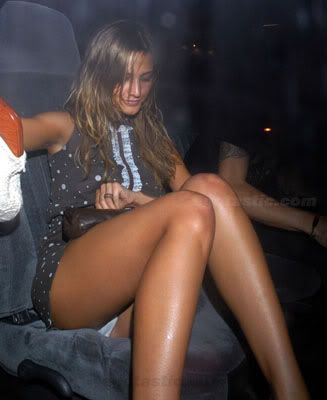 I'm just wondering if people would take less of a shit on Ashlee Simpson if she made quality pop songs like
Lilly Allen
or whatever. If her sister wasn't famous, Ashlee Simpson would've probably gone the way of
Willa Ford
. Remember her? Also, remember Cheyenne Kimball, whatever happened to her? She had a TV show a couple weeks back, but then like, boom she went away. Crazy.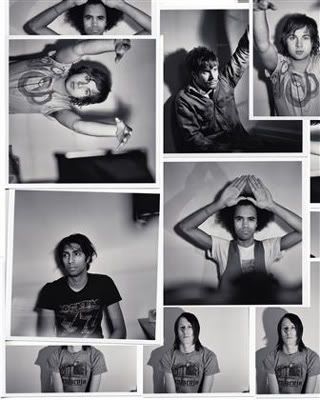 I'd do a review of the new Blood Brothers album, "Young Machetes," but I'm not sure how many people who read this on a regular basis are into the Blood Brothers. Probably one of my favorite bands, the Blood Brothers are mostly definitely an acquired taste. It's all over the place musically, but with the new album "Young Machetes," it's a little more focused. Not as many tempo changes and breakdowns in songs as on previous albums, but at the same time, it's a lot faster and 'thrashier' than 2004's "Crimes". As it stands, it's one of my favorite albums of the year.