Cook E. Jar and the Crumbs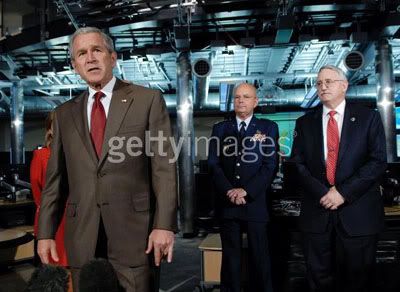 I don't know if anybody else caught the footage from the press conference George W held at a some Counter Terrorism Unit, but he seemed a little more often than usual. It was like a mixture of the standard confusion and disappointment. To me, when I hear the phrase, "CTU," I instantly think of "24" and Jack Bauer and you know, I'm just wondering if George W was bummed that he didn't see Jack Bauer or at least a Kiefer Sutherland look a like to reassure Bush that our national security is in the safest and best hands or at least the dude that played Edgar hanging out in the background, eating a sandwich or something. Also, what's with the unfinished, distressed postmodern architecture style of the National Counter Terrorism offices? Are they really trying to be like "24"?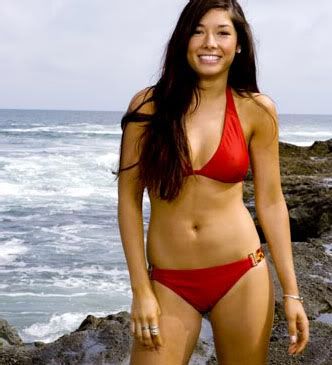 The final girl we're going to look at from the new season of "Laguna Beach: The Real Orange County," which premieres tonight at 10 is
Tessa
. She's that double edge sword where one moment you believes that she's actually a high school student, but at the same time, the girl could probably easily slip into a nightclub and get a couple of long island iced teas without getting carded. Basically, she's the type of girl the producers of "
To Catch a Predator
" dream of. After reading her bio, I have to believe that Tessa will be more of the wet blanket on the show; in other words, the new L.C. While L.C.'s little sister may be on par with a couple of sleeping pills, Tessa is going to be the goody girl who doesn't do anything interesting and throw goofy parties. This season is going to be a mixture of really slutty girls and overtly conservative girls in shorty shorts dealing with bros and dudes in
shitty bands
. Will it be entertaining? Probably, but the main question is how long will it be entertaining? You know, it's like Le Tigre. When you first hear them, you're totally into them, but after a month or two, you're like, 'Wow, I should've stuck with that one album because they all sound the same.' This is completely different if you're a feminist. Then you'll be bumping Kathleen Hanna and J.D. Samson forever and ever.
The new Wes Anderson film The Darjeeling Limited has a studio, Fox Searchlight to distribute and fund it.
I like the fact that Wes Anderson is working with Jason Schwartzman again, but I'm just confused by Roman Coppola co writing the script. There's a similar sensibility between Coppola and Anderson, besides the fact that Coppola worked as the second unit director on
Life Aquatic
, but I'm just wondering why Roman Coppola hasn't made a follow up to
CQ
yet? I think this film might be a step towards the Wes Anderson of
Rushmore
or dare I even say
Bottle Rocket
?
Have to say though while I'm not a big fan of Fox TV in recent months; canceling "Arrested Development" and all, but I am a big fan of
Fox Searchlight
. They're putting out the good films as of late.
Thanking You for Smoking
and of course, the empire's favorite film of the year thus far,
Little Miss Sunshine
. Now, they're working with Wes Anderson and releasing the new Danny Boyle film
Sunshine
I'd say some more shit but the fact is this, I'm embarrassed by the fact I actually like the song, "London Bridges" by
Fergie
. Of all the things in my life, a stupid song by the girl in the Black Eyed Peas is what makes me hold my tongue. I think the problem is that I've talked so much shit about the Black Eyed Peas and Fergie as well, yet, the girl made a hot record. Thanks in large to producer
Polow Da Don
, "London Bridges" stands out this summer in spite of being the summer of booming tunes, because it's a little bit dirty and boastful and sounds refreshing. The horns and those drums kill me. I may not buy the record, but I may download it if the single is any indication of how the rest of the record sounds. Then again, I said the same thing about that Nelly Furtado album and never listened to it. It should be noted that "London Bridges" is my MySpace profile song nowadays.
Another song I'm surprisingly digging the fuck out of is "Morris Brown" by Big Boi. Holy smokes.
Underage drinking is all the rage these days, too. Just a memo to all 17 year olds who want to get drunk, be some photographer's (and i use the term loosely; photographer) muse and boom, you're in all the clubs, getting drunk and in nylon magazine. PS. The bangs on Cory K are working for me.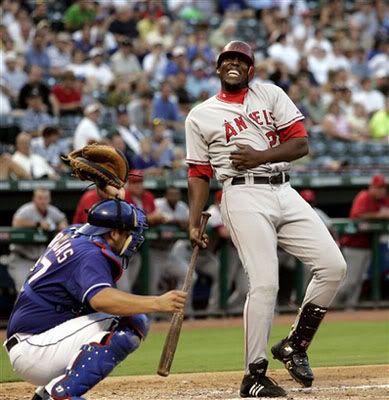 And finally, this is a message to management and pitchers of the Texas Rangers.
Buck Showalter
, honestly, what the fuck is your problem with Vlad Guerrero. Either you walk the dude or attempt to break his arm every time he's at the plate. Listen to the advice from the dude in No Gravity band, 'Chill out.' Just relax a moment and pitch to Vlad every now and then, he's bound to strike out or ground out; you don't have to injury the guy cause he eats your pitching like I eat king burgers from Fatburger. Relax for a moment, pitch to him and if Juan Rivera is batting behind him, he's bound to hit into a double play. You don't see the Angels throwing at Michael Young's head, now. They should, but Big Mike is too much of a class act to stoop so low.