Summer School
Before I get started, I just wanted to point out that much like Howard Stern and a bunch of other TV shows, I'm going to take the week off. I say that, but I'm bound to have something to say about the VMAs. Never the less, not a full week of updates, this even includes updates to the sidebar until Tuesday of next week. With that out of the way, the film,
Half Nelson
, which is slowly rolling across the country is one of the year's best films. Right now, there are two amazing films playing in theaters:
Little Miss Sunshine
and now,
Half Nelson
and with a three day weekend coming up, maybe you could squeeze in watching a great film in between going to the beach that one last time or getting drunk while making turkey burgers at your buddy's place. I wish I knew how to be more passionate about films that I love or that I believe should be seen by a large audience other than saying, please watch this film; it's great. It's touching, it's funny, it's a bit sad, and it's honest. Ryan Gosling delivers that performance which cements his as the best actor of his generation. Check out the THINK Film
release schedule
and catch the film when it's in your part of town.
Dan the Automator speaks on his vaulted solo album and future plans, which is a good thing
.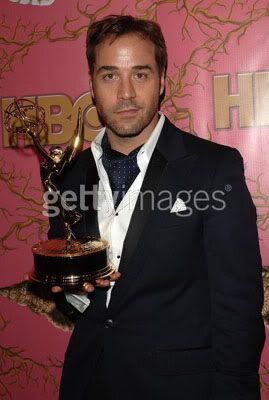 If Will Arnett had to lose to anybody for Best Supporting Actor in a Comedy series, I guess that Jeremy Piven's Ari Gold is okay. Granted, Ari has had his moments, this season, Ari just felt like he was about to breakdown like an husband whose been verbally beaten up by Dr. Phil. He still remains the best part about the show, but that's not saying much about show, which has nothing going for it to begin with. What should be honored is the bold move by Piven to wear an ascot. Not since the good old days of Craig Kilborn, has an ascot looked as goofy and coked out.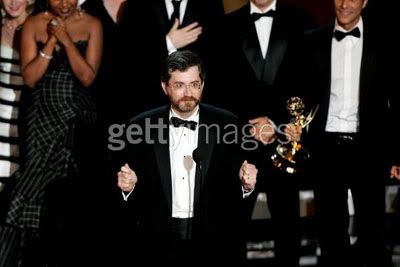 I have to say though if "Arrested Development," was to lose to another show for Best Comedy, then "The Office" is okay. With the last couple of episodes aside and NBC's hideous marketing campaign playing up the new Ross & Rachel angel of the Jim & Pam dynamic, "The Office" is the best comedy on network TV right now. The American version has finally stepped out of the shadows of the English original and developed it's own voice and vision. I don't know; maybe it's going to continue to be funny without having to have full episodes about why can't Pam and Jim get together. I understand why the producers use that storyline because it brings in the women, but I just want it to be funny and goofy again.