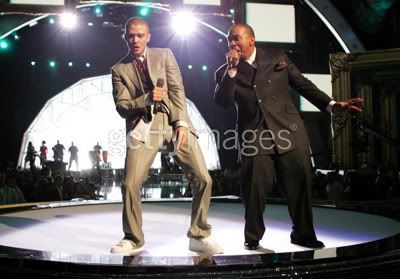 Clearly, Justin Timberlake's extremely early performances of "My Love" & "Sexy Back" was the highlight of the VMAs, but you know it would've been ten times cooler if some dude just shouted, "Atlantic Records for T.I. Clearance" like every 20 seconds during the performance of "My Love". I mean if a couple of dudes who started a
blog
, overhyping a shitty movie, could get a major studio to reshoot the film according to their desires, then why didn't this guy's
shirt
get MTV into the concept of having somebody chant "Atlantic Records"? I thought MTV was all about the internet and reaching out the youth market and shit?
Oh well.
More to come.
Hopefully or it's going to be a bunch of wacky captions about
the Like hanging out
with Kelly Osbourne
.