Blues Got the Muffin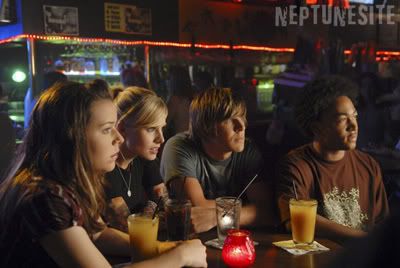 Despite it's beyond awful new opening credits, "Veronica Mars" made a somewhat successful debut on
the CW
. Granted the new season opener lacked the punch of season two's magnificent opening (how does one really top an bus crashing into an ocean?), but there was enough on the plate to make a few mouths water. The problem though with the show or perhaps it's with TV in general lately, too many commercials. I watched a recorded version of the show, so I could fast forward through commercials and what not, but it'd be like five minutes of show, then another commercial break. The same thing happened during "Heroes" the other night as well. I understand that networks and stations have to pay the bills, but at the same time with the frequent commercial breaks, the rhythm of the show is completely thrown off. The fade outs are so rough and well, unnatural. The writers write the show with a particular structure in mind and granted things get shifted around in the editing process, but the writers write with the commercial breaks in mind. Why are there huge gaps between acts in my Final Draft template for a TV drama script? That's where the fucking commercials are supposed to go. Or just run a show with limited commercial intruption and rather blatant product placement. I'd be willing to forgive an episode of "Heroes" if in every other scene a character is drinking a can of Pepsi or any Pepsi related product just as long as it ran mostly commercial free.
It would be difficult for a show like "Lost" to have product tie ins, but that doesn't matter as much as "Lost" is over or at least, potentially over. Season two was a lot of bullshit and I have a rather strong feeling it's going to be more of the same. J.J. Abrahams Lincoln said that he's going to focus in on the show this season, but you know with two other shows on the air and movie deals, the guy is going to be ice skating in regards to the show. Damon Lindelof is a great writer and all, but I think it's time to pull him away from the table just a moment. Let him go write an episode of "Heroes" or something, but the show needs to figure out where, when and how they're going to wrap things up.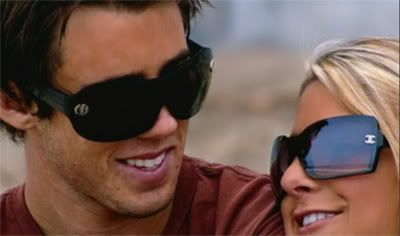 The thing or at least things that have been bothering me about this current season of "Laguna Beach" are as follows:
-Is Tyler a closet case? Cause what dude wears Gucci loafers to the fucking beach? Let alone, Gucci loafers in the first place? I understand the notion and concept of being wealthy and what better way to rub it in by wearing expensive kicks to the beach, but there's another way, a more fun way to rub it in that you're wealthy than everybody else. Just order an expensive meal and not finish everything. You know take a couple of bites, then have the rest taken away.
-This is probably the biggest issue I have the season, does Tessa actually have a family and house that she calls her home or does she live with Raquel/"Rocky"? We've never seen her parents; take that back; saw her moms briefly, but other than that, there's never a moment at her house or a friendly chit chat amongst moms of daughters with spending problems. If Tessa's parents don't like her, then it explains so much more about her and it needs to be the focus of at least one episode; it even could be a 'b' story.
It's highly recommended to listen to "Something's Got to Give" by the Beastie Boys off the sometimes underrated, "Check Your Head" while driving into Hollywood. It'll only make sense once you do it.