Butcher Boy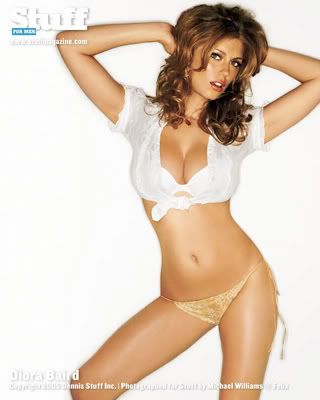 I've said it once before and I'll probably say it a whole bunch of times in the future and it's largely inspired by
TCM Underground
to feature a Russ Meyer double feature this Friday night (set your DVR and Tivo accordingly), but with actresses like the lovely Diora Baird, I just have to wonder that they were probably born in the wrong era of cinema. Like most people, I only know of Baird's work from photographs and it's mostly photos of her without any clothes. I saw
Wedding Crashers
, but I don't really remember her from it (the only thing I do remember for that film is that scene where Christopher Walken asks Vince Vaughn about his dance moves) and I haven't seen the new
Texas Chainsaw
film in spite of being me star struck in front of the hero prop sometime last year. Up until last Friday, I hadn't her say a line of dialogue or anything. Then I saw her on
"The Soup"
(which I feel is a better show than "Best Week Ever") and I don't know, man, I just wish there was a filmmaker out there making cheapie, fun exploitation films about girls with big boobs on motorcycles or whatever. These films are being made today; where would Cinemax be without late night programming featuring the
Busty Cops
series? But these films aren't good (what a shock) and well, they are made just for to provide a quick bit of skin at 2 in the morning.
Yet I have hope for the future of big breasted actresses in mainstream films because they probably want to move beyond being the girl with the great rack in
American Pie 29
and quite frankly, we don't need another
American Pie
type even if Eugene Levy's cameos in the films help send his children to Harvard. What we need is for the filmmakers behind
Grind House
to make a fake trailer for a Russ Meyers style of film and have Diora Baird in it, then bingo bango, people dig on that and there'll be a demand on weirdo melodramas about oversexed girl gangs terrorizing small towns. We need that level of excitement back in the movies again. If we can somehow manage to juggle (pun intended) multiplexes full of trashy, drive in fare with the high borrow art films, then we'll be in good shape.
Granted, I'm using the same type of logic that was applied to
Coupon: The Movie
. Also, it should be noted, I have very little material for today; I found that photo and felt like sharing and I wanted to mention how good TCM Underground is.
Once again, apologizing for being political and it's rather short notice, but if you're over the age of 18 and live in California, you have until October 23rd in order to register for the November 7th election. Go
here
to figure out the specifics for your own counties and what not. I was going to work the election this year, but weirdly, I'm busy and you know, standing on my feet for 15 hours while I have a panic attack just isn't worth the 90 bucks they're offering. Not to mention, I couldn't be unbiased because I'd wear a giant t-shirt that says: "
No on 85
". That and I'm not sure if the old ladies I'd be working with would be familiar with Cory Kennedy 's blog cause that's like the only thing I like to talk about these days.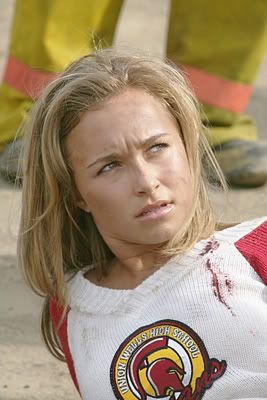 "Heroes"
will under whelm us again tonight. Roughly there'll be about 10 minutes of great TV surrounded 33 minutes of mind numbing crap. Although I don't think the problem is the acting or the writing on the show, it's the directing. Because the writing is there, but actors don't really sell the dialogue; they believe it's as ridiculous as the audience does. Okay, so maybe it's a bit of both; bad directing and bad casting, but never the less, the episode will have a great ending that'll be ruin a minute later by the promo for next week's episode.
While he may take a shit on what the skeet on… empire considers to be the best new show on TV right, now, "The Nine," it's still highly recommend that if given the chance, one should watch "It's Showtime at the Apollo," with
Robin Brown
.
I can understand why
Fox fired Steve Lyons
, but at least, he kept
things interesting
and quite frankly, I'd watch more games now, just to see what he'd say next; Lyons with this firing has become a Howard Stern type figure; not necessarily funny or socially biting, but one wants to hear what he's going to say next. You know with Joe Buck and Tim McCarver, they're going to say the same bullshit over and over again; "How much more awesome would be this game if Derek Jeter was playing and like he hit 10 grand slams." It's boring and more harmful to the game of baseball its self. With Lyons calling a game, you don't know if he's going to make some racial slur or make fun of somebody in the stands or even heaven forbid, say that Derek Jeter is a wee bit overrated.
Rachel B. to star in a Doug Liman film, which is a good and bad; good cause you know more film work, but a bad cause it's a post Go Doug Liman and he hasn't made a decent film since 1999.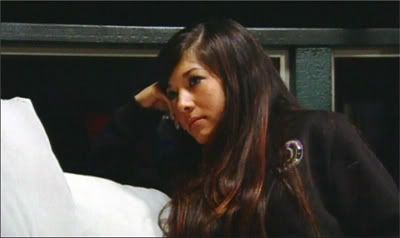 And finally, we have Tessa from MTV's "Laguna Beach: The Real Orange County" and for a moment, let's forget about her split lower lip and the fact that her parents have disowned her, forcing her to live at her friend's house. Let's leave that to side even though it might shine a little light onto things, but the thing I notice or at least, I finally figured who Tessa reminds me of. She reminds me of
this girl on "Made"
. On her particular episode, she, being a nerdy, shy girl who wanted to become beautiful and popular, but you have to say that you want to be made into a beauty queen, but that's beside the point. At one point in the episode, the girl with a fresh make over, goes all over campus talking about she's going to have a boyfriend by the end of the day. The girl tells everybody, including teachers, so the whole school is rooting for her. Naturally when the girl asks the guy if he wants to hang, he says yes, but then like a couple of minutes later, he tells the girl that he has a girlfriend. He could've been bullshitting; you know we don't know, but at least he was honest with the girl. Now bring it to a point, Tessa is that very same type of girl except she's built like a swimsuit model; she puts all of her eggs in one romantic basket and really hopes that this date with such and such random surfer dude will work out. I don't know, it's just frustrating to watch her each week try to make something happen with a guy, only for the guy to break it off for a sluttier girl. I don't know why but I'm feeling compassion for a character on a fake reality TV show.