Gates of Eden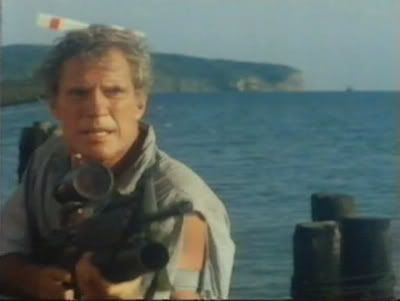 For those who've been keeping score for a fairly long time may be rather familiar with my obsessions: Rachel B, Howard Stern, Ghostface, Willa Holland Cobrasnake captions, "Laguna Beach," Cory Kennedy, and films by Dario Argento and Alejandro Jodorowsky. Well, the skeet on… empire on a whole is built upon obsessions. But getting the point at hand, if you've been keeping score here, then you're probably well aware that I'm rather obsessed with the Italian actioner,
Raiders of Atlantis
. I fell in love with the film by watching the
trailer
at least a dozen times a day after discovering the film on
42nd Street Forever
DVD (can't wait for Volume 2, which is out tomorrow). I couldn't tell you then and I still can't explain why this film speaks to me in a such way very films can. I think I just imagined how great it could be based on the trailer or at least, I knew it was going to be shitty and I just filled in the blanks with my mind and what other wonderful things the film could hold for me.
Well, finally, I have seen
Raiders of Atlantis
and to say it's a perfect film wouldn't be right. I would say it's pretty damn close to being perfect. Granted, my expectation levels for low budget Italian action films is rather low, but there's just something about
Raiders of Atlantis
that few b pictures reach, let alone most mainstream films. The filmmakers subscribe to that great theory: "These are my tits. Take 'em or leave 'em." Nobody is trying wow the audience with nifty camera moves (although, it should be noted I watched a full frame version of the film; bootlegs, man!) or clever dialogue. If a new character is introduced into the film anywhere after the twenty-five minute mark, then that character will probably be killed off in about ten minutes. There's no attempt to be a cool or witty; it's funny by the sheer randomness of it and just happens to be cool because there's a guy using a flame thrower and another guy wandering around town wearing a fish bowl on his head. Perhaps, the greatest aspect of the film and two things could've affected this: a) the version of the film I saw; it could've been shorter than other cuts and secondly, budget reasons, but thing just happen in the film without any reason or expectation. And oddly, this is a good thing because our heroes have no fucking clue as to what's going as well. I don't mean to contradict myself because probably in a couple of paragraphs from now, I will, but sometimes, it's more exciting to figure things as our characters do.
I just wish that people would make more movies like
Raiders of Atlantis
. You know have some guy with salt and pepper hair, run around on island with huge gun blasting off a couple of rounds at some guy who looks like a reject from the
"Wild Boys" video
whose carrying a rocket launcher.
Better than that
Saw 3
bullshit or at least I'm assuming better than that. I've never seen a
Saw
film. Well, I watched five minutes of the first one the other night and it was boring. Who wants to watch a ugly horror movie? Whatever happened to the days of
Blood and Black Lace
?
Killer!
They're making a Bruno film after all is said and done
. Hope Bruno goes to
spring break
again.
Let's leave famous people alone for a moment, now. We don't need pictures of every single thing they do.
Give them some space and
let them do their Dirk Diggler in Rahad Jackson's house while Cosmo sets off fire crackers esque freak outs alone in peace
. If they take it to the street like Martin Lawrence, then it's fair game, but until we see Lindsay Lohan running around in nothing but a headband and carrying that Wolfmother cd she does blow off of, then go nuts and have Amanda Bynes parody the incident of an episode of "30 Rock".
The bigger issue at hand is why are people who live in the Southern California area so fucking into Wolfmother? I was listening to regular radio a couple of days ago and on KROQ, they were just done playing a Wolfmother song and I flip on Indie and they just started to play another Wolfmother song. What's the deal? People can't find Led Zeppelin cds?
You know that you go to Coffee Bean too much for Pumpkin Pie drinks when people who work at one Coffee Bean are called over to cover a shift at another one recognize you.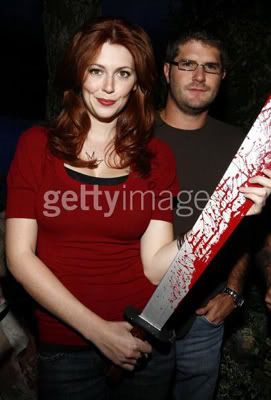 Your Monday moment of Diora.
Anybody else into that
sunn0))) & Boris collaborative album
? If I'm one of the 5.000 who gets a copy, I just may have to move to Tennessee, buy a pair of black jeans, hang out with weird looking metal kids and drive around with the windows down all the time.
Or I'm moving to France so I can hang out with people who make music for
Ed Banger Records
"Heroes" tonight. A professor of mine said that tonight's episode should be something special, but then again, this is the same person who says that "Studio 60" won't get canceled because the audience it attracts spends lot of money. Why not just cancel it cause it's shitty? I don't even want to talk about "Heroes" hopefully being okay or even have a solid ending; I just looking forward to an episode that's only okay and isn't a complete waste of time.
Who ever fucking designed or redesigned MTV's website is fucking retarded. Nearly as retarded as Cami and Kyndra come out in
this L.A. Times article
.
And finally, I have to admit something, here. I watch "Grey's Anatomy," and weirdly, I'm starting to like it.