Heaven is a Truck Stop
The thing about the new 'meaner & leaner' season of
"Saturday Night Live,"
is that they or at least new head writer, Seth Myers and his staff tried to combat the weekly diet Paddy Chayefsky attacks from Aaron Sorkin and "Studio 60 on the Sunset Strip." They just tried a bit too hard to be political and in your face about what's going on with the world today, but here's the thing, just because some writer is doing a show about a shitty sketch comedy show, doesn't mean one has to stop being funny. What happened to funny, weird skits like that Will Forte water delivery guys skit? I dunno anymore.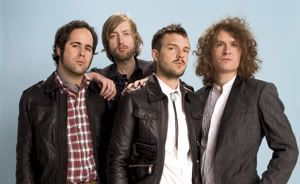 I'm just coming to the conclusion that I'm understanding less and less about the world around or at least popular culture. You take off the month of September and apparently to be taken seriously as musicians, one has to dress up like nerdy cowboys and name drop Bruce Springsteen in about every interview one does. How come nobody has said that the new Killers album sounds nothing like a Bruce record and more like a fucking Cars record? Did Brandon Flowers steal Ric Ocasek's voice, which could explain why Todd Rundgren is the singer of the New Cars? That first Killers album, which I'll admit I was a sucker for, but it came out at the right moment where it was okay to buy albums with some dancey tracks on it. The Killers in the summer of '04 were on the level or at least the same reason why DJs will play shit like "Laffy Taffy," cause stupid girls will dance to it. Perhaps, the biggest problem I have with the Killers is that their new image instantly reminds me of the guys in the Devo video for
"Whip It"
; not Devo themselves, but the other people in the video. And you know, what's wrong with making dancey, fun songs in the first place? Why do most musicians assume that they have musical genius or prowess of a Lennon/McCartney or even to a lesser extent, Bono to expand and diversify their sound after one album? Stick with a particular style for at least two albums, then, I think it'll be okay to change up the sound a bit. Or just come out the gate like the late great GoGoGo Airheart who could never pick a particular style, so pretty much all of the albums were beautiful messes. One has to earn the radical shift in tone and style; putting up a bowler tie and growing a shitty mustache isn't enough.
Before I get any further, I have to apologize to the reading audience at large for taking off pretty much the whole month of September and well, probably the next couple of months as well. Things actually got busy for me and honestly, I was losing my love for this shit. Besides, there are far too many better blogs out there that y'all should be reading like
Passion of the Weiss
. The final nail in the coffin known as the skeet on… empire was nearly placed after the discovery of the
Cory Kennedy blog
. Who wants to read my bullshit thoughts on "Heroes" when you can be reading about some girl partying with Maroon 5? So, I'm going to make an attempt in the month of October to actually regularly update this week (4 days a week). I just worry that I'm going to be hitting the same subjects over and over again. I hate 'Best of' Stern or at least old fashion 'best of' Stern and I just feel like the skeet on.. business is in best of mode. The same people I dug a couple of months ago are still the ones making cool stuff, so I can't be blame for going on and on and on, but I'll attempt to cut down on the Rachel B references.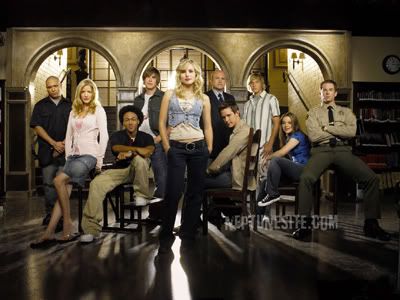 If anything, I think I came back just to remind everybody that the other best show you're not watching: "
Veronica Mars
" starts it's third and most likely final season. I'm not sure if the TV viewing community or at least TV nerds can handle another loss of a beloved show. Just check it out for an episode or at least record it and watch it after "Gray's Anatomy" or whatever.
Speaking of new TV shows, so I was watching "
Dexter
" the other night and I couldn't help but thinking how much more interesting the show would be if one of the victims that Dexter kills is played by
Rick Ross
. Miami is a hip hop hot bed right now and you know it would make Showtime seem more down with the hip hop community, if you know Dexter took out Rick Ross.
Then again, what do I know? I've totally slept on the whole cupcakes as the it dessert trolley. Can anybody explain how that happened? Back in elementary school, I remember getting cupcakes every now and then when it was somebody's birthday and they had a stay at home parent, but past elementary school, a cupcake became a rather rare thing. Are Americans are finally waking up to the concept of having smaller portions, but only have decided to focus said activity to dessert? The three extra big Big Gulps of soda isn't doing all that damage?
Anybody else bumming that
Children of Men
isn't coming out until the end of December? That's too long of a wait.