Snark Sandwich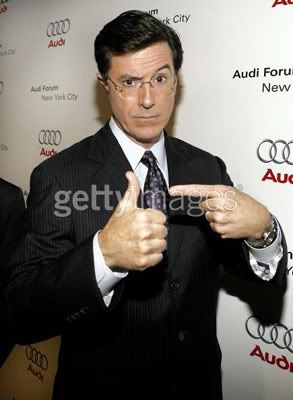 One has to imagine how much funnier the movie,
Man of the Year
could've been if writer/director Barry Levinson pulled a
Ali G Indahouse
and made a film about Stephen Colbert becoming president instead of you know, two hours of Robin Williams shouting out punch lines. A film about a president that finally embodies truthiness and a country free of bears with a B.L.T. on every plate; wait a minute, I could actually get behind that kind of president. At least, Colbert would probably do something about North Korea other than a strongly worded warning against the country.
I don't mean to get too political here, but is anybody else wondering why we haven't taken any stronger actions against North Korea this week? There were some rumors a couple of years ago about nuclear weapons possibly being in Iraq and we launched a war without an exit strategy. Now, North Korea may have tested nuclear weapons a couple of days ago and may have a few more weapons of mass destruction, but we're just going to sit this one out; where the fuck are we? At the roller rink and the DJ is playing some Jessica Simpson song, so we're just going to sit this song out and hope maybe the DJ is cool and will play the Clash in a couple of songs from now? It makes no sense or is Bush just so kabuki'ed out on the matter that he doesn't want to start another war without cold hard evidence. It makes sense and all, but if a member of this infamous axis of evil is testing nuclear weapons with the potential to fuck our collective and metaphorically couches, what's the deal?
Perhaps, I should just stick to talking about how awesome
"The Nine"
is and sadly admitting that "Lost" is getting good again. For some reason, I liked last night's episode of "Lost," a lot; a lot more than the season premiere. Maybe it was due to the casting of Michael Bowen and Trixie from "Deadwood," and that added to the fun of the show. Or simply because the writers made everything just a bit more confusing. It's good kind of confusion or at least a sense of confusion that won't resolve its self with a cop out ending.
It's weird because TV shows are actually good. "30 Rock" is funny; well everybody but that lady from "Ally McBeal," she feels like a comedy chaperone or like one of those ladies at lunch during elementary school that'd make sure nobody fought and dismissed everybody to recess with their bullhorns. You can have your fun, but within reasons.
Drawing a blank on other things that are going around these days. That Cold War Kids album is pretty good. I listened to it instead of listening to my third favorite thing on Sirius: DJ Kay Slay's show on Shade 45. I can take or leave Slay's musical selections (who wants to shitty remixes with Papoose on them anyways?), but I love to listen to Kay Slay talk about how awesome his myspace page is and compare how friends has as well as how many friends Papoose with the in studio guests. And some how it all gets turned into Kay Slay talking about how he hates white people. It's great, but that Cold War Kids album is just a little bit better.
Ever run into somebody from high school or at least see somebody that went to your high school and now, a couple of years later, they resemble somebody slightly famous? I saw this girl from my high school the other day and she looked a slightly more retarded version of Paris Hilton.
With the closing of Towers this week or at least the start of the going out of business sales, has anybody found any good deals yet? I was trolling around a Tower the other day and the discount was only 10% off the sticker price, but the store had so kindly removed the sticker prices from all the products. So I had no clue if I was dealing with Monty Hall or some dime store Monty Hall. How are they going to clear any product if I don't know how much of a deal I'm getting?
If I could have a moment with the world's DVD nerd population, in regards to Tower, the liquidation sale and Criterion Collection DVDs; let's wait a couple of weeks before we clear them out.. The discounts will get lower and lower and we'll save a couple more bucks.