3 am Eternal
The mini season finale of "Lost" was good and all, but the only question that I still have about the show this season. Where's Michael and Walt? I know that they left the island and all, but we can't get a brief shot of them sailing the seas? The bubble in terms of the world of "Lost" has been broken. Correct me if I'm wrong, but wasn't there a scene or two at the end of the season two finale where some weird dudes discovered the island in Antarctica and wasn't there a scene where Desmond's special lady friend received a phone call about how they found the island in question? Not to mention the scene this current season where Ben, the head of The Others shows Jack footage from the World Series. So, the bubble has been burst and there could be a storyline about Michael and Walt coming ashore onto some island in Hawaii or whatever. Just a hint of what's going on with them.
Then again, if those characters are shown returning to civilization, then it would be implied or rather, inferred that Michael and Walt would send people to rescue the rest of the island and thus would ruin the rest of the show. Or it could go the way of "The Nine," which oddly, I've stopped watching. There's just a bunch of them collecting dust on my DVR. Perhaps during winter spring break, I'll catch up.
The problem and there's a downside with anything that's ever done, irregardless of how well thought it is and good intentions, but you know that people are going to be complaining that "Lost" was off the air for too long and how they've lost interest in the show. You know, America may be too wrapped in the exploits of whatever dumb southern girl and nerdy, undercover gay guy is on "American Idol" that particular season it'll happen. We're all creatures of habits.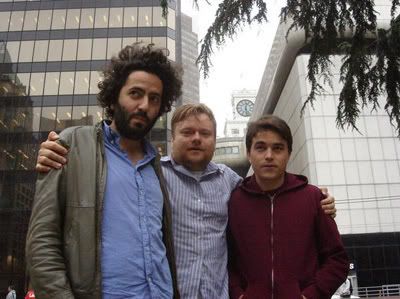 British critics will tell you that the guys in the Artic Monkeys are this generation's greatest songwriters or they'll talk about the brilliance of Pete Dougherty or whatever the heck his name is. Then there are others who'll talk about the brilliance of Colin Meloy of the Decembrists, which I regret to say I have yet to check out. Then there's me who knows nothing about music, but I have to say that Spencer Krug is probably the best songwriter of this generation. One could go by quantity in regards to Krug's songwriting output with last year's rather excellent "Apologies to the Queen Mary," by Wolf Parade as well as this year's "Shut Up I am Dreaming" by Sunset Rubdown to the most recent, "Beast Moans" by
Swan Lake
. Granted, I may be a bit biased in terms of the Swan Lake album since I'm not that familiar with the other two thirds of the project: Carey Mercer of Frog Eyes and Dan Bejar of Destroyer. Never the less, it's the Spencer Krug penned song, "All Fires" that makes Swan Lake's "Beast Moans" worth listening to. For all the projects that Krug is involved, his songs always retain the same sound and they're just so comforting and just good.
Thinking out loudly here, but can I be a successful blogger if I don't understand all the hoopla surrounding the Knife? Maybe, it's just not for me. Then again, I like
Jim Jones
, so you know, I have shitty taste in music.
Related: There's a guy at my school who has a similar hair style to Jim Jones in the "Certifited Gangstas" video and some other dude yelled "Jones" at him the other day. The guy with Jim Jones hair didn't get the reference.
TV used to be winning the war against films, but now, it's losing and losing the war rather quickly.
Kellie Pickler: The Sitcom
. Jeffrey Tambor is soon to be out of a job, yet Kellie Pickler is going to have a job. Next week, they'll probably be canceling "V. Mars".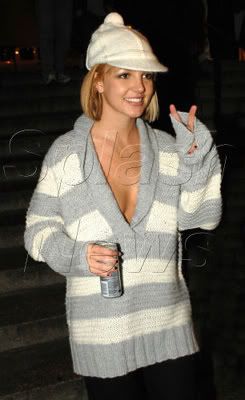 Quick thought on the whole Britney Spears/Kevin Federline break up and I mentioned the following thought the other night on the
The Super Chocolate Eruption Power Hour
, but this divorce means that K Fed will not disappear into oblivion, but become a permanent fixture on VH-1's celebreality Sunday night line up. He'll be on there on "The Surreal Life" mixing shit up with the chick that played Evie on "Out of This World," and like Jamie Farr from "M*A*S*H*." Then he's going to be on that celebrity paranormal show running away from fake ghosts with the likes of Victoria Silvstedt and Emo Philips. Then he's going to be on Howard Stern, there's always a Howard Stern appearance where he'll say something about how Britney Spears was shaven and gave so-so head. Then like three weeks after that, the sex tape will be released. And some how, K Fed will make his way onto a season of "Dancing with the Stars" or make a full time commitment to professional wrestling. This divorce isn't going to be the end of K-Fed, it's only the beginning. I don't understand why people are happy about this. Sure, it's funny, but at the same time, we're going to see a wave, a tidal wave of press releases for events at nightclubs about Shanna Moakler and Kevin Federeline divorce parties. Sure, Britney Spears has big bazooms effect going on right now, but she just opened Pandora's box for tell all books, interviews on the Big Deal with Donny Douche, sex tapes, the Ryan Seacrest interview, and his own reality show. It's probably the worst thing she could've ever done. [Image via
Splash news
]
And finally, see ya laddle,
Rummie
!