Goose Steps
Sacha Baron Cohen and his various in character interviews as Borat has probably reached the point of annoyance and tedium, especially for those who don't dig. Yet, I have to point out the interview Cohen gave as Borat on the Howard Stern show the other day and this may sound weird, but it felt like the most honest interview the character of Borat has ever given. During this media onslaught, it feels as if Borat has been saying the same thing over and over again, but with the Stern interview, Borat was a little bit fresher and just plain funny. Or maybe it was the fact that Borat said, "what?" a lot and that's been making me laugh a lot lately. Who knows, but check it out on In Demand, if you got it.
And this is why you shouldn't wear lingerie as your Halloween costume.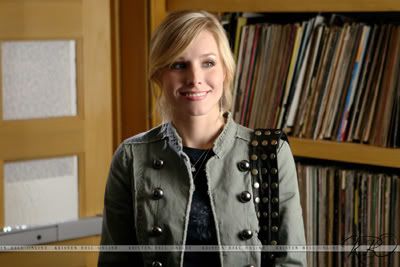 I think I've held my tongue for long enough, but once again, I have to be honest with you. This new season of "V. Mars" just isn't clicking with me. Maybe it's the new opening credits sequence, maybe it's horrible Piz character (thankfully, he wasn't around this past week), maybe I was too distracted by the pock marked skin of Weevil (I'm not even watching in HD) or maybe, just maybe, it's the fact that this season's major mystery just isn't that compelling. It's still funny and there has some great casting this season; mostly the extended cameo by Richard Grieco, but there's no real sense of high drama with the Hearst rapist business. It was good for one episode in season two, but for mini season? There's just not a lot there to keep interested; you know, which red herring is Veronica going to discover this week and what reference will be made to "Battlestar Galactica." You know, I need more than this.
In a weird move, I'm actually enjoying "Lost" more than any other show this season. Well, "The Office," and "30 Rock" are still really funny, but I'm actually looking forward to watching an episode and I'm no longer instantly considering an episode to be the worst episode in the history of the series just because one of the first characters I see is Charlie and or Clare. I'm slowly learning to move past that. For some reason, the writers enjoy killing characters off; just not the ones I'm into. Although the thing about this season is that it seems with the last couple of episodes, it's an attempt to appease the audience and their complaints about season two. We've seen the return of the smoke monster and the polar bear thus far and it's been interesting. Yet at the same time, it just feels like Damon Lindelof is a frustrated parent yelling, "Are you happy now?" after we, collectively broke a new toy or something.
Anybody else find it distracting to talk to somebody with one of those spetum nose piercings? Just throwing it out there.
Also, the first single from The Game's should've been the Just Blaze produced, "Remedy" instead of "One Blood," and that god awful Scott Storch produced, "Let's Go". More on that album in a couple or somebody else has written about it.